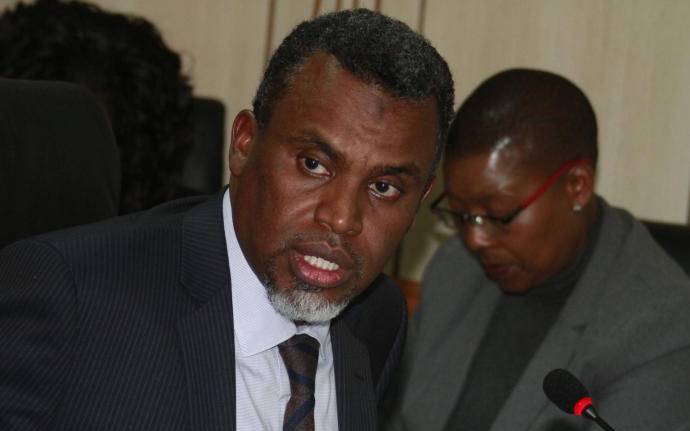 The Director of Public Prosecution Noordin Haji has directed EACC and police to preserve the monetary value of old Sh1,000 notes held as exhibits in court.
He directed the agencies that have pending cases where the old Sh1,000 bank notes are being held as exhibits to have the cases mentioned in their respective courts to enable the courts to make appropriate orders to facilitate demonetisation.

"This move aims to preserve the monetary and evidential value of the exhibits in court. You should file a report on the said cases before September 30, 2019," said Haji in a memo to the agencies dated September 12.
He also told the police and Ethics and Anti-Corruption Commission (EACC) to circulate the directive to all officers under their command.

The two agencies have about Sh50 million held as exhibits.
Those handling the old banknotes are supposed to photocopy the notes before handing them over to banks for demonetisation.
Officers handling the money had been asked to state how much they held as exhibits to enable the Central Bank of Kenya to replace it with the new generation Sh1000 notes.
This was after it emerged they are holding the old currency in millions of shillings at various stations and courts as exhibits.
Officers holding the cash had raised concern saying the directive to replace the old notes would affect the monetary exhibits.
The old Sh1000 notes will be obsolete from October 1, 2019.
Uganda and Tanzania stopped the use of the Kenyan currency to shield its banks from being used to launder stolen money back into Kenya.

CBK is conducting the demonetisation. The deadline for the currency expiry is September 30 and the bank regulator says there will be no extension.
So far, banks have collected more than 100 million pieces of old Sh1,000 notes (Sh100 billion) out of 217 million pieces that were in circulation when the demonetisation was announced.
CBK announced on Madaraka Day it was withdrawing the old notes in a bid to counter counterfeits, corruption and money laundering.

During the demonetisation period, individuals exchanging less than Sh1 million of the old notes and non-account holders were instructed to exchange them through the currency centres, CBK branches, and commercial banks.
Bank customers and non-account holders having an excess of Sh5 million are required to get CBK's approval.
The old generation banknotes will be worthless papers from October 1, 2019.
There have been cases where fraudsters have been making fake notes to gain during the demonetisation period.
To beat the threat, banks and other handlers were asked to be cautious when handling the new notes.