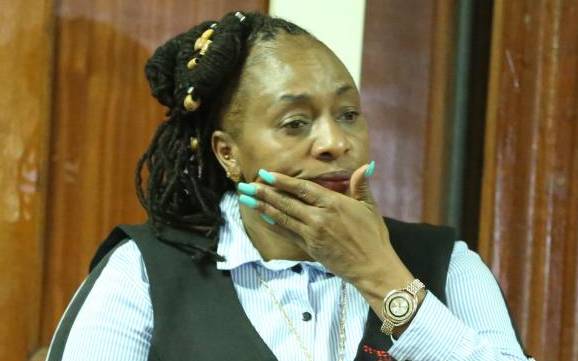 A private investigator has been arraigned at a Milimani court and charged with threatening to kill two people. Jane Mugo was arraigned before Milimani chief magistrate and accused that on August 15, 2019, at New Muthaiga Inn in Nairobi, she, without lawful excuse drew a pistol and threatened to kill Patrick Mugusia Kefa. The second charge sheet read that on February 4, 2019, at Kyuna Close within Spring Valley in Gigiri, without lawful excuse, she threatened to kill Deepa Shah. Jane denied the two counts while the prosecution did not object to her release on bond and bail but urged the court to compel her to go to DCI offices for processing and verification of her firearm certificate.
SEE ALSO: Kinoti's powers under siege as DPP ratifies new rules on criminal cases
Her lawyer, Danstan Omari, told the court his client was being harassed and intimidated by police. "Your honour this is the greatest witchhunt by State through police. Jane has been one of their undercover operatives, it's an action against one of them," Omari said. Omari further objected to the application by the prosecution to have Jane's firearm certificate verified at DCI offices. "Your honour we want the firearm certificate verified by Firearm Licensing Board, we are opposed to the DCI offices," Omari added. The lawyer told the court that Jane's tribulations emanated from civil case number 358/2017 where the defendants were jailed by the court and Jane was awarded costs. He, therefore, termed the current proceedings hypocrisy by the state.
SEE ALSO: Officer who drove police car into ditch kills himself
He applied to be furnished with the charge sheet and all documentary evidence the prosecution will use to advance the case. In his ruling, Milimani Chief Magistrate Francis Andayi granted Jane a bond of Sh300,000 with an alternative of Sh200,000 cash bail in respect to the first charge and a bond of Sh200,000 with an alternative of Sh100,000 cash bail in respect to the second charge. The hearing was set for October 15.