Report shows poor police training of anti-riot officers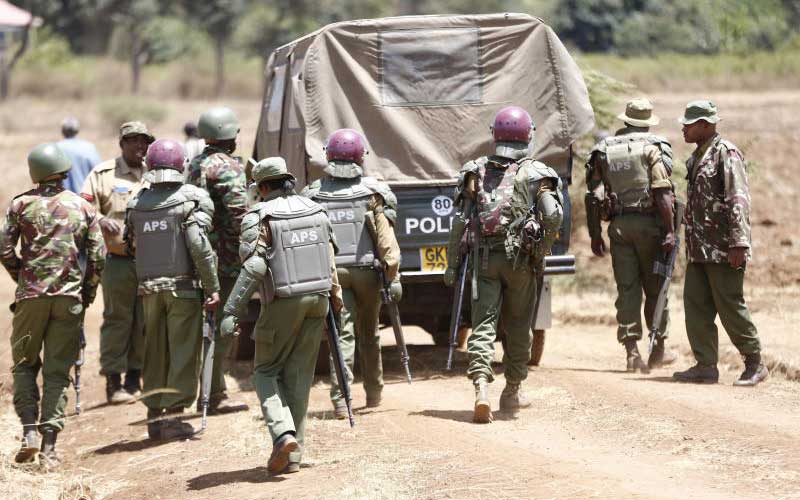 Findings by Centre for Human Rights and Policy Studies (ChRIPS) reveals existing inefficiency of police training colleges to instill knowledge and skills on officers manning protests.
In the latest study, the International African Research Centre faults the police colleges for failing to prepare officers to face the reality of demonstrations, prompting them to use excessive force even when it is not necessary.
In the research titled Policing Protests in Kenya: Policy Options from New Research, ChRIPS indicates that 72 per cent of the interviewed police officers who had participated in public order control, admitted they had never received any specialised training on the task.
Among the protests the officers handled include the 2007 and 2017 post-election demonstrations in several parts of the country.
The demonstrations saw many lives lost as the police used brutal force to contain surging crowds expressing disappointment with the results released by the Independent Electoral and Boundaries Commission (IEBC) in the respective elections.
"50 percent of those surveyed strongly disagreed that crowd dynamics and psychology training offered during the initial recruit training are adequate," the study notes in its findings.
According to the study, this is a major challenge since most of the training at recruitment level was generic and thus the majority of those who had engaged in public order control were not adequately trained to do so. The research indicates close to 72 per cent of police who participated in the study strongly agreed that police colleges need to increase training hours and review its content.
"They recommend changes including reviewing of the curriculum by adding more content such as human rights, group psychology, first aid and drills, firefighting, taming propaganda and passive position to cover riots," the findings reveal.
Police also revealed that equipment and materials used in police campuses were inefficient and insufficient, justifying the need to be increased and updated with latest technologies.
"The police should assess the training needs of police officers involved in public order control and facilitate training based on these needs," the study recommends.
Since police are not adequately trained on group psychology and human rights, they blatantly violate existing laws and reforms, the research reveals.
In essence, many police officers are unaware of the National Police Service (NPS) Act 2011 and the Service Standing Orders 2017 that provides practice guidelines for conduct and limits.