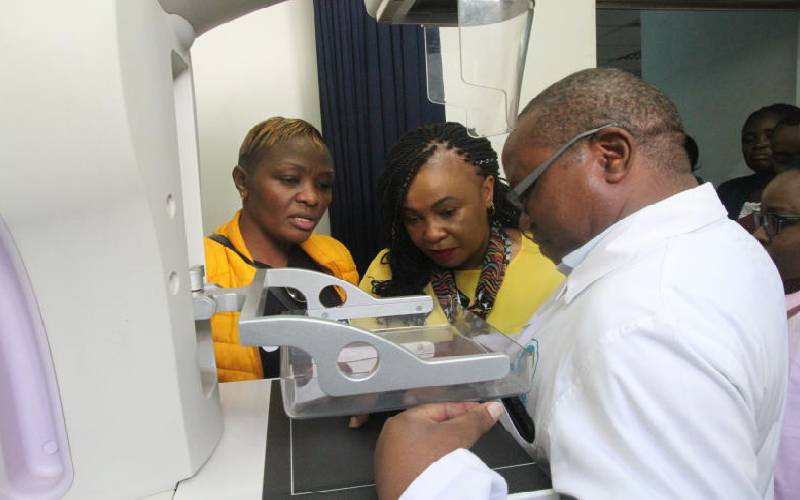 "Nani ako na scissors? Woiyee?" (Who has a pair of scissors? Please?)
A man's voice is heard piercing the noisy corridors of Mama Lucy Hospital in Nairobi, pleading for help.
On the cold floor, a young woman is sprawled, her blood splattered on the corridor. She is screaming for her life.
Her screams draw even more pitiful wails from the women who gather around her.
"Kelele haisaidii, mnapiga nduru na mtu analia hapa (Screaming won't help. Someone is in great pain here)," one of the women tries to calm the crowd. She is immediately dismissed.
Read More
The man screams again. "Daktari wako wapi (where are the doctors)?"
It takes up to 30 minutes before a nurse appears to help. By that time, the woman has already given birth while lying on the floor. Apparently, the man was asking for scissors to cut the umbilical cord.
This disturbing scenario was captured by a KTN Investigation at Mama Lucy Hospital in Nairobi. The expose has yet again brought to light the poor level of health services that pregnant women have to contend with at that hospital.
Mothers sharing beds, poor responses by doctors and nurses and staff shortage are among a myriad of challenges that face the hospital.
So bad is the situation that families have to carry patients physically to hospital beds since there are no stretchers.
One woman who gave birth at the facility found herself in Mathare Mental Hospital after she threw a tantrum, claiming that her baby had been exchanged.
Speaking to KTN, the woman's husband Edgar Munyoki's said they were blessed with a baby girl and his wife breastfed her the night after the delivery.
"In the morning, she came and found her baby being breast-fed by another mother. The doctor came with a tag and told her that her baby was a boy," said Mr Munyoki.
The hospital's management could not be reached for a response.
"There were murmurs. I was told to be careful that they might exchange my baby. I did not know that would ever happen to me," said Munyoki.
The situation at the wards is traumatising, to say the least. Women are stacked together on one bed like bundles of sticks, without consideration that some of them just underwent a caesarean operation.
They writhe in pain, taking every breath with difficulty.
"There are only two doctors and four nurses in the labour ward," a hospital source said. "But the women are many, and the room that is supposed to accommodate them is small. So they have to sit on the bench, until there can be enough space."
Kireki Omanwa, a gynecologist, says delivery for a woman is such an intimate act that the patient needs the best care possible.
"When you are delivering and other people are watching you, it's something that is not very good," Dr Omanwa said in an interview.
He said it was a paradox that Kenya trains doctors and nurses but is unable to employ them. "This is happening while developing countries are training their own and poaching from other countries," said Omanwa.
The source said the hospital carried out up to 10 caesarean sections during the day and another 10 at night.
This is even when the designated rooms for the procedure can hardly accommodate such numbers.
Sonko shows up
At one point, during the investigation, Nairobi Governor Mike Sonko showed up to look into claims that the facility did not have enough drugs.
The mess made by the woman who gave birth on the floor had already been cleaned up and nothing of the occurrence was mentioned to the governor.
"People die in here because sometimes patients come and there are no drugs," said the source.
He revealed how radiologists working at the facility colluded with security guards at the main gate to send to them patients in need of scans.
The patients are sent to specific radiologists by the guards. They are charged exorbitantly.
As the KTN investigative crew prepares to leave the facility, a sickly woman is dropped off by an ambulance.
She is helped to a wheel chair, but two hours pass and no doctor or nurse comes to check her.
The wheelchair is again taken from her, and she is left to lie down on a leso. Finally the woman is picked by her relatives and taken to another hospital.