Okoth lived in silence and exits in controversy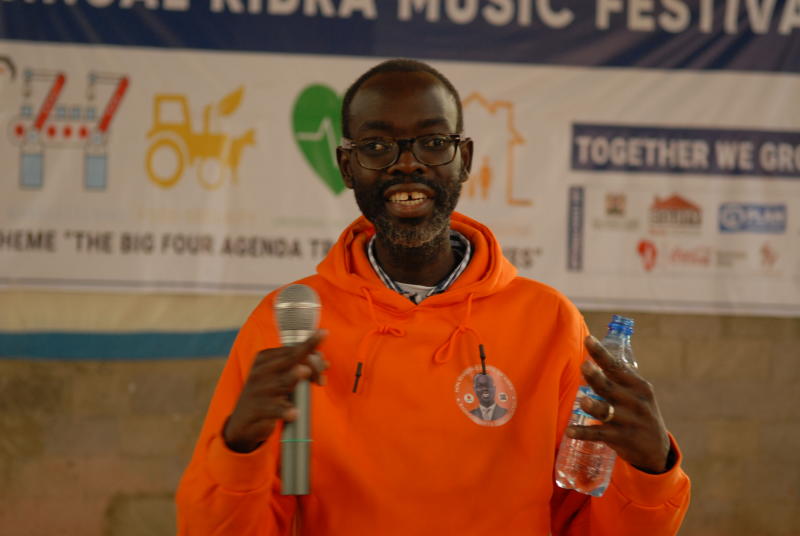 Ken Okoth exits in controversy as mystery shrouds cremation and woman demands son's recognition
It was a vigil like no other. Hawked eyed police officers watched over journalists whose eyes were fixed on the door of Lee Funeral home in Nairobi, waiting for a body that never came.
By 2am yesterday, police officers were at the morgue. For a human rights crusader whose primary message was peace, Kibra MP Ken Okoth would not have anticipated such a controversial final exit.
Journalists were barred from accessing the facility where it had been assumed that his remains lay. The officers menacingly clutched their guns and sent away anyone who made inquiries on whether Okoth's family had collected the body.
At daybreak, one policeman whispered to the Press that family members had sneaked into Lee Funeral home in the wee hours and made away with the body. His assumption was that they were headed to Kariokor crematorium.
His revelations deepened the mystery that has shrouded final rites of the legislator who died of colorectal cancer last Friday.
It also shattered hopes of a group of relatives waiting more than 500km away in Kabondo Kasipul. They had elaborate plans to give the city MP a befitting traditional send off, for a "ker', the king that they said Okoth was in life.
They had hatched a plan to hijack the body and forcefully bury it. In previous interviews, village elders had said cremation would interfere with Okoth's spirit that they wanted to roam the land.
They were disappointed.
Area MCA Godfrey Anyango said cremation was not in line with their cultural beliefs.
"Nobody in this area supported cremation. That is why residents wanted to bury him forcefully. They were already in talks with clergy men who were to bless the grave," Mr Anyango said.
Funeral that never was
The ground that was to host the memorial activities was a flurry of activities, with mourners streaming in as early as 7am. Red carpets. Tents. Music system. Decorations. Everything had been put in place for the funeral that never was. When news that he had been cremated came, some wept.
At neighbouring Kadongo Market Centre, traders spoke in low tones, as they tuned on radio to get updates on what was unfolding. There was nothing much, other than the one liner indicating that the cremation had happened.
At Kariokor, smoke wafted from the crematorium, a sign that a body had just been interred. This was at around 11am. A text message from the family spokesman Edwin Sifuna indicated that it had happened according to Okoth's wishes.
He said the event had been attended by family and close friends. His message was reinforced by opposition leader Raila Odinga who confirmed that the MP's remains had been cremated. He was speaking during the late Bomet governor Joyce Laboso's funeral. Insiders said the cremation started slightly after 6am.
"They came at around 6am. They were almost denied entry because previous booking was for 2pm," said the source at the crematorium. It is not clear how the crematorium allowed the family to conduct the rites before the official opening time.
Insiders said the normal operation time is between 8am and 5pm daily.
A standby team watching over the Kericho crematorium where it was initially reported that Ken's remains will be disposed folded their equipment. Further afield in Kabondo, questions on why the family had been giving conflicting information on the plans abound.
At Mama Angelina Okoth's home in Ogenga village, visitors talked in low tones. Pensively sitting at a shade within the compound were: Rashid Omondi, Okoth's brother, and his uncle Bishop Benson Samba.
Both were in shock, claiming they were not aware of plans to cremate Okoth's body.
Mr Samba, also the Patron of Koyoo East Community Welfare Association, to which Angelina is the treasurer, claimed the organisation was already working on plans to host guests.
A ram was tethered few metres in front of Angelina's house, and he said it was one of the animals to be slaughtered. "It is a big disappointment that with all expectations the people of Kabondo have, we have not been able to bid Okoth a farewell," said Samba.
At Nairobi MCA Anne Thumbi's home, Jayden Baraka Okoth remained oblivious of the controversy and pain that surrounded him. Ms Thumbi had been granted a court order stopping the funeral if Baraka was not involved. It is not clear if they had been consulted on the funeral arrangements.
A man claiming to be Okoth's nephew Evans Oluoch, said some close family members were sidlined during the final rites.