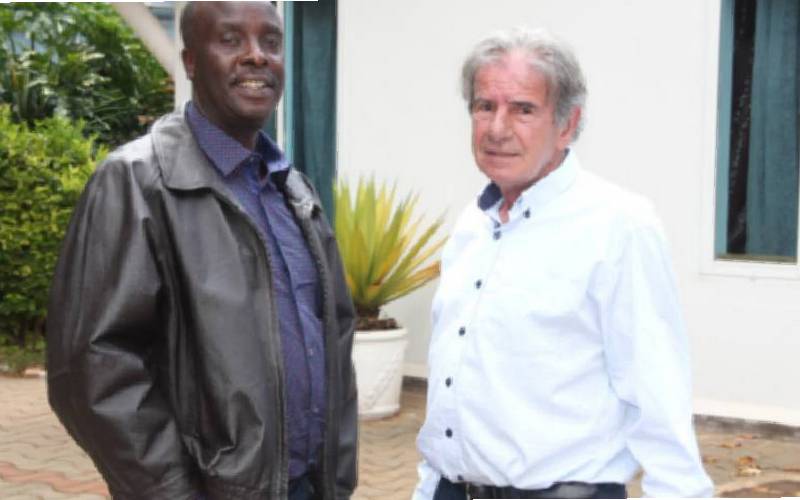 A law firm has written to the office of Inspector General of Police requesting them to investigate the disappearance of their client former Philips Electronics East Africa chairman Tob Cohen. Musyoki Mogaka &CO Advocates law firm wants the IG to investigate the suspicious revelations by Cohen's estranged wife Sarah Wairimu that he is missing. Through lawyer Danstan Omari, the firm has represented Cohen in an assault suit where he accused Wairimu of attacking him on the night of February 8, 2019. "We have instructions from a relative of our mutual client Gabriele Cohen who is in the Netherlands, about the sudden disappearance of their brother," said Omari.
SEE ALSO: Anger over renaming of two rivers
He added that Cohen had complained to the IG and office of Director of Public Prosecutions about Wairimu colluding with some public officers to abuse the criminal justice system. Cohen wrote a letter to Director of Public Prosecutions (DPP) Noordin Haji and the IG over an attempted abuse of the criminal justice system by Sarah Wairimu Kamotho. The lawyer said the dispute revolves around his properties situated along Farasi, Lane Mugumoini. "Unless your offices act speedily and accordingly, our client will continue to suffer humiliation, discrimination, and persecution because he is not a Kenyan national, which is wrong, distasteful and unfortunate," said Omari in the letter. The 69-year-old Dutch national and a businessman who has lived in Kenya since 1987, claims that Wairimu is determined to abuse the criminal justice by colluding with officers from Park-lands Police Station to prosecute him over the assault.
SEE ALSO: Young Din is keen to dim bright stars
"My client is astonished at how the law is being applied to his disadvantage since no step has been taken by police officers at Parklands Police Station to prosecute Wairimu despite enough evidence demonstrating her guilt," said Omari. "On February 5, 2019, Wairimu stormed our client and warned him," said Omari. Three days later, Cohen forgave Wairimu after Wairimu approached him over whiskey, but the latter later attacked and injured him "Around midnight, as he was standing on top of the stairs leading to the garden, Wairimu suddenly pushed him downstairs, causing our client to fall and seriously injure his forehead, "Said Omari. It is said that while he was lying helplessly on the floor bleeding, Wairimu pounced on him and pushed his head against the ground and kicked his helpless temple.
SEE ALSO: Court awards Ahmednassir Abdullahi Sh750,000 for damaged windscreen
Cohen went to MP SHAH Hospital for a medical checkup where he was treated before being discharged. Cohen fears that Wairimu is using police officers to have him prosecuted for assault yet he is the victim, a move he says will lead to his deportation and loss of his property to Wairimu. The two married in 2007 but later broke up as a result of deep understanding. She wanted a 50 percent claim in our client property situated Farasi Lane. "The disrespect has since been exacerbated by defamatory statements against Cohen with accusations by Wairimu that he has previously sought sex from their daughter's male and female friends," said Omari.