Fresh trouble for governors facing graft charges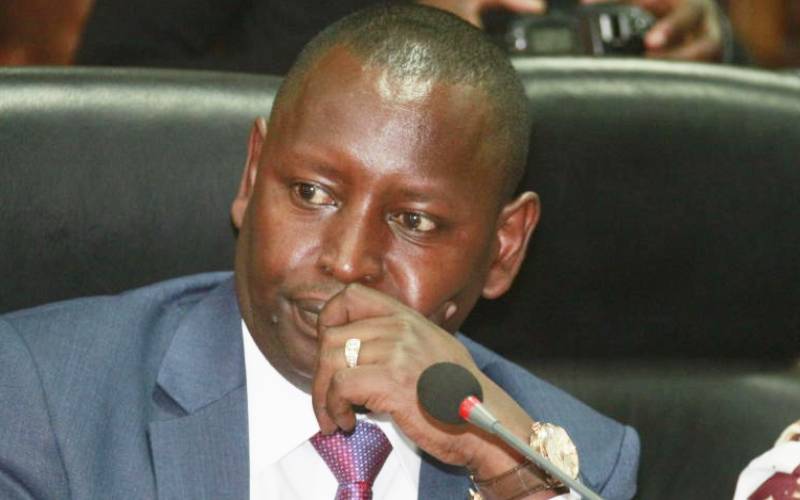 Governors facing corruption charges will be forced to fight off prosecution's push to have them barred from accessing their offices during trial.
Buoyed by a recent High Court verdict blocking Samburu Governor Moses Lenolkulal from county offices, the Director of Public Prosecutions (DPP) and Ethics and Anti-Corruption Commission (EACC) have signaled that they will persuade judges to enforce similar orders against top officials arraigned on graft charges.
Kiambu Governor Ferdinand Waititu, who surrendered to the EACC, could be the first to fight the demand to step aside today when he is expected in court to answer to conflict of interest charges related to award of county tenders (see separate story).
Busia Governor Sospeter Ojaamong', who is fighting graft charges, and Migori's Okoth Obado, who is set to stand trial on murder claims, could find themselves also warding off similar stringent conditions.
The anti-graft agency has also opened investigations in multiple counties, including Tharaka/Nithi, Garissa, Siaya, Turkana, Marsabit, Kitui, Murang'a, Homa Bay, Migori, Wajir, Nairobi, Machakos and Nandi.
DPP Noordin Haji and EACC boss Twalib Mbarak praised Justice Mumbi Ngugi's landmark decision locking out Lenolkulal from his office, saying they would not relent in pushing for the condition to apply to all constitutional office holders whenever they are prosecuted.
Haji insists that any officer charged must step aside, as Kenyans envisioned to have leaders who observe Chapter Six of the Constitution on leadership and integrity and Articles 1 of the Constitution.
"I have been fighting to ask that those people who are charged step aside. They must step aside. That is in the Constitution and it is a right that we have to ask, we are not pleading. If you are charged you must step aside, and we will go to the Supreme Court to get that ruling," said Haji.
Mr Mbarak said there was no special class of people when dealing with crime.
He argued that the verdict by Justice Ngugi gave teams fighting crime and graft some teeth. While dispelling fears of bias and the same being used for witch-hunt, he said cases filed before the court were investigated independently and fair to all parties.
"Following this ruling, it will no longer be business as usual for constitutional office holders facing criminal charges of corruption and economic crimes," said Mbarak.
"It (ruling) gives strength to both Chapter Six of the constitution and affiliated Acts such as the Leadership and Integrity law," he stated.
"No one is spared, starting with the senior leadership. Governors are not exempted. The first priority of the commission is to safeguards public funds, ensure prudent use and accountability among State and public officers, " Mbarak explained.
He added: "We are also focusing on assets tracing with the aim of recovering illegal acquired properties. This includes unexplained wealth from all these officials".
Mbarak disclosed that the officers were investigating a number of counties on corruption-related cases, including dealing with suspect properties, money laundering, employment of unskilled staff and those with forged academic papers, nepotism, abuse of office and total disregard of the Constitution.
"A number of counties are under probe. Others have been completed and the investigators are reviewing the files with the legal team. We believe a number of these cases are water-tight and the court's ruling on Samburu Governor aids in the process."
EACC says investigating cases while the accused persons are in office is a daunting task, as it impedes the process.
Presently, the Constitution does not envisage stepping aside, or blocking of elected leaders from office as the court process continues.
Justice Ngugi locked out Lenolkulal from office and directed that he could only access the premises with written permission from Twalib.
The embattled governor has argued that the Constitution does not envisage and no provision was made for the suspension of a governor from office, and neither should his going to office be subject to the supervision of another body.
However, the judge found that public interest superseded his own, hence it was incumbent for him to let his deputy run the affairs of the county while he clears his name.
Pass legislation
"Could the people of Kenya have intended to then pass legislation that allowed State officers for whom grounds for removal from office are provided in the Constitution, to ride roughshod over the integrity required of leaders, face prosecution in court over their alleged corrupt dealings, and still continue to enjoy the trappings of office as they face corruption charges alleged to have been committed while in office and committed within the said offices?" posed Justice Ngugi.
While faulting MPs for passing a section of the law that shields State officers implicated in crime from suspension, the judge observed that it was against Kenyans' will to have leaders with questionable integrity lead them.