Ken Okoth: Love and laughter defined MP even in sickness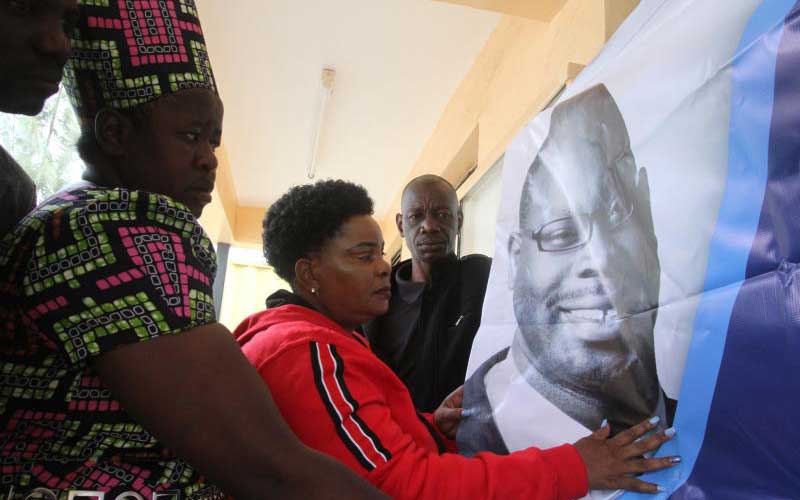 They say a picture is worth a thousand words. Perusing Ken Okoth's album is like going through an almanac of a man who lived life to the fullest.
His social media pages chronicle his life through images, from a little toothless boy, flashing a gummy smile, to an ailing man clutching at a water bottle. One thing is constant – his smile.
There is hardly a photo where his is not smiling or laughing.
His friends have immortalised that throaty laugh. Even when death beckoned in his last days, he still smiled in spite of pain.
"He would see you and smile. He never wanted people to feel sorry for him," says David Kele, a youth leader in Kibera.
His last Instagram photo, that he put after publicly talking about the cancer diagnosis is that of an unoccupied bicycle. Perhaps a symbolism of the virgin paths he was yet to take.
Before that, he was king of a wild universe. He loved children.
Empowerment
Take a quick survey and help us improve our website!
Take a survey
Residents talk of how school going children would clutch on his trouser whenever he visited. He often visited schools, especially his former primary school Olympics where he was part of the Alumni programme.
He showed his appreciation of art by sharing photos and videos of school performances, urging people to show up and support children's talent. His profile has posters and adverts of him promoting young entrepreneurs.
"My jacket design is by an upcoming designer. Please promote young people," reads one of his captions where he has the designer's contact.
His other passion was education. There are countless images, anecdotes and quotes from him defending the rights of people to go to school. On his official website, he divided his development plans in five sections: education, women and youth empowerment, health, sanitation and security.
"Ken has been a teacher, coach, mentor, director, and professor at various institutions including the Potomac School, Georgetown University, the University of Dar es Salaam, and the Children of Kibera Foundation," reads part of his biography at the site, solidifying his love for education.
His social media platforms were always updated with his development activities. The last on his Facebook is him, half the size of the towering man he was before colorectal cancer took toll on him, but not his zeal. He was attending an Education Day function at Kibra Primary School.
In April, while undergoing treatment in France, he ensured that 7,000 students had benefited from Sh32 million bursary funds.
Photos of students receiving dummy cheques with smiles on their faces reinforce what Okoth had said several times during his campaigns.
"I work for the people. There is no need to get rich while those around you languish in poverty," he said.
The late Kibra MP was passionate about women. His number one fan was his mother who had single handily brought him up in a tiny house in Kibera. His photos of his mother are captioned with heart-warming details of the respect he has for women.
Occasionally, he would get mushy by posting a selfie with his wife. He initiated several projects aimed at benefiting women.
His pride was the Mbagathi Girls High School, an ultra modern institution whose building he championed and solicited for funding. It remains embedded on his Twitter handle and engraved in the minds of those whose lives he changed.
Of his more than 64,000 tweets, he talked of his development goals, condemned the excesses of the regime, and called for peace when gun shots and tears polarised his constituency.
"Hate, it has caused a lot of problems in the world, but has not solved one yet…" he posted, quoting Maria Angelou and affirming his position on one of his powerful quotes that he once said.
"Love and understanding makes everything else so easy…"
His flaws were well kept from the public, and when he got negative publicity, like the time he was accused of cosying up with government and betraying his party, he responded firmly that he works with anyone who supports development.
In life and in death, what defined Ken Okoth was his love for life, and more prominently, his compassion.