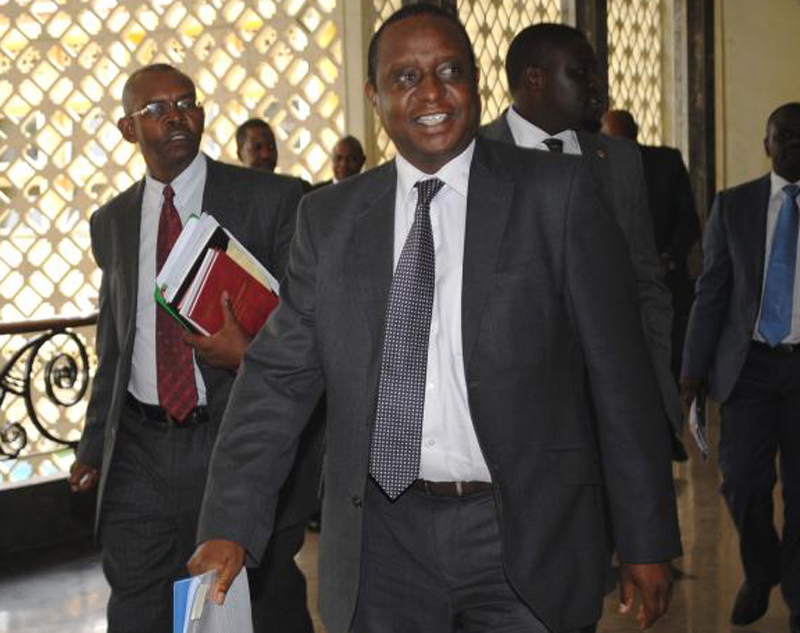 Treasury CS Henry Rotich and his PS Kamau Thugge have been arrested and taken to DCI headquarters over Kimwarer and Arror dams scandal. Director of Public Prosecutions Noordin Haji had earlier ordered the arrest of Rotich and his Principal Secretary Kamau Thugge among other state officers over the dams scandal. Detectives have also arrested NEMA Director General Geoffrey Wahungu at his home in Rukindu, Tharaka Nithi County in the swoop. Betty Chepng'eno, County Criminal Investigations Officer says Wahungu is being taken to Nairobi for further interrogations.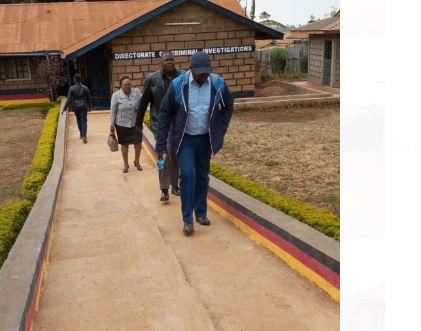 Officers of the Ethics and Anti-Corruption Commission based in Eldoret have also arrested Kerio Valley Development Authority officers who were named by the DPP as suspects. Part of the group is the KVDA acting MD Francis Kipkech, among other officials. The announcement came after Haji and Directorate of Criminal Investigations boss George Kinoti flew to Italy on June 10 to conclude investigations into the dams scandal. Those to be arrested include EAC PS Susan Koech, Kerio Valley Development Authority managing director Kipchumba Kimosop, Treasury chief economist Kennedy Nyachiro and Treasury director of resource mobilisation Jackson Kinyanjui. Also to be arrested are Inspector General of State Corporations Titus Muriithi, KVDA head of supply chain William Kipkemboi, Paul Serem (manager, engineering services), Francis Chepkonga, Samuel Kimutai, David Juma, Patrick Kiptoo, Elizabeth Kebenei and Esther Kiror of the tendering committee.
From the technical and financial committee, Kipchumba, Nelson Korir, Isaac Kiiru, Patrick Kipsang, Frederick Towett, Jotham Rutto, Charity Muui, Geoffrey Wahungu, and David Ongare face arrest. After his press briefing, DPP went explained that the names were arrived at depending on the evidence collected and that there is no bias at all. "We are aware there may be elements who may seek to exploit these charges to create social unrest, but mechanisms have been put in place to monitor any such attempts and counter them," Haji said. Haji also noted that the Kerio Valley Development Authority (KVDA) failed to comply with the principle of fairness and value for money in awarding the contract to CMC Di Ravenna. "They awarded the contract while aware that CMC Di Ravenna was straining financially back in Italy," Haji said. According to the DPP, the Kerio Valley Development Authority (KVDA) flouted the procurement rules in handing the Arror and Kimwarer dams contract to CMC di Ravenna in which the contract was inflated by Sh17 billion. He says the contractor (CMC di Ravenna) also submitted a design of the dams four years after the required time. Haji also ordered the arrest of CMC di Ravenna top directors. The suspects will be charged with conspiracy to defraud, willful failure to comply with applicable procedures, abuse of office, committing an offence of financial misconduct, fraudulent acquisition of public property among other charges. In an earlier press conference, the DPPI said: "In June 2019 the DCI submitted the investigation file to the ODPP for direction. The investigations established that government officials flouted all procurement rules and abused their oath of office to ensure the scheme went through. Many procurement procedures as stipulated by the law for such projects were ignored and the law was circumvented to ensure that CMC di Ravenna got the contract." He added: "Whereas the alleged commercial contract signed between KVDA and CMC Di Ravenna/Itinera JV clearly states that Kimwarer Dam would cost USD 204,020,149.02 while Arror Dam would cost USD 252,188,732.27 totalling to USD 456,208,881 9 (approximately Kshs 46 Billion), the National Treasury negotiated a commercial facility increasing the amount to approximately Kshs. 63 Billion which is 17 Billion more than necessary or required payable on a timely basis without regard to performance or works." The DPPI said the authorities know that that CMC di Ravenna submitted draft technical designs in February 2019 four years behind schedule. "Further," he added "the National Treasury entered into a facility contract in Euros while the commercial contracts were in USD, therefore, occasioning further loss to the Kenyan Government through exchange rates. Of note, said Mr Haji, "out of the Kshs 63 Billion in respect of the projects, as at January 2019, the government of Kenya has made the following payments: advance payment, commitment fee, insurance and other costs totaling Kshs 19,714,366,991. Out 10 of this, Kshs 11 Billion for insurance was paid upfront." Mr Haji said in contrast, if the borrowing was justified, a government guarantee would have sufficed at no cost to the Government of Kenya and
Mwananchi
. Further, Euros 40,031,927 (approximately Ksh 4.6 Billion) was borrowed in addition to the principal amount to pay interest in advance during the construction period which to date has not commenced. "As a country, we continue to pay interest on the loans", he said.