Ex-bank boss says PCEA cleric authorised suspect transfers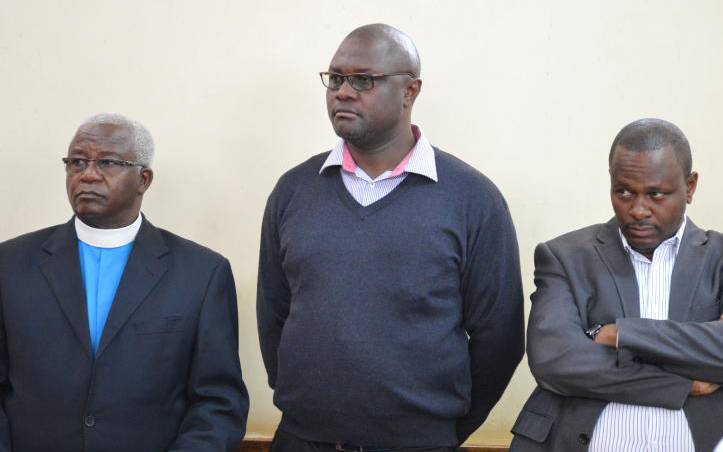 A senior Presbyterian Church of East Africa (PCEA) cleric authorised several transfers of church funds suspected to have been stolen, a court heard yesterday.
The new evidence from a senior bank manager emerged during a case facing former PCEA Moderator David Gathanju and two others over theft of Sh50.9 million
During yesterday's hearing, details emerged that PCEA General Assembly Secretary General Rev Peter Kania, who was Rev Gathanju's second-in-command, usually authorised transfer of funds.
A statement by former Equity Bank Nairobi West branch manager Chebet Rotich indicated that before effecting any transfers from one account to the other, she would call Mr Kania to confirm whether they had sanctioned the transactions.
Ms Chebet added that in Kania's absence, she would call church treasurer Amon Nderi.
She stated that she used to seek verification using the bank's landline number.
Gathanju, who served as moderator between 2009 and 2015, is charged alongside two former employees, James Muiruri and Peter Mwangi.
Finance officer
Muiruri is a former finance officer while Mwangi is a former communications director at the church.
The three are charged that on diverse dates between January 2, 2016, and June 30, 2017, at PCEA headquarters in Nairobi's South C estate, they stole Sh50.9 million from the church.
In a second count, they are accused of stealing Sh50.9 million that came into their possession by virtue of their employment.
The three have denied the charges and are out on a Sh1 million bond.
In her statement, Chebet recalled how Kania went to the bank in June 2017 and informed her that he had learned that money normally collected by Mwangi, who was a signatory to some of the accounts, was being stolen.
She said Kania told her that he had tried to reach Mwangi but failed, and he therefore wanted to see the 'Application for Funds Transfer' forms to see where the money was being transferred to.
Mandatory signatory
The manager said she then questioned Kania about the calls she used to make to him as a mandatory signatory to the PAYE account since he had stated that sometimes he signed the application forms for funds transfer in a hurry.
"Rev Kania agreed the calls were made to him and (he) should be given time to go and sort things out from their side," she said.
Chebet said that after confirming everything was above board, she would authorise the transfers and then instruct the bank tellers to effect the orders.
The manager denied conspiring with Mwangi or anyone else to defraud the church, saying everything was done above board and as per the laid down bank procedures. She said she had no knowledge that anyone was stealing from the church until Kania went to the branch with the information.
The prosecution sought to recall the statement by the manager but the defence declined. The prosecution then sought 11 days to get further instructions from Director of Public Prosecution Noordin Haji.
Investigation officer Paul Waweru told the court he did not seek to use Chebet's statement.
"In that essence, we shall be calling another witness for Equity bank who will provide another bank statement account," he stated.
But lawyer Danston Omari, who is representing Mwangi, said this was another ploy to delay the case.
"The statement we have so far from the bank is incriminating the complainant. The withdrawal of the statement is aimed at selectively prosecuting the three people to the exclusion of the architect of this scam," said Mr Omari.
The case will be mentioned on July 19.