Tom Mboya's letters open doors for Kenyans abroad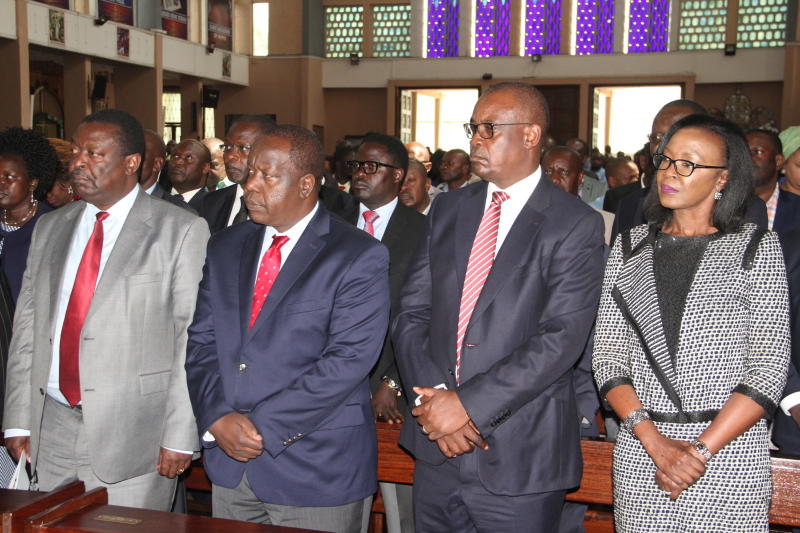 When the five Mboya children were growing up under the strict guidance of their mother Pamela Mboya who had no qualms spanking or pinching them for truancy, they used to see hundreds of boxes neatly packed in their garage.
In the boxes were hundreds of files, whose significance they did not know but dared not mess around with them lest they taste the wrath of their mother.
"We, like other children used to destroy many things that dad had collected from his travels around the world because we did not know their value until we became adults but the letters were safely stored in the boxes," says Dr Susan Mboya-Kidero.
It was only later that they learned their father had written and received thousands of letters from friends who were mostly based in the US.
The letters addressed issues touching on governance in Africa, human and workers rights and raising funds for scholarship opportunities in the US.
Mboya was a man who did not let any opportunity pass and he did exactly that, during his worldwide travels, creating contacts that he later used to raise funds and take hundreds of Kenyan students to study in America.
The man from Rusinga Island in Lake Victoria detested tribalism and would have been pained to witness negative ethnicity and tribal killings that rock the country every election year.
Mboya argued that the colonial powers and missionaries used tribalism as a tool for divide and rule.
"When a leader feels weak on the national platform, he begins to calculate that the only support he may have will come from his tribe," argued Mboya.
His weapon against negative tribalism was education and the trade union movement.
That was why he came up with the idea of the airlifts through which he raised money for students from Kenya and East and Central Africa to get scholarships in the US.
That was the subject covered in many of the over 2,000 letters he wrote to the likes of William Scheinman, a longtime friend and a young philanthropist from a rich family in California.
The American, who was three years older than Mboya died in 1999, but that was after collecting all the letters and safely depositing them at the Hoover Library, Stanford University.
The Hoover Institution Library and Archives website announced the opening of the papers that "highlight the collection of rich correspondence between Scheinman and Mboya, which contains hundreds of letters, beginning in 1957 and ending only with Mboya's untimely death from an assassin's bullet in 1969.
In 1957 and 1958, Scheinman paid out of his own pocket for 50 students to fly from Kenya to the US but in 1959 they founded the African American Students Foundation based in New York which raised money to charter flights for students from the region.
Jittery and suspicious
The first charter flew 81 students, including Pamela Odede who came back two years later with a degree in sociology, and got married to Mboya in January 1962.
Although many complains later emerged over the airlifts which made many politicians jittery and suspicious of Mboya, some leaders in the region complained that it was only serving Kenyans.
Since all students in the first flight came from Kenya, the foundation broadened its representation of African leaders, bringing Julius Nyerere, Kenneth Kaunda and Joshua Nkomo on the Board as directors and sending 295 and 322 students in 1961 and 62 in the enlarged programmes.
The enormity of those airlifts was only realised years later after Mboya had died when most beneficiaries like the late Prof Wangari Maathai, a nobel laureate, emerged to champion noble causes for the society.
Although Mboya meant well in ensuring Kenyan students got good education in the US, suspicion mounted as he was accused by politicians who would later become Jomo Kenyatta allies, of being too close to the Americans.
"There was apparent antagonism against me and it was said that during the London talks the Press had given me a lot of prominence and when we went to Kiambu, youth organised by some leaders accused me of being too close to the United States because of my connection to the students airlift," wrote Mboya.
Even in the trade union movement, his allies started rebelling against him among them his Deputy Arthur Ochwada who set up the Kenya Trade Unions Congress, then his former allies Dennis Akumu and Ochola Mak'Anyengo who also accused him of aligning with the west against the non-aligned position of African leaders.
"He was worried about his security as anyone else in those days and sometimes wore bullet proof vests and some friends had wanted his security increased but he felt that what he had was adequate. But he could have rattled some fellows," says Susan.
During his official and unofficial business trips, Mboya met Harry Belafonte who helped him champion the airlifts campaign. "They corresponded a lot and there was a lot of exchange of ideas. You could almost see how policy was formed through exchange of ideas and Belafonte used to come to our house and sing to us when we were growing up," says Susan.
Mboya wrote to the likes of Martin Luther King, asking questions and giving his opinion and debating issues.
Susan is planning to publish a book about the letters so that Kenyans can also access them in libraries and bookshops.
With about 2005 letters that were donated to the Hoover Library at Stanford University, she intends to put together a volume that will also be used by historians and students interested in studying Mboya's opinions and thoughts.
The Hoover library has preserved them and made them available to scholars all over the world and anybody can get them online.
The library unveiled correspondence between the Kenyan independence leader and the American philanthropist who was responsible for helping educate hundreds of Kenyans including Barack Obama Sr, whose son became US President.
Coincidentally Obama Sr was the last person Mboya met on his way to a chemist along Tom Mboya road before he was killed. "He was in a very jovial mood," Obama is reported to have told the trial judge.