Two officials roughed up over delayed funds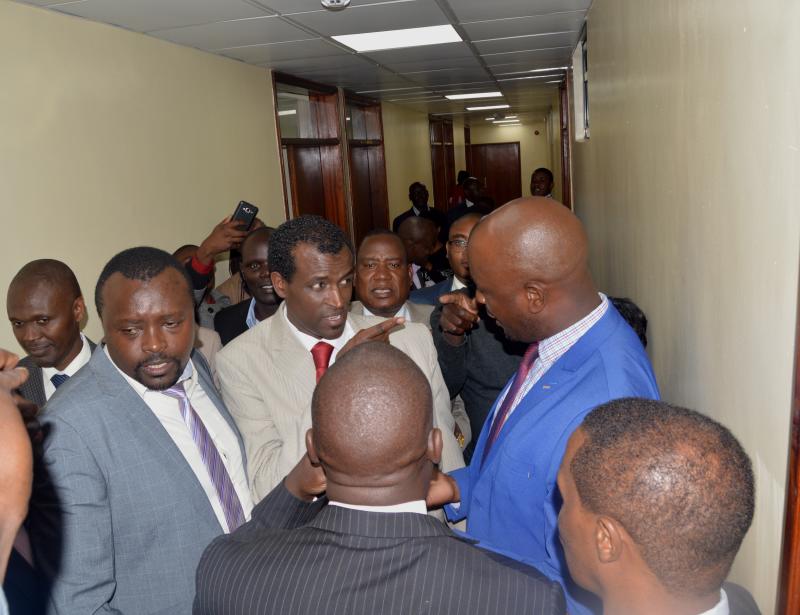 Ward representatives roughed up two Nairobi County officials while complaining of delay in release of bursary funds.
Members of the Education Committee attacked Finance Chief Officer Halkano Waqo and Education Executive Lucia Mulwa after a heated meeting on Wednesday.
Trouble started after committee chairperson Millicent Mugadi adjourned the sitting.
The rowdy MCAs demanded that all doors in the committee chamber be closed to block the officials from leaving until they could get their bursary funds.
Mr Waqo sneaked out but the MCAs caught up with him in the corridors and roughed him up.
Ms Muilu ran into an adjacent room, and hid under a chair.
It took the intervention of the sergeant-at-arms to calm the situation.
Earlier, during the committee meeting, it had emerged that beneficiaries from all 85 wards were yet to receive Sh400 million bursary funds announced by Governor Mike Sonko in April.
Each ward was expected to get Sh3.5 million, which would then be transferred to schools' bank accounts. MCAs were then to be issued with vouchers to give beneficiaries in their wards.
On Wednesday, the MCAs accused the duo of causing delays.
Trouble started when Mr Waqo revealed that the delay had been caused by the office of the Controller of Budget, which was still reconciling the expenditure of the last financial year's bursary funds.
Waqo told the committee that CoB Agnes Odhiambo could not release this year's bursary funds because the county could not account for Sh100 million issued in bursary funds last year.
"Each of the 85 elected MCAs was to receive Sh3.5 million but the records state that only Sh3.2 million was released. As a committee, we want to know where the extra cash went to," said an agitated Francis Otieno, the Dandora Phase Four MCA.
In his defence, Waqo said he was recently appointed to the Finance docket but vowed to engage banks and order for a scrutiny on the statements on bursary funds issued in the last financial year.
"I will do so and present a report by the end of the week," said Waqo.
The committee members could, however, hear none of it, saying they were tired of the Executive's excuses.
Nominated MCA June Ndegwa tore into the officials, noting the delay was part of a ploy by the executive to ensure MCAs were not re-elected in their wards come 2022.
Mr Mulwa told the committee her department was engaging the Controller of Budget and would ensure the funds were released soon.