Uhuru, Harvard scholars discuss growth plans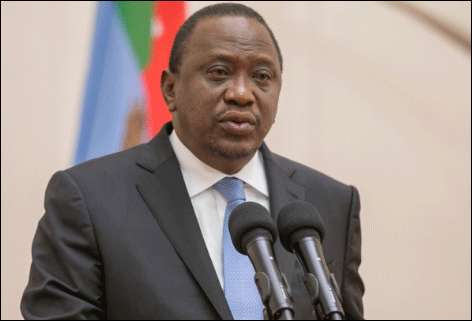 President Uhuru Kenyatta on Friday night met 35 visiting professors from the Harvard Business School who are on a mission to learn his economic growth agenda for Kenya and the African continent.
The Head of State and First Lady Margaret Kenyatta played host to the unique group of visitors who included one of the Harvard University's prestigious graduate schools at State House, Nairobi.
The team engaged the President on topics ranging from what propels Kenya as a regional economic powerhouse, his administration's policies, Africa's place in today's changing world and what he wants to be remembered for most among other subjects.
Do my best
"I want to do my best and I hope people will recognise that I did my best," said the President while responding to a question by Mr Anywhere Sikochi, Assistant Professor of Business Administration.
He said he has laid down a strong foundation for Kenya's transformation by creating greater openness, transparency and freedom of speech. "I want Kenya's future to be one where politics is based on agenda and not on tribe or religion," he said.
The President also said Kenya's biggest asset is its human capital and its small and medium-sized enterprises, (SMEs) commonly referred to as the informal sector.
"Business and entrepreneurship is ingrained in the Kenyan psyche, whether it is the billionaire or the hawker," he said.
The professors led by Srikant Datar, had already visited the Port of Mombasa and several industries in the coastal city, and several companies in Nairobi.
They were accompanied by one of their former students, East Africa Community CS Adan Mohamed. They also met ICT Cabinet Secretary Joe Mucheru and Equity Group Holdings CEO James Mwangi.
The meeting was also attended by Head of Public Service Joseph Kinyua and Chief of Staff Nzioka Waita.