Author and LGBT activist Binyavanga Wainaina is dead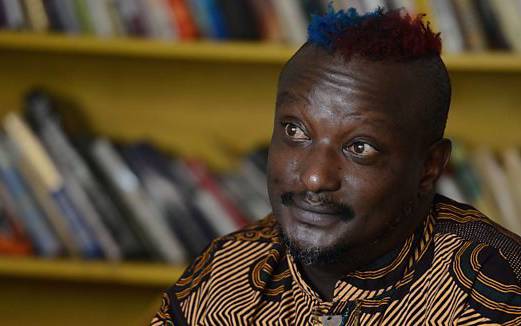 Caine Literary prize winner and LGBT activist Binyavanga Wainaina is dead. Reports indicate that the 48-year-old writer died at 10 pm at his Langata home near Bomas of Kenya, Nairobi, after battling stroke for some time.
The "How to Write About Africa" satirical essay writer won the 2002 Caine Prize for African Writing. The winning was the essay titled Discovering Home.
Wainaina also founded the Kwani? literary journal in which many Kenyan writers cut their teeth, among them Standard writer Tony Mochama better known as Smitta.
While being interviewed by The Nairobian in 2014, Binyavanga declared his sexual orientation saying: "I feel no shame about being gay at all. I am not the first black man, not by any means the first African; I am not the first person in the world who has done that. Sio kitu kubwa (it's not a big deal.)"
"It is completely alright and I will stand and defend your right from the highest pulpit," he said, and added, "But leave my bedroom alone, leave people's bedroom alone."
He went on to fight allegations of being sponsored by some organizations to front the legalisation of same-sex marriages.
"As a public gay citizen, I am not interested in fighting for donor money. I have my own ways of being resourceful."
The writer then conceded that fronting LGBT rights is something that has a lot of monetary returns. "Oh! there is a lot of money in gay business, he exclaimed, smiling. "But if I wanted real money I would start a church," he said.
In April 2014, Time magazine included Wainaina in its annual TIME 100 as one of the "Most Influential People in the World."
Born on January 18, 1971, in Nakuru, Wainaina schooled at Mang'u High School and Lenana School before proceeding to University of Transkei.
In 2018 Wainaina proposed to his long-term Nigerian partner after dating for six years.
He broke the news via social media where he added that they would be living in South Africa where his partner was studying.
The author praised on his lover saying he was a "gentle" person with the "most gorgeous heart" and promised a grand reception in Nairobi.
"I asked my love for his hand in marriage two weeks ago. He said yes, nearly immediately. He is Nigerian. We will be living in South Africa, where he will be studying next year [2019]. We will get married there, early next year.
"We will have a reception for Kenyans in Nairobi sometime next year too. Nothing has surprised me more than coming to love this person, who is gentle and has the most gorgeous heart. I consider myself hugely lucky that he loves me and I have only recently fallen in love with him, but we have known each other and have been dating on and off since 2012," wrote Wainaina.
He was one of the most high-profile individuals to announce their sexuality in Africa having made the bold move in 2014 after publishing an article titled I Am a Homosexual, Mum that got Kenya, Africa and the world talking.
An excerpt from the piece let out his closely guarded secret as he let the world know through a re-imagination of his mother's last days as she lay on her deathbed.
"Never, mum. I did not trust you, mum. And. I. Pulled air hard and balled it down into my navel, and let it out slow and firm, clean and without bumps out of my mouth, loud and clear over a shoulder, into her ear. "I am a homosexual, mum."
He later tweeted that "I am, for anybody confused or in doubt, a homosexual. Gay, and quite happy," putting to rest the debate the article stirred.
On December 1 2016 (World Aids Day) Wainaina announced on his Twitter page that he was HIV positive.
Wainaina was the director of the Chinua Achebe Centre for African Writers and Artists at Bard College in Hamlet, New York, United States.
Two years ago Wainaina was a victim of a physical racial attack in Berlin, Germany.
He said he was attacked by a taxi driver as he sought to get directions to a clinic where he was to get prescription medicine as he was recovering from a stroke. He was also headed to Dar es Salaam, Tanzania after that.
"The cab was waiting. I got in, sat down carelessly and started to look for the address for where I was going on my phone. And the website of the clinic I was going to was one of those that maybe don't fit a phone so well. Anyway it took a long to me to get the address," he said.
The taxi driver was, however, not patient and demanded that Binyavanga hurry up with the address.
"So he gets out of the car and comes across to my side, and opens the door. I am clueless what is going on because he is beating me, my bag is on the ground, we scuffle but he is stronger, I am crying now. Loud. In front of my neighbours," he wrote.
The author said that no neighbour came to his aid despite his cries for help.