MPs begin fresh probe over Sh3.2bn Ruaraka scandal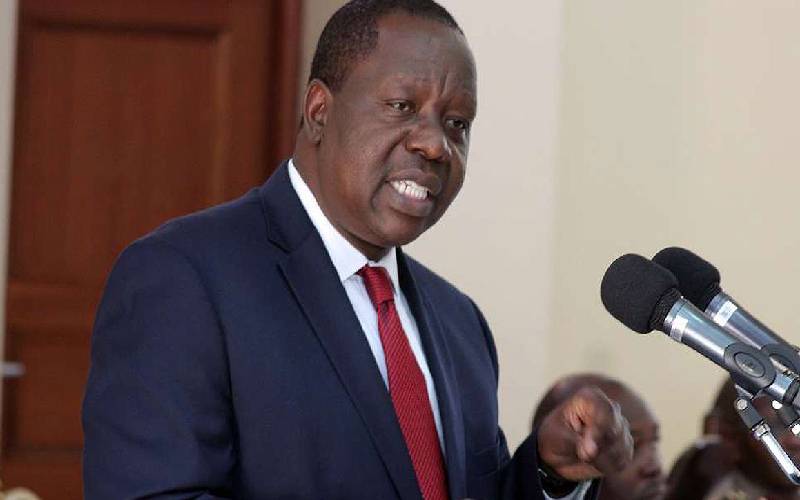 A parliamentary committee will launch a fresh investigation into the Sh3.2 billion Ruaraka land saga.
This comes after Auditor General Edward Ouko (pictured) tabled a report on the matter in Parliament, which showed that public money could have been lost in the transaction.
"The Public Accounts Committee (PAC) is now fully seized of the Ruaraka land matter. The committee is going to exercise its constitutional mandate and examine the matter with the usual diligence and bring it to its logical conclusion," said PAC chairman Opiyo Wandayi.
The National Assembly Lands Committee and the Senate County Public Accounts and Investment Committee had separately investigated how the Education ministry and the National Land Commission (NLC) got entangled in the matter.
But a report by the Senate committee that recommended Interior Cabinet Secretary Fred Matiang'i and Education Principal Secretary Belio Kipsang be held accountable for the loss was lost on a technicality, after only 15 senators voted for its adoption instead of the stipulated 24 lawmakers.
"The verdict by the PAC will supersede all previous recommendations by any other committee of the two Houses of Parliament. The public must rest assured that the PAC will spare no efforts to get to the bottom of the matte," said Mr Wandayi.
In his report, Mr Ouko says the property was under two mortgages when businessman Francis Mburu sold it to the ministry of Education.
In the 1980s, according to Ouko, Mburu borrowed Sh21 million and Sh165 million from Continental Credit Finance Limited and Kenya Posts and Telecommunications Corporation respectively.
But by the time he was selling the land, he had not completed paying the loans.
The report further questions why NLC paid a 15 per cent disturbance allowance for land that Mburu had not developed.
This latest development could once again thrust Dr Matiang'i, Mr Kipsang and former NLC chair Muhammad Swazuri on the spot because they sanctioned the acquisition of the land on which Ruaraka Secondary and Drive Inn Primary schools occupy.
In a valuation report dated June 14, 2017, NLC determined the area for acquisition as measuring 6.9 acres for Drive Inn Primary School and 6.78 acres for Ruaraka High School at Sh206 million per acre.
This translated to Sh3.2 billion inclusive of 15 per cent disturbance allowance.
"The Ministry of Education transferred Sh1.5 billion to the National Land Commission on January 22, 2018 for the purpose of the acquisition and the same was paid to the vendor on January 29, 2018 vide cheque number 000936," reads the report.