Race for lobby's top seat hots up as Ngatia, two others jostle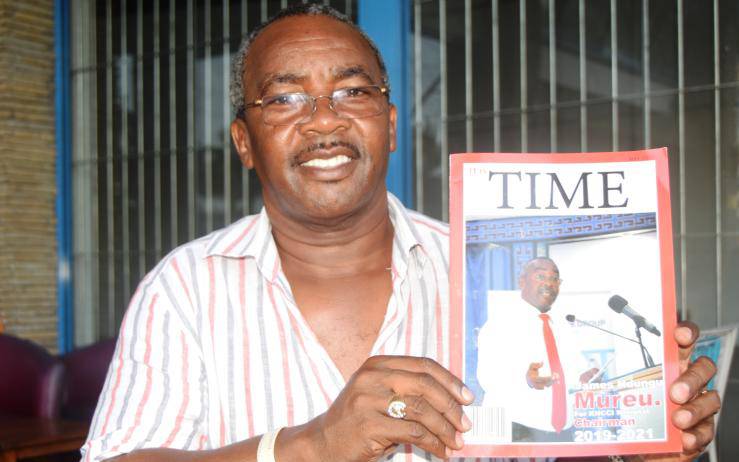 The battle for the presidency of the Kenya National Chamber of Commerce and Industry (KNCCI) is shaping up after one of the contestants opted out.
Gor Semelang'o will now battle it out with Charles Wako and Fatma Elmaawy for the position of vice president in the May 28 national vote.
And as county and regional elections continue, three contenders for the top seat, Richard Ngatia, outgoing vice chairman James Mureu and new entrant Abdulatif Shariff are crisscrossing the country to seek the backing of the voting blocs.
Kisumu and Narok chapters chairmen Israel Agina and David Batiany said they back Ngatia, citing his pledge to empower SMEs and bring more of them into the business fold. Mr Agina said members are happy with what Ngatia did for Nairobi.
"Our people need to get more into business and Ngatia's inclusive manifesto is clear that locals will get training and capacity building beside mobilising financing," said Agina.
Mr Batiany said the Maa community, which also extends across Kajiado, Liakipia and Samburu, needs someone who would tap their potential in business and trade.
These sentiments have been echoed by Rodgers Mulemi of Western region and Hassan Wario, the outgoing Charman of Tana River who is contesting for Coast regional director's seat, saying they are seeking fresh blood at the national leadership to bring change.
"Some leaders have been in office for the last 10 years but all they have done is fight the top brass to be seen to be doing something," said Mr Mulemi.
Newly elected Chairman of Uasin Gishu Chamber, Willie Kenei, says North Rift is behind Ngatia's presidency for his experience, adding that he will mentor businessmen.
Ngatia, running as Team Nguvu, has pledged to engage the public to build the capacity of SMEs, which are the biggest employers, especially among the youth and women.
"I am glad that many of the county officials elected in the ongoing county elections of the Chamber are members of our team, Team Nguvu," said Ngatia, adding that many members are happy with his track record in Nairobi as well as his manifesto.
And Mureu's manifesto has six pillars, including an endeavour to streamline revenue collection and distribution at the Chamber. He is credited with making the Mombasa branch vibrant.
"I want to continue the legacy left by Mr Kittony at the Chamber and I am bullish because most of the Rift Valley counties, including Baringo, West Pokot, Bomet and Kericho are behind me," said Mureu.
He defends his record as Kiprono Kittony's national vice-chairman: "I'm the one who has brought back sanity to the chamber and I have talked about every economic and business situation in the country. If that makes me controversial so be it," he says, adding that his manifesto is clear on the roadmap he wants to take the chamber.
Mr Shariff has pledged to make Qatar a distribution centre for Kenya's agricultural produce for the Middle East market. Shariff, whose company Tunasco is in agriculture, construction, energy and healthcare, said Qatar is a consumer country.
"They have high purchasing power to buy our vegetables, fruits, tea, coffee, horticultural produce, meat and spices," he said.
If elected, Shariff said he will leverage on Qatar Airways' regular flights to Kenya to move Kenyan products to the Middle East. Qatar Airways operates three daily flights to Nairobi, besides a four-times weekly service to Mombasa.
He said he would also work with counties by linking them with countries that would buy their produce through a country-county partnership. His company Tunasco has business contacts in European Union, Turkey, Egypt, Morocco, Jordan, United Arab Emirates and Oman.
Meanwhile, Semelang'o said he was still consulting widely on who to support for the presidency. "I think it will be good to go through the system, and let me support another candidate for president," he said.