Government to fund top innovators in Tvet institutions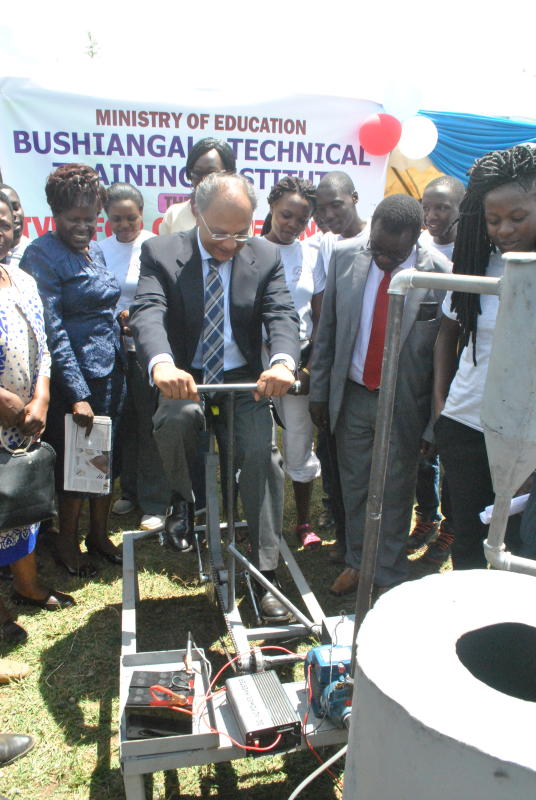 The Government has announced plans to give grants and sponsorship to Technical and Vocational Education and Training (TVET) institutes top innovators to fund inventions.
The move is to ensure students contribute to the manufacturing and agriculture sectors, which are key pillars in President Uhuru Kenyatta's Big Four agenda.
According to TVET Principal Secretary Kevit Desai, the Government recognises vocational training as the central pillar of youth employment and sustainable enterprise development needed to ensure Kenya becomes a middle-income earner by 2030.
Dr Desai was speaking yesterday during the opening of the Kenya Association of Technical Training Institutions (Katti), western region fair and exhibition on the role of science, technology and innovation for a green economy, at Kakamega Approved School.
"To achieve the Big Four agenda and Vision 2030 development blueprints, the Government will start giving grants and sponsorships to individual students in TVET institutions to develop and commercialise their innovations. We will also help them in patenting their ideas," he said.
He said they are in talks with county governments and the private sector to help sponsor top innovators.
The PS said the Government has rolled out the new technical and vocational courses for the Competency Based Education and Training (CBET) programmes aligned to the needs of the industry.
"The Government and the private sector (manufacturing industry) are working together to ensure the curriculum is in line with the skills required for national development," he said.
Desai said principals of polytechnics and technical institutions will be trained to enable them boost innovations and inventions in their institutions as a way of boosting students' morale and attract enrollment.
The PS also revealed that 4,000 trainers working in TVET centres have been moved from the payroll of Teachers Service Commission (TSC) to that of the Public Service Commission (PSC).
"The ministry has already engaged Katti leadership to develop a scheme of service for the trainers. They will help in providing skills for the competency- based training. We must differentiate them from teachers since they are skilled people," said Desai.
Tom Mulati, Katti chairman for western region, said they are investing in research and innovation since it offers an opportunity to students apply the concepts and skills acquired in solving challenges facing the country.
Mr Mulati, who is the principal of Sigalagala Polytechnic, urged institutions to partner with industry players to commercialise their innovations.
There are 180,000 students enrolled in technical and vocational training institutes, 98,000 in national polytechnics while 82,000 are in technical vocational centres.
The country has 11 national polytechnics and 280 technical and vocational colleges.