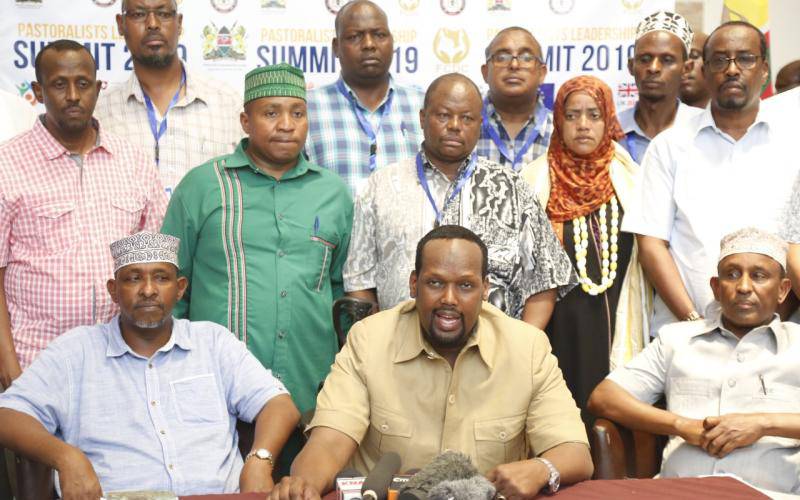 Governors and MPs from areas inhabited by pastoralists will declare a position on the referendum debate, the upcoming national census, and the boundaries review process.
The leaders, speaking during a joint meeting of the Frontier Counties Development Council (FCDC) and the Pastoral Parliamentary Group (PPG) in Garissa town, said they would also oppose attempts to either merge or reduce the number of counties.
They also resolved to spearhead efforts to tackle radicalisation, which has been blamed for terrorist attacks locally.
The forum brought together more than 10 governors, including host Ali Korane, Mohamed Kuti (Isiolo), Alex Tolgos (Elgeyo Marakwet), Mohamed Abdi (Wajir) Mohamud Ali (Marsabit) and John Lonyangapuo (West Pokot).
Read More
National Assembly Majority Leader Aden Duale, who is also the PPG patron, said they would not allow altering of any of their constituencies or wards in the next boundary review.
Monkey business
"Try any monkey business in taking any ward, constituency or even counties and we will defend devolution. We will support the referendum if it's about increasing funds for the counties from 15 to 70 per cent," said Mr Duale.
He added: "We have heard of politicians talking about punguza mzigo. We know the value of devolution because we have suffered under centralised governments. We are telling the IEBC you cannot touch our counties."
Duale accused National Treasury Cabinet Secretary Henry Rotich of violating constitutional provisions by "continuously withholding equalisation funds to transform lives of pastoral counties".
Mr Korane said the frontier counties should invest heavily in peace-building and cohesion as well as tackle radicalisation in the region.
"Our biggest problem that we need to address is the use of drugs by the youth because it is a root cause of radicalisation. We must solve the drug menace if we are to solve insecurity in our areas," said Korane.
Prof Lonyangapuo took issue with the Treasury for delays in releasing funds, saying it hampered development.
"When the law says these monies should be disbursed every month but you wait for months, what development do you think will be realised in these counties?" he posed.
Lonyangapuo also blamed the Government for failing to stop the proliferation of guns from neighbouring countries, saying that fanned cattle rustling.
Dr Kuti said it was time leaders of pastoralist communities started speaking in one voice when tabling their problems.
"We have to shape the destiny of this nation by providing the voice of reason. We are not going to sit back and watch when things are not going in the right direction," he said.
Mr Roba, who is the chairman of the FCDC, said they would invest to mitigate pasture and water problems.
Insecurity, cattle rustling and inter-communal conflicts featured prominently at the forum, with the national government blamed for doing little to resolve the problems.
Mr Roba said while Kenyans suffered whenever there was a terror attack, residents of northeastern Kenya also had to contend with stigma, fewer health and education resources and economic crises.
"Judging from the recent dusitD2 attack, all suspects are from other counties. This calls for deliberate resource planning that should be identical for all 47 counties for us to deal with this menace effectively," he said.
The Mandera governor protested the Government's decision to target the county after terror attacks. He said the closure of a quarry after the death of two workers had hurt the county economically.
Duale, however, urged the leaders to stop lamenting and blaming the national government for all manner of ills facing the region but to instead craft homegrown solutions.
"All of us have a duty to protect Kenyans against extremism. On cattle rustling, the unequal sharing of resources plays a big role, so we must distribute resources fairly and consider small communities," he said.