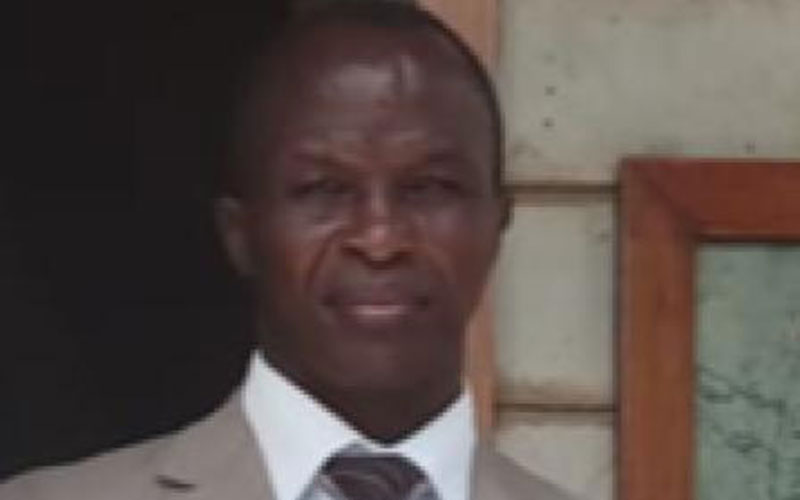 A lawyer was shot through a window in Lukenya, Machakos County, a guard has said.
Mr Robert Chesang, 45, was killed in his house at Moke Gardens on Sunday afternoon.
The guard on duty at the estate told police the two assailants arrived at about 12.30pm and demanded that he lead them to Mr Chesang's house.
They knocked on the door and the lawyer peeped through the curtains.
When the gunmen spotted him, one of them opened fire, killing him on the spot.
The attackers then ran away without stealing anything.
But before they left, they tied up the sentry and left him in a corner in the compound.
Police said were informed about the shooting by Chesang's neighbours.
They officers found the main gate and the door to Chesang's house locked. They jumped into the compound and when they peeped into the house they saw the lawyer's body lying in a pool of blood in the living room. The guard was still tied.
Chesang was alone in the house.
The gunman shot him three times in the chest, a preliminary examination of the body showed.
"He seemed to have been living in fear. Instead of opening the door, he first peeped through the window, where he was shot," said a police officer.
Police found seven spent cartridges of an AK-47 rifle at the scene. Two cartridges were found in the house and five outside the window.
"It is rare to find criminals with rifles and especially AK-47. This seems to be classic elimination using serious people, probably State operatives," said another official.
The body was taken to Shalom Mortuary in Athi River. Chesang practised in various law courts, including Milimani Law Court.
Eastern region police boss Eunice Kihiko said the motive of the killing was not known.
Chesang's wife is a magistrate of the High Court. She was not in the house at the time of the attack.
Police were yesterday reviewing CCTV footage captured from the neighbourhood. The footage shows the assailants arriving and escaping after the shooting.
The Law Society of Kenya condemned the murder.
"We condemn this atrocious act in the strongest terms possible. This incident reminds us of colleagues who have lost their lives at the hands of unknown assailants and are yet to get justice," said LSK President Allen Gichuhi in a statement.
Heinous act
"We call upon the Inspector General of Police and the country's security apparatus to move with speed and commence investigations into this heinous act and ensure that justice prevails."
Chesang's killing was also condemned by South Eastern Kenya Law Society of Kenya (LSK) chairperson Justus Mutia.
"I desist from speculating as to the circumstances but urge the investigating agencies to move with speed to unravel the circumstances under which our colleague was killed and let all the culprits be brought to book."