Family demands answers after kin's death in police chase gone awry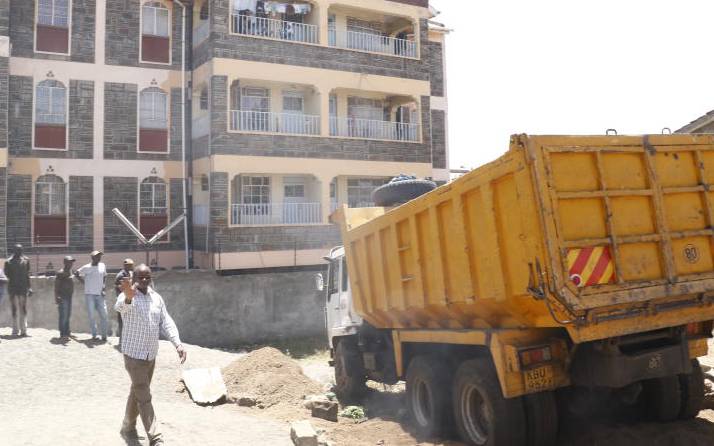 On Monday morning, Eunice Awino left her house in Manyani estate, Nakuru, for Wakulima market to buy fresh supplies for her stall at Kabachia.
Awino, 27, left her husband Walter Maguke in bed after a brief conversation. She said she would be back in two hours to check on him since he was sick.
"At around 8am, I called her and she said she had delivered the day's stock at her stall. That has been her routine for the past two years. She was to come back and prepare breakfast since I was sick and hadn't gone to work," said Maguke.
Half an hour later, a boda boda rider knocked at his door and told him that there had been an accident and his wife was involved. Maguke rushed to the scene hoping to at least rush her to hospital. It was there that it dawned on him that she was no more.
The couple, who got married on Christmas day in 2013, had a five-year old son and was expecting their second child in three months' time.
"The residents had moved her body metres from the scene. She was already dead. I have never felt such pain in my life. She was six months pregnant and died a painful death caused by someone else's recklessness," said Maguke.
A driver, who was ferrying ballast from a quarry in Bahati in a tipper, had rammed into Awino's stall a few minutes after she had spoken to Maguke.
According to her brother James Ouko, the driver lost control of his vehicle and went over a ditch before killing Awino. He was allegedly running away from police officers who were chasing after him.
White van
"Some officers donning reflector jackets were chasing after him in a white van that had blue registration plates. The driver lost control of the vehicle at a sharp corner and went straight into her stall," said Ouko.
The officers vanished before the residents could capture the van's registration details.
Take a quick survey and help us improve our website
Take a survey
Angry residents turned their fury on the driver, who was rescued by police officers from Nakuru Central Police Station. The vehicle was impounded at the station and the driver arrested.
Nakuru Deputy OCPD Daniel Kitavi has, however, dismissed reports that the alleged aggressors were police officers, saying the van does not belong to them.
"We have launched investigations into the matter. No police officers in the area use vans with parastatal registration numbers," said Kitavi.
At Maguke's house, relatives from their rural home in Rarieda, Siaya County, trooped in to mourn his wife.
Maguke described Awino as a hardworking wife with whom he had great plans for the future.
"Despite her pregnancy, she insisted on working. She was very supportive and I believed in her. She always complemented me in providing for our family and towards our dreams," said Maguke.
Awino's elder sister Maureen Adhiambo had also spoken to her minutes before her death, but their conversation was cut short by the noise in the vehicle she was in.
Tragic news
"I called her back only to be told she was dead," said Adhiambo.
The family says Awino will not be buried until the police conduct investigations and provide answers to their questions.
"We demand answers on why a Government vehicle was chasing after the tipper. We want justice," said Ouko, the family spokesperson.