Former town clerk will be remembered for bringing back order in the city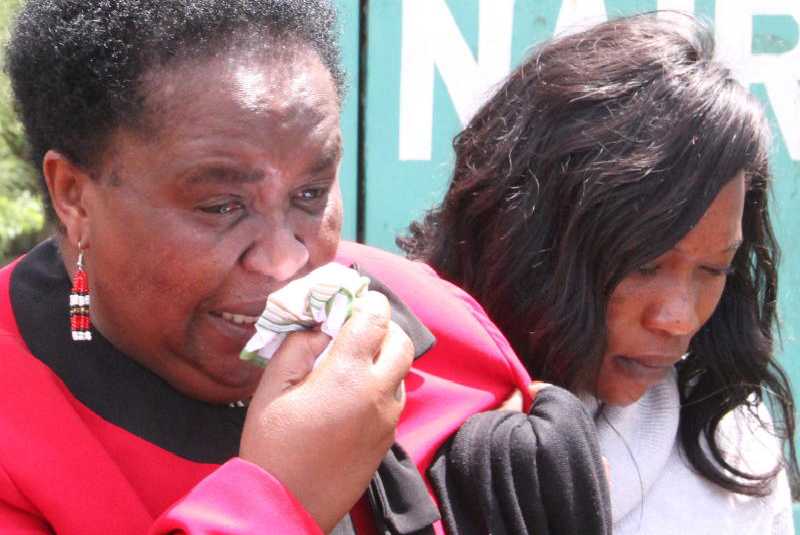 Former Nairobi Town Clerk John Gakuo was just a day away from making yet another attempt to freedom when he met his death.
Gakuo, 68, and former Local Government PS Sammy Kirui were handed a three-year jail term each last May for their roles in the Sh283 million cemetery land scandal in Mavoko, Machakos County.
Chief Magistrate Douglas Ogoti also ordered the pair to pay Sh1 million fine each after they were found guilty of abuse of office and willful failure to comply with procurement laws.
Gakuo's lawyer Asa Nyakundi had filed an appeal for his client to be released on bail after the first application was rejected.
The main appeal came up for hearing last week, but the judge was absent and he was given another hearing for today (Wednesday). But as man planned, so did fate.
Such is the tragic story of Gakuo, who once bestrode Nairobi City like a colossus.
Few would have thought Gakuo, a super performer during his celebrated reign at City Hall, could end up on the wrong side of the law, and worse still, die in prison.
When he delivered judgment, the magistrate said the prosecution demonstrated that Kirui and Gakuo knew the tender documents were false but did nothing to stop the embezzlement of funds.
Under tight security
He died yesterday morning while receiving treatment at Mbagathi Hospital, Nairobi, where he was admitted under tight security by prison warders.
Gakuo is said to have been ailing for some time.
According to a prison officer, his condition got worse on Monday evening. He was taken to the prison's dispensary, where he was attended to and kept for observation, but his health did not improve.
He was taken to the Mbagathi Hospital yesterday morning, where he was pronounced dead about 10 minutes after arrival.
"The hospital tried to resuscitate him, but he did not make it. At around 9am, he died," the officer said.
Officials suspect his death was caused by a heart attack. However, a postmortem examination is yet to be done to show the actual cause of his death.
At 9.40am, Gakuo's body was received at City Mortuary and a few minutes later, his son arrived seeking permission to move it to Lee Funeral Home. Combined with the pain of losing a loved one, bitterness was written on many faces of those that went to view the body.
"John (Gakuo) is gone and he will not be here to defend himself anymore, and the case will collapse. It is unfortunate because we wanted him to clear his name. He was a good man and I believe, he was innocent," said Philip Kisia, the man who took over Gakuo's position.
Kileleshwa home
Prisons Commissioner Isaiah Osugo confirmed the death, saying: "John Gakuo passed on today morning while receiving treatment in Mbagathi Hospital. He has been sick for a while... his body was taken to the City Mortuary".
Upon receiving the news of his death, Gakuo's friends and family congregated at his Kileleshwa home.
Former City Hall director of operations Peter Mbaya was among Gakuo's former colleagues and friends who went to Kileleshwa yesterday.
Mr Mbaya said death had dealt the family and the county a big blow.
"The family is in mourning right now but it will issue an official statement tomorrow (today) through the spokesperson, so kindly bear with them," said Mbaya.
Shortly after the announcement of his death, some of Gakuo's neighbours tried to access his home, but there was no one in there.
The family members were at City Mortuary and later Lee Funeral Home, where the late former town clerk's body was transferred to.
A worker at the home was perplexed by the curious onlookers who had suddenly showed up at the gate. She later learnt what had happened and began to cry.
Gakuo had cited his age and ill health as the main reasons he wanted to be released from jail.
"Owing to this case, the appellant has been suffering intermittently from high blood pressure, chest problems and has been in and out of hospital. His incarceration in the exceptional circumstances of a conviction that is clearly bad in law will, without doubt, occasion him irreparable harm," his lawyer had said.
He said Gakuo's advanced age was enough ground for his release, pending the determination of the appeal "because he cannot dictate how fast courts should hear cases".
Nyakundi had added: "He is focused. He has a clean public service career and he is petrified by the turn of the events."
Gakuo had been moved from Industrial Area Prison to Nairobi West Prison because of the many visitors he received in August after he lost an appeal for his release.
The former Nairobi town clerk will be remembered for doing a sterling job for city residents.
During his tenure between 2004 and 2009, Gakuo made sure garbage was collected, street families were cleared from the city pavements and Nairobi streets were clean.
It is during his tenure that lighting, trees, roundabouts and litter bins became essential features of of the country's capital city.
The graduate of University of Nairobi, who had been a provincial administrator for over 20 years, once told journalists he was inspired by France's recovery after First World War (WWI) to restore Nairobi to its 1970s glory.
Attributed success
He attributed his success at City Hall to effective resource management and said he was pissed off by leaders who used the "we have no money" excuse to justify nonperformance.
Coming from the Ministry of Health, Gakuo found the city dirty because there were no brooms or money to buy them.
"I thought this over and decided that instead of staff being idle, they should cut tree branches to sweep up the city. Shortly, this led to money becoming available and brooms were bought to clean the city," Gakuo said.
Forthwith he mapped out priority areas that he could tackle with his limited resources with visible results.
He acted fast and having noted that the city was planned for a half a million people during its inception, he had to create places for recreation for the ever ballooning population.
With one tractor and grass cutter, he ordered workers to mow grass and clear trash from Central and Uhuru parks.
He embarked on street lighting to secure the two parks.
Garbage dumping
His cleaning mission extended to Uhuru Gardens on Langata Road, even though it was not under his jurisdiction.
His efforts saw a reduction in garbage dumping in Kangemi, although it took over 2,000 arrests for the message to sink.
It was also mandatory during his reign for owners of buildings to repaint them before licences were renewed.
Littering, public urination and numerous other violations of city by-laws were punished by the council's various inspectorate teams.
Apart from sending street urchins out of town, Gakuo targeted women who would beg with children strapped on their backs all day, convinced that a few of them were genuine cases.
This phenomenon has now become an eyesore in the city.
To curb matatu menace, Gakuo stationed two tow trucks at Westlands to intercept any matatu dropping off or picking up passengers on the road, instead of using bus stops.
Gakuo also rebuked business and residents' associations saying all they did was to hold endless meetings with no action.
He said City Hall could still work well with 7,000 instead of the 13,000 workers on its payroll.