The last of Nairobi's Rat Catcher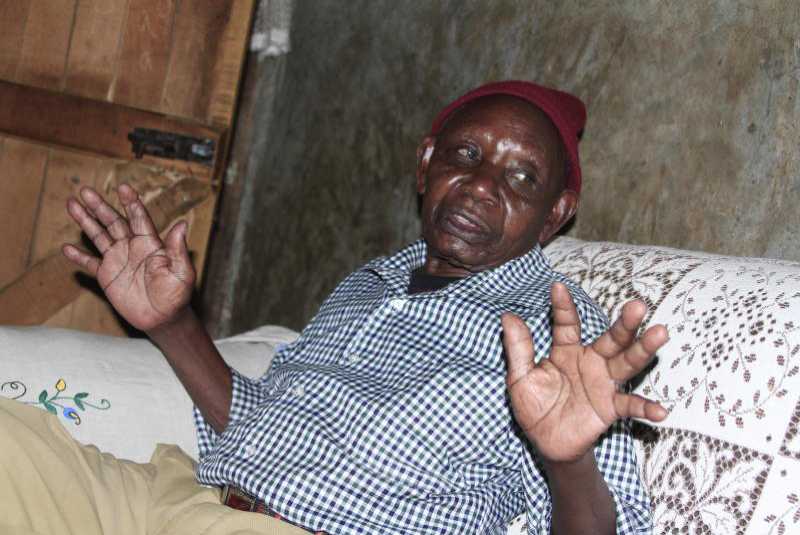 Standing at a crossroad at the end of warehouses in Baba Dogo, Nairobi, an 81-year-old man in woolen headgear clutches onto his old generation phone.
As his eyes dart from one side of the road to the other, he combs his environment expertly for any signs of danger, his club like hands waving frantically as he stresses a point to the unseen caller he is talking to on phone.
Baba Dogo, he ultimately explains once he terminates the call, is no respecter of age and its breed of petty thieves will not spare his battered phone, given half a chance.
A rare breed
Samuel Kimani is a rare breed of grandfather who not only navigates his way from the labyrinth of his home in the slum, through the chaotic Outer Ring Road and to the raucous River Road, unaided and without the benefit of a walking stick.
His dental formula is still intact and his rheumy eyes still serve him well although he has never mastered the art of reading. When asked how he navigates the city whose skyline is forever changing in his old age, he chuckles: "I use the same instincts I relied on for over 20 years to sniff out the streetwise rats of Nairobi and exterminate them. You know I was a rat catcher employed by the City Council of Nairobi."
But what exactly does a rat catcher do, we ask SK, who flinches as his concentration momentarily lapses as he stretches his crooked fingers, bemoaning waves of pain in his joints, courtesy of arthritis.
When the pain wave subsides, he heartily tutors on how in his heyday he combed every crook and cranny in search of the destructive rodents, which if uncontrolled could lead to epidemics which could wipe out huge portions of the city population.
I was employed by the City Council in January 1970. At first I worked as a street cleaner on casual basis but after five years, my employment was regularised. Since I am illiterate, I was never promoted but I am forever grateful to former mayor, Nathan Kahara who offered me the position," SK adds.
Although a cornered rat can be vicious and its bite lethal, SK says while he worked as a catcher, there was no protective gear.
"We were about 11 rat catchers. Once we reported to work in the morning, our supervisors would dispatch us to places where residents had complained of rat infestation. The most notorious spots were roadside kiosks in Industrial area," he says.
Once on location the gang would scout around for rat holes which they would then surround, and start digging with a crow bar.
Most of the times, SK says they grabbed the rats by their tails and smashed them on the ground, killing them instantly as they did not have the time to collect the rodents and load them into the metal cages they carried.
Ideally the rat catchers were supposed to put the rats in the cages so that they could be killed cleanly, and bodies disposed off hygienically.
When we called Nairobi County government to verify whether the government still employed rat and mosquito catchers, we were informed that these positions have since been scrapped.
"These positions no longer exist. We have a section for vermin and fumigation which sprays rats, mosquitoes as well as other pests. People no longer walk around with traps to catch rats. They are under Public Health Department, said Tom Ogalo, the Nairobi County Government Health Director.
Ogalo said the city no longer had workers categorised as rat catchers, explaining that these were derogatory terms used during and shortly after independence to refer to low cadre workers in the Cleansing Department.
SK's fingers may not be as agile as they were in 1998 when he retired from the City Council, but they have made him famous in a totally different area.
These same fingers which he can no longer stretch strummed the wires of his guitars and earned him automatic admission to many a city entertainment joint where his lyrical voice would carry on long after the last of the drunken patrons had staggered out.
SK made his debut in the musical scene in 1967, when he released his first single, Kuraya na Gwitu (far away from home). His fame would spread when he belted out other hits such as Julia, Rugano rwa Naivasha and founded Lucky Boys Band.
The former rat catcher's eyesight may fail, his joints may protest whenever he walks, but his voice is as melodious as it was 50 years ago when he ventured into the entertainment industry.
He has donated his guitar to his son, Maina Kimani, who is trying his hand in gospel music and hopes that long after he is gone, the music will still be playing. In his sunset years, SK is concentrating all his energies in safeguarding a plot of land he bought in the 1970s for Sh1500.
A few metres of his developed plot have been hived off and SK is desperately trying to save the rest of his property, which is his sole source of livelihood.