County sends aid to slum fire victims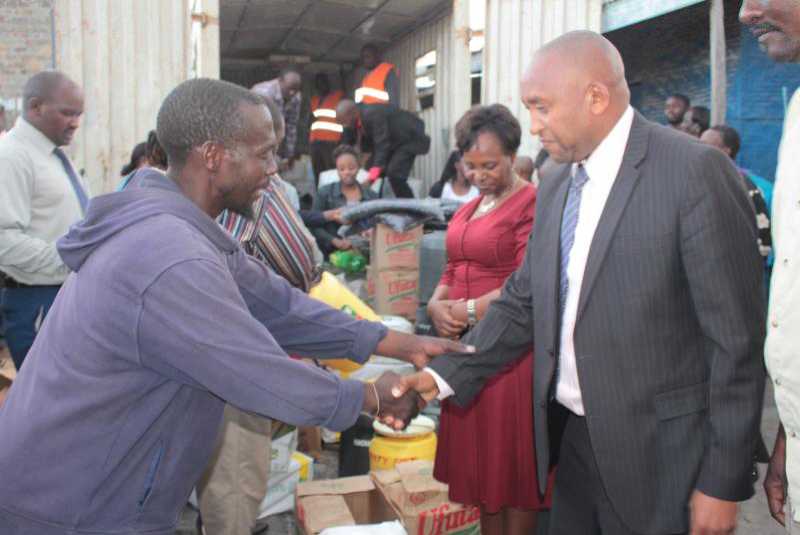 Donations have started trickling in for more than 100 families rendered homeless after fire gutted their houses in Athi River's Sofia slum.
The fire razed more than 50 houses in the slum on Monday night, leaving a trail of loss and destruction.
The executive committee member for county administration, Titus Nzeki, and other county officials went to the slum to distribute food and household items.
The families received maize flour, cooking oil, blankets, soap, water containers, washing basins, utensils and milk.
"This is part of the county government's emergency and disaster response mechanism to help residents who incurred losses," said Mr Nzeki.
The affected residents said they had lost cash, identification documents, certificates and other valuables in the fire whose cause had yet to be established.
Slum upgrading
Nzeki said the county was working on a slum upgrading plan in all urban areas in collaboration with development partners.
"This progressive approach will improve the quality of life among low-income earners in these areas while at the same time reducing the risks of fire and flooding," he said.
He added that the county had embraced modern strategies to inform all future planning of urban centres.
The residents appealed for more donations.
"We appreciate what the county has so far done for us. However, we call on other agencies and the national government to help us go back to our normal lives," said Rose Nyambura.