The emotional message Monica Kimani's father at requiem mass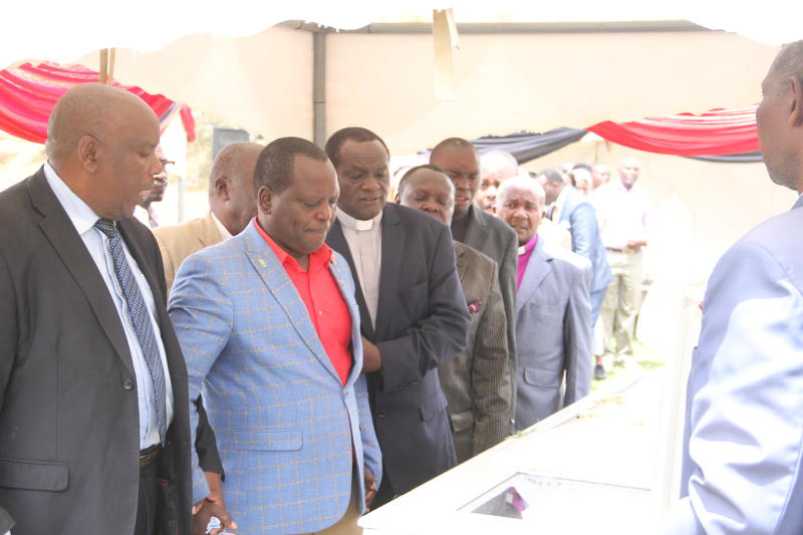 Tears rolling on their cheeks and gloom written all over their faces, family and friends paid their tributes to Monica Kimani – the slain lady whose body was found in a bathtub on September 20, 2018 in a requiem mass in MKU grounds in Thika.
Viewing the lifeless body of Ms Kimani in a white casket triggered so much anguish that the parents had to be supported.
To her father, Paul Ngarama, the wait for his daughter's hearty smile, the smile that is forever gone has crushed his man spirit. His message to her departed-never to come daughter:
"It has been one week even as we have memorial service for you.
I still can't believe that you are gone, Monica! I keep looking at the door hoping that any given moment you would walk right in and say, hi Dad. Here I am, still waiting for you, with a big smile in your face.
I miss your big smile, the smile that always melt my heart
The most beautiful girl in whole world. My beautiful daughter
I remember when you were growing up. You always wanted to have a good life. You refused any cheap things and cheap life. Even education.
[Sobs]
When I took you to a public school. You said, no dad. That school is not for my class. I want to go to another academy.
From Thika Barracks Primary School to Tumaini School
After primary school you went Sashiri secondary school and became the head girl and that's where you portrayed your leadership ability.
Nothing can stop you, you are always a go-getter. You made it in life.
I am proud of you my angel
Baby girl I love you most
You were the kindest person I know
God favored you whenever you went.
You loved kids especially your niece, Victoria. We were blessed to see her.
Your love for the family was amazing. You loved your brother George. Nobody could separate you two. For your brother Solomon, you loved him so much and wanted the best for him in his life.
You said your mum was your role model. And you always made sure she lacked nothing.
Monica, you wanted the best for your family [sobs]
I remember you telling me "dad I want to get you the best car in the world'
Your goodness was endless, my angel. You inspire me to go to greater heights
You made me realize that I was never meant to die as a barber.
You promised that you never want to get married without your own car and your own house and surely you did.
You bought your mum Subaru Imprezza last week…we celebrated.
You promised me a V8 Land Cruiser on your birthday as a surprise…I'm still waiting
A daughter of barber to the MD of a family company. "
Mr Ngarama wanted her daughter's killers brought to book.
The federation of women lawyers has also condemned the heightened incidents of murder of women.
Kimani is to be laid to rest on Friday, October 28 2018 at their family farm in Gilgil, Nakuru County.
The murder of Monica Kimani is linked to Joseph Irungu aka Jowie– Jacque Maribe's fiancée who has since been arrested, to remain police custody for 10 days. According to the police, the car Jowie was driving when he visited Kimani at her residence in Kilimani, was Maribe's.
Jacque Maribe has also this evening recorded a statement with the homicide detectives.