Gorasia taunts government to demolish Taj Mall
NAIROBI
By Jean Ruhiu | Aug 17th 2018 | 2 min read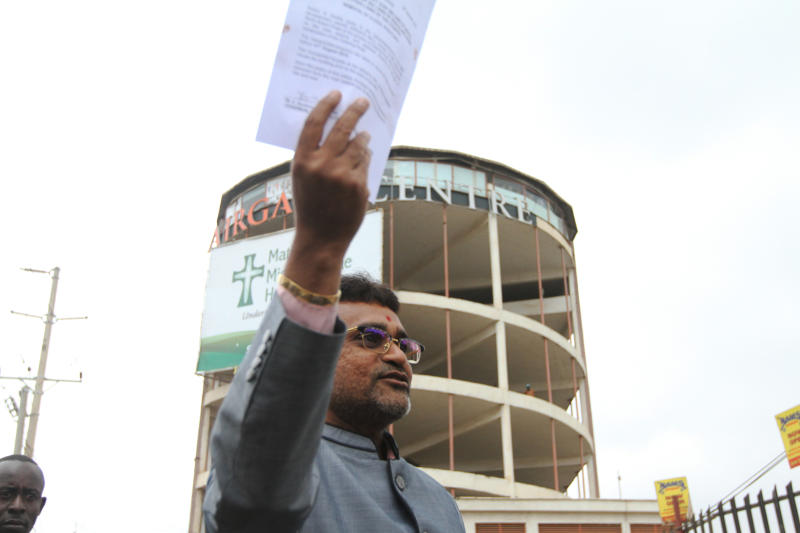 Ramesh Gorasia (pictured), the managing director of Airgate Mall, formerly known as Taj Mall, has dared the Government to demolish the property in Embakasi, Nairobi.
Mr Gorasia was speaking yesterday after receiving an unstamped notice of demolition asking him bring down the building by August 30 or have it demolished at his cost.
But the trader vowed to defy the notice, saying the National Land Commission had cleared the mall.
"I will not remove the structure. NLC and the Kenya Urban Roads Authority (KURA) have been asking me to demolish it for five years," said Gorasia.
The authority had in June 14, 2013 made an application to NLC requesting a review of the land on which the mall was constructed, arguing that it was a road reserve.
However, NLC wrote a report confirming that the land on which the mall stood was legally acquired and that the ownership status remained as it was.
Yesterday, Gorasia produced letters from Kura and NLC notifying him that the construction of Outer Ring Road would not affect his property.
Ownership status
"I do not understand why they want to demolish it now. They did not even identify themselves, they just came and sprayed 'demolish' on the walls," protested Gorasia.
Addressing the media at the mall, which is under renovation, Gorasia appealed to President Uhuru Kenyatta to intervene in the ongoing demolitions.
"Of course I support the President on the war on graft and those that unlawfully acquired land must face the consequences. We, however, need to consider the amount of money people have invested," he said.
Gorasia argued that rather than demolishing buildings, the Government should put some of them to good use.