Raila and Uhuru handshake cited at global peace forum
NAIROBI
By Joe Ombuor | Aug 12th 2018 | 3 min read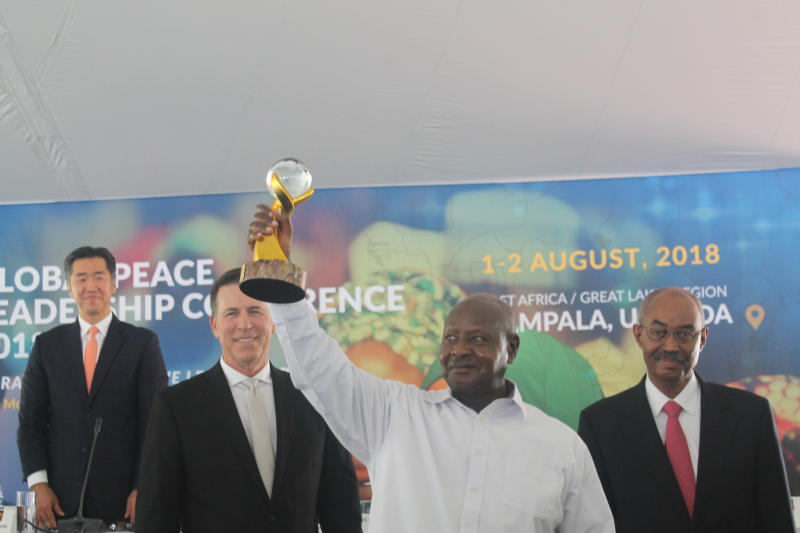 For setting the global pace for peace through a handshake, Kenya stole the limelight at the recently concluded Global Peace Leadership Conference in Kampala, Uganda.
And except for the humour he spewed on causes of conflict and the peace award presented to him, Uganda's President Yoweri Kaguta Museveni could not hold a candle to the Kenyan delegation attending the East Africa and Great Lakes region event.
While President Uhuru Kenyatta -- through his representative Eugene Wamalwa -- flaunted the achievements of the handshake, Ethics and Anti-Corruption Commission chair Archibiship (rtd) Eliud Wabukala and his successor Archbishop Jackson ole Sapit wowed the gathering with their spiritual teachings on the merits of moral leadership.
Worthy experiment
It is the case of country setting global standards for peace through the magnanimity of its leadership and sense of occasion for peace.
"The experiment has proved worth emulating," President Kenyatta said.
In the wake of the March handshake between him and NASA leader Raila Odinga, other world leaders have shaken hands.
Once intractable enemies, President Donald Trump and North Korea leader Kim Jong Un shook hands in Singapore, South Sudan President Salva Kiir clasped hands with his arch rival Riek Machar and Ethiopia Prime Minister Abiy Ahmed Ali embraced his Eritrea counterpart Isaias Afeworki.
In addition, the Trump-Putin handshake in Helsinki, Finland thawed relationship between the two global powers.
Kenyatta described his handshake with Raila as a unique experiment in democracy and a "homegrown initiative" to midwife peace for the Kenyan people unlike the situation after the 2007/08 post-election flare-ups quelled by the international community
"We found it necessary to reach out to each other to rebuild the Kenyan nation by avoiding expensive stand offs," said President Kenyatta amid claps.
Mr Wamalwa on his part hailed the peace initiatives that had thawed hostilities between communities at the Kenya-Ethiopia border in Moyale and the Kenya-Uganda-South Sudan border as a phenomenal success worth emulating. The echo of Kenyan voices was steeped with spiritual fodder doled out by Archbishops Wabukala and Sapit.
Wabukala decried the leadership prevailing in many African setups whereby dominant individuals seize power and assert themselves on their subjects, saying the style best applies in the animal kingdom.
He described as disastrous the fact that morally upright citizens tended to shy away from leadership, paving the way inn all spheres for corrupt and immoral individuals. He linked the devastating orgy to corruption to lack of moral leadership.
Archbishop Sapit advised communities across tribes, races and religion to respect the face of God that makes humanity one. "To enhance peace, we should see it from the premise that we are equal before God who created us in his image," said Archbishop Sapit.
The three-day conference at the slap-up Munyonyo Commonwealth Resort hugging Lake Victoria was graced by former president of Zanzibar and Chairman of the Global Leadership Mission Dr Amani Abeid Karume, Founder and Chairperson of Global Peace Foundation and author of 'The Korean Dream' Dr Hyun Jin Preston Moon.
Others were Burundi Vice President Mr Gaston Sindimwo, Tanzanian Minister for Foreign Affairs and International Cooperation Augustine Mahiga, South Sudan Vice President James Wani Igga, Intergovernmental Authority on Development (IGAD) Executive Secretary Amb Mahboub Maalim.
Museveni singled out greed and parasitism as elements that that cause conflict between man and man.