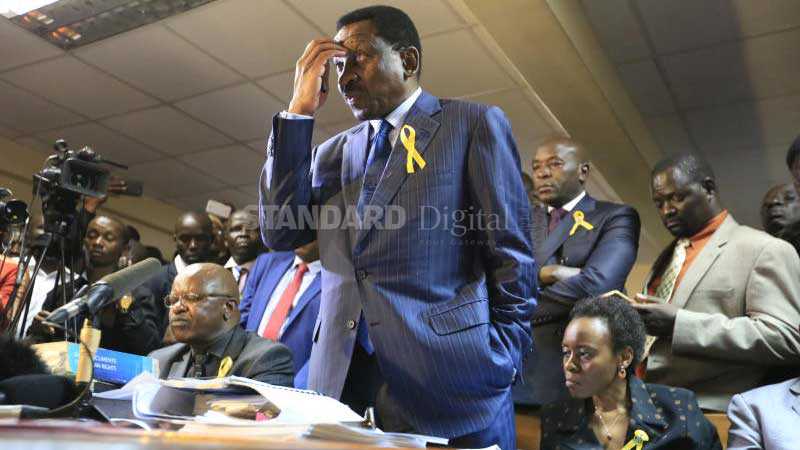 The decision to deport lawyer Miguna Miguna was hurriedly made on Wednesday evening at Harambee House after a court had ordered his immediate release.
The decision was made by top security officers who also ordered immigration personnel at the Jomo Kenyatta International Airport to book three tickets, including for two security personnel.
Two officers from the General Service Unit were then instructed to be ready to fly to Dubai, London, Germany and Toronto in escort of the controversial lawyer.
It is not clear which travel document they used because Miguna said on Thursday he did not have his passport.
"I don't have any travel document or passport. I need Kihalangwa and Matiang'i to deliver my Kenyan passport to me here in Dubai tomorrow, March 30, 2018, as multiple courts have ordered them to do so that I can use it to travel to Nairobi immediately," Miguna said in a post from Dubai.
On Wednesday at about 8pm, a group of Miguna's lawyers arrived at the airport armed with orders they had obtained from the High Court and sought to see him.
Blocked from seeing Miguna
Lawyers James Orengo, Julie Soweto, Nelson Havi and Cliff Ombeta however could not pass through a ring of armed police who guarded the Terminal 2 area where Miguna was held.
Only lawyer Kamanda Mucheke for the Kenya National Commission on Human Rights was allowed to briefly see him.
He said he was blocked from seeing Miguna after he went to buy him food.
"It's been another day at JKIA with Miguna Miguna in the toilet cell before he was abducted and taken away. I left him in the toilet to go buy him dinner since he was not being provided food by his captors," said Mucheke.
"Minutes later, he called me in distress asking me to go back quickly since he was in danger. By the time I rushed back it was too late...The police blocked me and violently denied me re-entry into the toilet to deliver the food to Miguna."
Mucheke said all seemed calm, although there was no sign that Miguna would be released from a "very hot and stuffy" toilet meant for the disabled that was his cell at JKIA for more than 24 hours.
It was while he was at a café within the terminus waiting for the food to be packed that he received a call and later saw Havi and Soweto run towards the café.
"They had been beaten and wanted to quickly exit the airport because GSU officers were pursuing them. They were in panic," said Mucheke.
As Mucheke walked back to the cell with the food he had bought, Miguna called him in distress.
"They are killing me. Please come quickly and inform everyone," Miguna reportedly told Mucheke before the phone was switched off.
It was then that Miguna was roughed up and apparently sedated before being handcuffed and later driven to the runway to board the plane that was then open for boarding.
Miguna later released a statement saying about 50 heavily armed police officers forced him into the plane on Wednesday night.
"They violently broke into the toilet I had been detained incommunicado at the Jomo Kenyatta Airport, didn't identify themselves, wrestled me to the ground, held onto and sat on me as a group of four different thugs injected substances to both my soles, arms, hands, both sides of my ribs and basically all over my body until I passed out," he said.
At the JKIA, Miguna's lawyers were kicked out of the airport as they tried to serve the Immigration Department with court orders.