Gunfire as police, protesters engage in running battles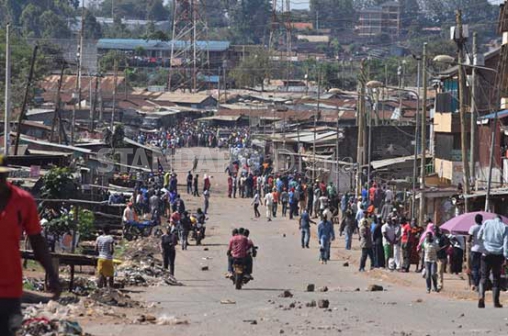 The sting of teargas hits as soon as one approaches Kawangware slums. Sounds of gunfire reverberate across the area, making a piece of iron sheet in one of the buildings to fly off.
A woman screams. Followed by a stampede, and the wail of a child. Then there is silence, and then another scream.
"They are killing us! Somebody stop them!" yells a woman in one of the houses. The police respond by lobbying teargas and warning them to stay indoors.
Packed in the middle of the road are police water cannons, lorries and vehicles, with officers from the General Service Unit (GSU) milling around, hands on their guns. Some of them are on the ground, hiding behind buildings, and others are walking stealthily inside the slums.
"We cannot allow hooligans to engage in illegal activities and pretend they are demonstrating," says one police officer, explaining that they have received complaints from residents about a few youth taking advantage of the current political situation to cause chaos.
A few kilometres from the water cannons, a group of youth holding stones occasionally breaking into chants and dare police to attack. Police lob teargas canisters at them, they scatter but return almost immediately.
"We saw a huge lorry approaching Ongwaro (Kawangware) this afternoon. Nobody knows why they are here. They want to disturb us, but we will not allow them," one of the youth says, insisting they will not retreat and are ready to die.
Schoolchildren
By 4pm, they are still caught in chase, with police increasing their numbers with every stone thrown in their direction.
Children in school uniforms get caught up in the commotion. Two schoolchildren raise their hands in surrender as they approach the heavily armed police officers. A woman holds a schoolgirl who has hands on her face.
The police order the schoolchildren to run, and they obey. Anyone who is not in school uniform is ordered to remove the boulders the demonstrators had placed on the road to block it.
"I was at work, I did not block these roads," one of them protests, and one officer interrupts by telling him to cooperate, lest he should get in to trouble.
He instructs media to stop taking photos, claiming the media are leaning towards demonstrators, and does not report when police officers are injured or insulted by people whose aim is to upset stability in the country.
"Nobody would leave the station to come and attack innocent people. There is law, and it should be respected," says the officer.
His statements are an open contradiction to the many voices that have been blaming the police for using excessive force.
To fight drought, involve communities
According to the latest information from the Meteorological Department, rainfall will be poorly distributed in April, May and June, and this will have a serious impact on agriculture