Police raid Jimmy Wanjigi's home hunting for him over guns seizure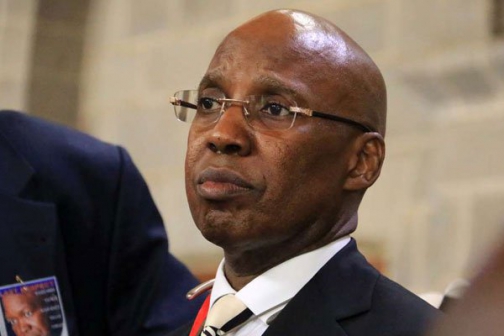 Cyrus Ombati and Nehemiah Okwembah
Police laid a siege on the Nairobi home of businessman Jimi Wanjigi as they sought to arrest him over the discovery and seizure of five rifles and 93 bullets from a villa in Malindi.
The siege began on Monday at midday. More police arrived at Jimmy Wanjigi's Muthaiga home in Nairobi accompanied by crime busters with sledge hammers planning to break into the house.
Mr Wanjigi has since denied that the Malindi villa belongs to him.
More officers were deployed to the house at about 7pm to reinforce an earlier team in a drama that saw his family scream for help.
Security agents on Sunday night raided the house in Malindi and were reported to have recovered five rusty AK-47 rifles in a store.
The house is currently rented and occupied by two businessmen of Italian descent.
On Monday, Malindi OCPD Matawa Muchangi said a multi-agency task force acting on intelligence raided the house at around midnight on Sunday. Mr Muchangi said besides the four rifles, they also found three spent cartridges, 93 bullets consistent with a Kalashnikov rifle and one bullet compatible with a shotgun.
"At around midnight, a multi-agency security team stormed the house and conducted a search until morning. At around 9am, we broke into a store and managed to get four AK-47 guns," said Muchangi, who added that four workers were taken in for interrogation.
All the guns are serviceable and their parts are functional, according to the OCPD.
Police said intelligence showed the weapons were there and were meant to be trafficked to undisclosed place.
Workers there said they arrived in the morning and found police in the compound. The officers informed them that there were illicit guns in the house.
In Nairobi, detectives from the Special Crimes Prevention Unit and Flying Squad arrived at Wanjigi's gate at about midday. The fortified compound is opposite the official residence of the American ambassador to Kenya.
The officers showed guards on duty a warrant and said they had come to conduct a search.
Officers insisted
The guards allowed them into the compound but told them their boss was not in. The officers insisted their intelligence showed Wanjigi was inside.
At about 4pm, a team of MPs led by James Orengo, Junet Mohamed, Onyango Koyoo and former senator Johnstone Muthama arrived.
A few minutes later, Wanjigi's father Maina, his sisters, brothers and other relatives trooped in. The senior Wanjigi said his son had called him and asked him to go to the house.
"He asked me to come here. I will talk to you when I am through," he said and walked into the compound.
Police had been seeking to talk to Wanjigi in vain. They were informed he was not in the house.
At about 6.30pm, the MPs walked out and announced Wanjigi was not in the house but they had talked to him. Mr Orengo said the officers had told them they wanted to arrest Wanjigi for grilling over the discovery of the weapons in Malindi.
"They say they want to arrest him but he is not here. This is harassment and intimidation because of his political associations," he said.
Orengo said he had talked to the senior Wanjigi, who told him the house in Malindi did not belong to Jimi. He termed the raid political harassment.
"We have reasonable presumption that these guns were planted there to harass and intimidate this gentleman. He is a law-abiding citizen and his mistake or crime is to associate himself with NASA," he said.
Search warrant
Orengo claimed the police did not have a warrant of arrest. But the officers insisted they had a warrant to search and question the businessman.
Moments after the politicians had driven out of the compound, a loud bang was heard from the compound and guards said the 14 officers were trying to break into the house.
There were also screams and shouts from the family members.
"He is not here. What do you want?" a woman shouted as police banged on a door inside the compound.
By the time of going to press at 8.30pm, the officers were still in the compound but had not gained access into the house.
Reports indicated that Wanjigi bought the Malindi home from two Italian businessmen in 2013 and that he was expected to visit at the weekend but did not turn up.