Students cry foul as they go home after the University was closed indefinitely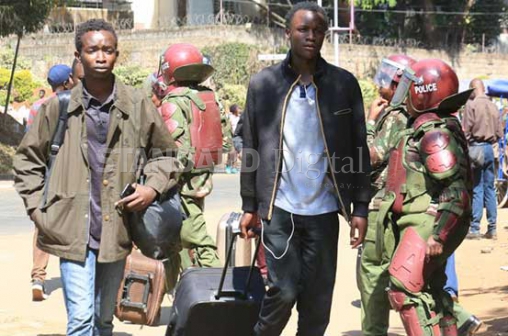 Students on Tuesday lamented over the indefinite closure of the University of Nairobi following unrest.
They said they had lost considerable time in their academic calendar due to strikes and protests.
The students were protesting at police invasion of the campus last Thursday during which 27 students were injured.
The institution's senate met yesterday morning and decided to close the university, citing security concerns.
The students were ordered to vacate the hostels by 9am.
A fourth year law student at the Parklands campus who did not want to be named said she woke up in the morning to be told to vacate the school by 9am.
Mbithi to blame
"We were attending the 'children and the law' class in the morning when another student posted something on Twitter about the university being closed, then we are told to vacate the school in 22 minutes," she said.
She added that she thinks the problem is not the students, but the vice chancellor because he does not handle student issues.
"Prof George Magoha was in this university and he used to handle issues, but Prof Peter Mbithi is avoiding dealing with them, to the detriment of students."
She urged the VC to reconsider the closure, saying Parklands campus was not involved in the chaos. "I am sure we will come back after the elections. We do not know how things will go. Maybe we will be here in January," she said.
Simon Muigai, a former leader of the Students Organisation of Nairobi University (Sonu), said law students have never been part of any demonstrations and that they are only interested in completing their studies without any external interference, especially from politicians.
Political interference
"Political parties should desist from using university students for mileage. I was supposed to finish school by December, but I cannot do that because of this interference," said Muigai, who was a former legal affairs secretary of Sonu.
He added that student affairs should be handled differently, portraying their good image and maintaining their dignity.
"We want the police to stop interfering with us. We just want to study, finish, and seek employment," said Muigai.
He added that students have contacted civil society groups to help them investigate the brutality of the police on students and that a petition would be filed in court today.
Another law student, Job Titus, said that it was wrong for the vice chancellor to allow the police into the university.
He said police should be invited to offer protection to all students.