With the guns now silent, woman starts search for missing son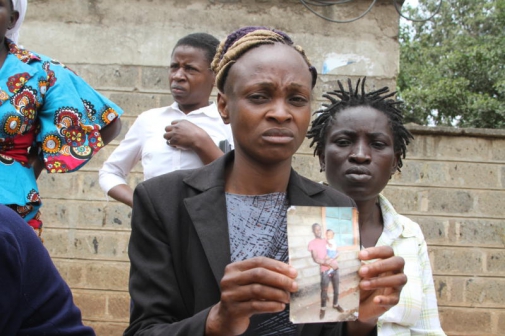 The search for the bodies of those said to have been shot by police during violent election protests began Sunday.
Carol Atieno arrived at City Mortuary at 5am Sunday, where she suspects the body of her first born son, Privel Ochieng, was brought. She had last seen her son lying in a pool of blood alongside two other bodies near Kasabuni supermarket.
"I have yet to identify his body. I came here early, but I'm waiting for friends and relatives of the other two boys before we can go in together," says Atieno.
Privel Ochieng', a Form Three student at Baba Dogo Secondary School, is among the people suspected to have been killed in Kasabuni, Babadogo, on Friday night when police moved in to quell protests against the re-election of President Uhuru Kenyatta.
Atieno said Ochieng' had left the house to buy chapati when a commotion erupted after the Independent Electoral and Boundaries Commission declared Uhuru the winner of the presidential race.
Poll protest
"Immediately after Uhuru was declared the winner of the presidential race, commotion ensued. People were screaming and banging things in protest and we all got out. Ochieng' had not yet returned from the shop," she said.
After a few minutes, she heard gunshots and when she got out, her neighbours, who were running away, said they had seen Ochieng' shot.
"I ran to the scene screaming and wishing the neighbours were wrong. My only hope, the light of my family, could not have been shot. He had just turned 18 and did not even vote," she said in between sobs.
A neighbour who participated in the protest, Reagan Onyango, said Ochieng' had pushed into the crowd gathered near the supermarket, asking what was going on.
"The lights suddenly went off and the police began shooting. Confused, Ochieng' and two other boys were caught up in the crowd. On realising that it was the police, they went down on their knees and put their hands in the air to signal surrender," explained Onyango.
Plea on deaf ears
He said Ochieng' pleaded with the police not to shoot him. He tried to protest his innocence and begged the police to arrest him.
"I heard a gunshot and a scream. The first guy who was trying to run away fell. Then Ochieng' went on pleading, 'Afande please niweke pingu unipeleke ndani, usiniuwe' (Sir, please handcuff and arrest me, but don't kill me). Then I heard two gunshots," said Onyango.
Photos showed the two lying on the ground with their arms still outstretched.