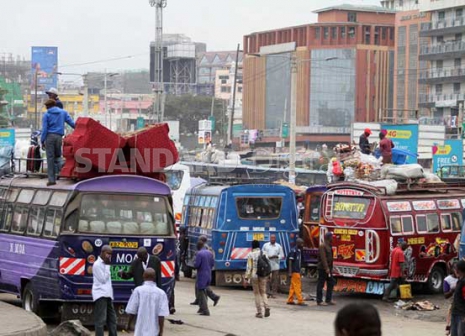 With just a day to the general election, the usual hustle and bustle in the city was no more.
The parking lots were almost empty yesterday.
Philip Ng'ang'a, a parking attendant within the central business district, said the number of vehicles in the city had reduced significantly in the past few days.
"The number of vehicles checking in for parking has reduced in the past one week, and the parking areas are almost empty," said Ng'ang'a.
Children playing grounds were also less crowded, compared to other weekends.
The usual crowd was missing from Garden City and Thika Road Malls.
Maureen Wanja, a househelp in Roysambu, was among the few people here.
"I usually bring the kids out every weekend, but today it is a bit boring. The kids that play together with mine are not around, they travelled upcountry," said Wanja.
At Olympic in Kibera, buses heading upcountry were fully booked.
Gladys Achieng', a resident of Kibera, said she was travelling to vote in Ugenya.
"I am travelling to Ugenya today to go and vote and there is also little chance of violence there," said Achieng'.
By yesterday most polling stations already had the names of voters printed and posted on notice boards to enable voters to identify their names and be accurate on the specific places of voting.
At the District Commissioner's office, voters' names had already been printed out showing the specific polling stations where each voter would cast their ballots.
The movement of people to upcountry has really affected residents in different estates. For instance in Roysambu Constituency, shops have been closed and some business premises inaccessible.
"Shops here were closed as early as last week. Even, the 'mama mboga' who sells vegetables and other groceries travelled home last week. Her shop is the nearest to the estate and therefore we have to walk a longer distance to get vegetables," said Evelyne Mwai, a Roysambu resident. [Mercy Odhiambo]