Sunday church service with city prophetess Mary Akatsa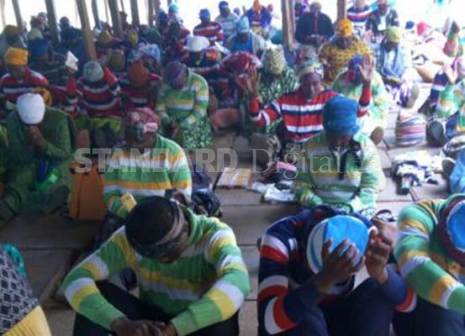 Mary Sinaida Akatsa was in the headlines a few years ago after a video emerged of her literally whipping her congregation to instil discipline.
Yesterday, The Metropolitan decided to visit Jerusalem Church of Christ.
It is almost 11am and the church compound in the heart of Kawangware is still locked.
The only visible things are wooden poles, roofing and mabati walls. Members hungry for their dose of spiritual nourishment have lined up. There is a queue for men and another for women.
The women are dressed in long floral skirts, with t-shirts and socks on their feet and head gears matching the skirts.
The men on the other hand are in floral suits similar to the women's, but young men are adorned in striped T-shirts and hats. In our 'modern' trousers, we stand out like sore thumbs.
A member tells us that once the gate is locked, there is no knocking or making any noise. You patiently wait for an order from the prophetess for the door to be opened.
Closed doors
"Once 'mummy' gets in, the gate is closed. There is no coming in after that and the gate can only be opened at her mercy. She is very tough and can decide to discipline us for coming late," said an elderly woman in the queue.
The gate opens and a security member orders the crowd to get in. Men walk in first.
They go round the fence of the church singing and clapping. Women follow. It's all very orderly as they get into the church.
The members sit on a flat dusty surface with legs straight while facing the prophetess.
Again men and women are separated. We struggle to get a place that is not very dusty.
The choir take their place and Akatsa herself starts the singing. She picks the songs and even the way they are supposed to be danced.
The dancers are young energetic youths, both male and females, who dance vigorously and clap loudly, stamping their feet and jumping up and down following orders from the prophetess.
Then follows testimony time. Each member addresses the prophetess as 'mummy' while saluting to her and kneeling before her before uttering a word.
As the activities go on, one women is spotted amongst the congregation collecting the National Identity cards and recording the numbers in a book.
A man who had abandoned his wife is forced to carry her on his back and ordered to walk around Kawangware while counting the number of kiosks there.
He must come back with his 'luggage' and the number. It is a way of bringing discipline to married people, so as to submit to and keep their marital vows.
Late comers are shamed and berated before the whole congregation.
To fight drought, involve communities
According to the latest information from the Meteorological Department, rainfall will be poorly distributed in April, May and June, and this will have a serious impact on agriculture