Kenya to use land valuation index to determine compensation on government projects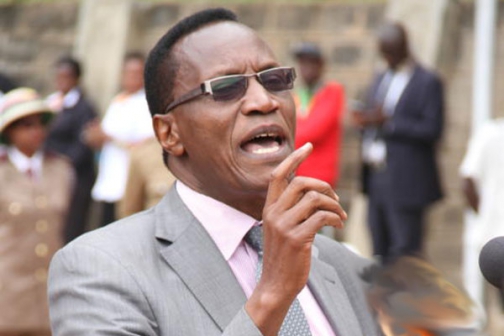 NAIROBI: A land valuation index will soon be in place to determine compensation on government projects.
Lands Cabinet Secretary Prof Jacob Kaimenyi made the announcement Thursday adding that the valuation index will also bar individuals and developers from buying land in certain areas.
"It has become a tradition that when the government announces of a project somewhere, some individuals flood the area and its environs to buy land to benefit from the hefty compensations," said Kaimenyi.
Kaimenyi noted that most times when surveys are done, lands are usually available and unoccupied only to realise when the projects are ongoing that some have been developed with owners demanding heavy compensation.
"There should be a law in place that will not only ensure people are compensated according to the actual value of their land but also ensure land in such areas are not put for sale when a multibillion project in announced," said Kaimenyi.
Just two days ago the government was forced to halt phase two of the Sh327 billion Standard Gauge Railway over row on acquisition of land with neighbouring Maasai community in Kajiado County.
National Land Commission had estimated the project to require over 4,600 hectares of land that will cost the state Sh30 billion in compensation.
The CS was speaking during the preliminary release of a report on violation of human rights on mining activities in Taita Taveta County compiled by the Kenya National Human Rights Commission.
In the findings, it was revealed that ministry of lands officials are the leading in allocating themselves titles for big chunks of land whenever such projects are announced by the government especially when mining is involved.
Kaimenyi also faulted security officials on the same. A public inquiry for a conclusive report has been scheduled for August 22 to September 2 by the KNHRC for purpose of redress in Wundanyi, Voi and Mwatate.
"The law is different now. Minerals belong to Kenyans and not an individual or even the government. Even if you grab land the only thing you are entitled to is compensation but not the minerals," said Leonard Omollo in charge of resources from NLC.
Only five percent of land in the county belongs to the community (customarily as they have no titles) with ranchers occupying 37 per cent and 62 per cent occupied by the Tsavo National Park.
Omollo noted that of the lack of mining regulations which has incapacitated the ability of Kenyans to negotiate with investors: "The miner is not the licensee as most of them (licensees) are just middlemen."
Other challenges in the sector are said to revolve around poor working conditions, child labour, insecurity and poor management.