Nairobi model hits the catwalk for fashion beyond colour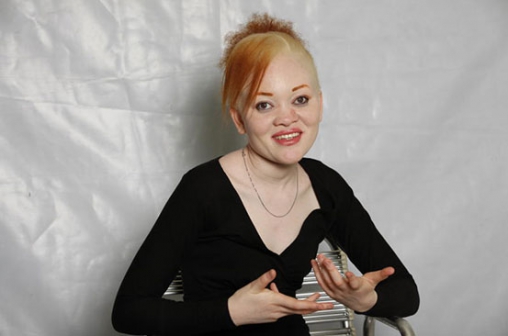 Nairobi: Lucy Nyawira catwalks the runway with confidence. The young woman, is not your ordinary model. She has albinism. But that does not bother the 19-year-old, because she knows there is beauty in diversity.
"Albinism is beautiful. Let's all appreciate that uniqueness encourages diversity," Nyawira tells The Standard on Saturday when the team meets her at KICC during the International Albinism Awareness Day.
On this day, Nyawira who is the Albinism Ambassador in Kenya, stole the limelight thanks to her gait and confidence.
Despite the many challenges Nyawira, an International Relations student at the University of Nairobi has faced growing up, she has blossomed into a confident girl who eats and sleeps fashion.
She says her passion for style and fashion started when she was still a student at Thika School for the Blind.
"During our free time, I used to call a few of my friends to watch me as I catwalked in clothes I had improvised from bed sheets. They used to cheer me on. That is how I gained confidence," says Nyawira who grew up in Mwea and Gichugu, Kirinyaga County.
Nyawira says she developed passion for beauty when she was eight years old as she explored her mother's makeup. She hopes to be a respected model and fashion designer in future.
Internationally, she looks up to Miss World 2013 Megan Young for her resilience. Closer home, she admires actress Sarah Hassan's poise and confidence.
"Sarah is naturally confident and shines both in her acting and modelling career," she says.
Nyawira knows that though she has the confidence, she needs refining to up her game in modelling.
Towards that end, she is looking for a private trainer to polish her poise ahead of the Mr and Miss Albinism national contest in September.
Passionate model
In the meantime, she spends her time at the Albinism Society of Kenya as an intern.
"Everyone's rights should be guaranteed irregardless of their abilities. We are all differently able thus it is paramount for us to respect each other, including people with albinism," she says demonstrating her passion for human rights.
But what is albinism?
Albinism is a genetic condition characterised by lack of a pigment called melanin in the skin, hair and eyes.
The United Nations Human Rights Council adopted a resolution in 2013 calling for the prevention of attacks and discrimination against persons with albinism setting aside 13 June as International Albinism Awareness Day.
This year, United Nations Secretary General Ban Ki-moon urged countries to end the discrimination that threatens the well-being, health and even the lives of people with albinism by providing programmes that will allow them to participate in nation building.
"The 2030 Agenda for Sustainable Development Goals pledges to leave no one behind including persons with albinism. The cycle of attacks, discrimination and poverty must be broken," the UN boss said to mark the day.
Nominated legislator Isaac Mwaura echoed Ban's sentiments and called for universality that encourages the realisation of the rights of persons with albinism.
"The development of the narrative around the needs of persons with albinism remains a great challenge as many communities do not think that they too have rights and privileges," says Mwaura, who is the national coordinator, Albinism Society of Kenya.
Mwaura lauds initiatives like the beauty contest noting that it will go a long way in changing society's perceptions about persons with albinism.
"The Mr and Miss Albinism beauty contest will bring out the beauty in persons with albinism, both externally and skin deep," he points out.
And as she looks forward to the glittering finale in September in Nairobi, Nyawira hopes that the albinism cause will go beyond the annual days set aside to recognise the importance of inclusion of albinism in the national human rights agenda.
"I believe in myself. I have faith in my abilities as an ambassador," she says with that dashing smile of a winner.