It's the right decision, President Uhuru declares as 106 tonnes of ivory burns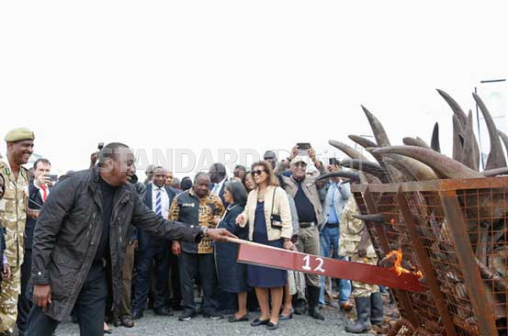 Kenya made a bold statement yesterday in her quest for a complete ban on ivory trade by burning 105 tonnes of elephant tusks and one tone of rhino horns. The country also insisted that was the right decision, saying ivory belongs to the elephants.
"No one has any business trading in ivory. This trade means death. Death to our elephants and our natural resources. Our natural heritage cannot be sold for money," President Uhuru Kenyatta said as he presided over the historic burning of the stockpiles.
President Kenyatta also scoffed at criticism that Kenya could do more with proceeds from sale of the stockpiles estimated at Sh31 billion.
"Some are passing judgement that we are doing the wrong thing. They say this will not end poaching because of corruption, porous borders and international cartels. But we must take as stand. Ivory is worthless unless it is on an elephant," the President said.
"I believe the decision we have taken is the right one and future generations will appreciate the decisions we have taken today."
Kenyatta was flanked by his peer from Gabon Ali Bongo Ondimba as he set ablaze the first of the eleven ivory piers ablaze at 4:30pm.
Yesterday's event was the fourth time Kenya was destroying ivory stockpiles, bringing some level of nostalgia to those who were present in the country's first ivory torching by President Daniel arap Moi.
"The ivory burn of 1989 destroyed the market for ivory, plunging the market price from Sh30,000 per kilo to Sh500 in a week. We did that by embarrassing the people who were wearing ivory. That is what we want to do," conservationist Dr Richard Leakey said during the summit.
Take a quick survey and help us improve our website!
Take a survey
Conservationists hope that the burning will have an effect similar to a previous burning.
The killing of elephants to feed the illegal trade in their ivory is out of control across Africa, with an estimated 30,000 elephants being poached each year from a continental population of as few as 400,000 remaining individuals.
Earlier, during the official opening of the Giants Summit, President Kenyatta vowed Kenya would do all it could to secure the future of its wildlife.
Strong message
"We will not be the Africans who stood by as we lost our elephant populations. We will not abandon our legacy to the whims of the market, Today we begin to take giants steps which will merit the praise of our ancestors and inspire our youth. To lose our elephants will be to lose a heritage," Kenyatta said.
The burning was also witnessed by Deputy President William Ruto, France's minister for Environment Segolene Royal, First Lady Margaret Kenyatta, Chief Justice Willy Mutunga and a host of Cabinet Secretaries, including Environment's Judy Wakhungu and Tourism's Najib Balala.
The stance by Southern African states on supporting restricted ivory sales was also put on the spot by veteran conservationist Dr Leakey.
"These countries are speculators on an evil commodity. They represent a shameful group and should be shamed for their decision," Dr Leakey said.
The burned ivory represents per cent of the total ivory stockpiles in Africa.
"We should kill all international trade in endangered species."
Royal, who is also the president of Cop 21, said France will ban any kind of ivory trade in her country and urged other European countries to follow suit.
Ruto said the burn would send a strong message to all those involved in the ivory trade.
"This is the strongest message to poachers and purchasers as we reduce these horns to flames and ashes. Their trade is worthless, valueless and evil," Ruto said, adding that Kenya is committed to preserving its heritage.
"Today, we make a statement of a lifetime. We hope other countries will stand with us to eventually eradicate all trade in wildlife," the Deputy President said.
Convention on International Trade in Endangered Species (Cites) Secretary General John Scanlon, who was present at the event, commended Kenya on its decision to burn its stockpiles but steered clear of making any declarations that would show any support for Kenya's cause.
"What countries decide to do with its stockpiles is entirely up to them, but those fueling the illegal trade should know that we will find them and punish them. They cannot hide," Scanlon said.
Despite this, Kenya is confident that it will get the support of other countries at the upcoming Convention on International Trade in Endangered Species conference in Johannesburg South Africa later in the year.
"I trust that the world will join us to end the horror and suffering and save our elephants," President Kenyatta said, adding that local laws will be enforced fully to ensure that those guilty of wildlife crimes are effectively prosecuted.
Prof Wakhungu had earlier pledged that the government will set up a special unit within the Kenya Wildlife Service (KWS) to try and prosecute wildlife crimes committed within the country.
As the hungry flames engulfed the tusks and rhino horns, dark smoke bellowed up into an even darker sky. But none of these could dampen the sense of hope and achievement among those present that perhaps a brighter future lies ahead for Africa's giants.