Police hold Kenyans linked to Iran government's spy terror squad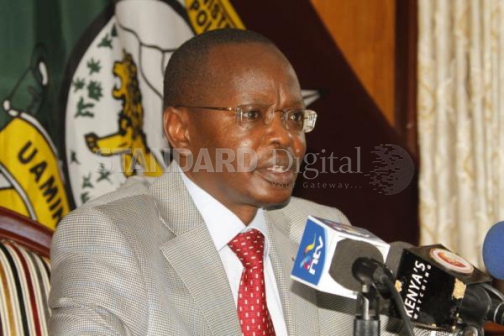 Details have emerged of how Kenyan police arrested one of the men accused by the Government of spying for the Iranian government and planning to carry out terror activities in Kenya.
Sources said officers from the Anti-Terrorism Police Unit (ATPU) pounced on Abubakar Sadiq Louw, 69, on the evening of Thursday, October 29, as he entered his house in Ngumo Estate, Nairobi.
"A son to one of the neighbours inquired from the officers why they were arresting him and they identified themselves as officers from the ATPU," said a source who did not wish to be named.
Yesterday, Inspector General of Police Joseph Boinett said Louw and 25-year-old Yassin Sambai Juma were working with agents of the Iranian government to carry out attacks in Kenya.
We also established that Louw once worked as a salesman at Hughes Motors Limited, a company that was taken over by CMC Motors Company Limited in 1981.
Louw was born in Kaptagat, Uasin Gishu County, to a local woman and a Boer settler called Tom Louw, who died soon after Independence in 1963. He has an elder brother called Farouq. They are believed to have converted to Islam and joined the Shia sect, the smaller of the two main sects of the religion, and of which Iran is the patron.
In what would amount to serious breach of diplomatic protocol by Iran against a friendly country, the IG said Louw admitted to working on behalf of the Quds Force, the clandestine external wing of Iran's Islamic Revolutionary Guards.
Quds Force is responsible for supporting Iran's allies and terrorist proxies across the Middle East and beyond. It reports directly to Iran's Supreme Leader Ali Khamenei.
Take a quick survey and help us improve our website!
Take a survey
The police chief said Louw admitted to first travelling to Iran in 1979 after the Iranian revolution and to being a Quds Force agent since 2012.
He also admitted recruiting other youths aged between 20 and 30 into the Force.
Juma was arrested on November 19, upon his return from Iraq where he had allegedly gone for training by Quds Force. We could not establish where he comes from.
"We have information that they travelled to Iran last month and only returned to the country to mount attacks," said Mr Boinett.
This will be the second time in three years that Iran is being linked to terror plots on Kenyan soil. In 2012, two members of Quds Force were arrested as they planned attacks in the country.
Ahmed Mohammed and Sayed Mansour were arrested in Nairobi and later led detectives to Mombasa Golf Club where they recovered 15 kilos of RDX explosives. Detectives said they were planning to blow up British, US or Israeli targets in Nairobi and the port city of Mombasa. They were jailed for 15 years.
It is not yet clear whether or not the attacks were planned to coincide with Pope Francis' visit to Kenya between Wednesday and Friday last week. However, if this was the case, then this would not be the first time the Iranian government was making an attempt on a pope's life.
Supreme leader
In May 1981, Pope John Paul II survived an assassination attempt at the Vatican, a plot which was later traced to Iranian supreme leader Ayatollah Ruholla Khomeini. His attacker, Mehmet Ali Agca, was a member of the Gray Wolves, a pro-Iranian terror group based in Turkey.
Following investigations by Israel's formidable spy agency, Mossad, Agca confessed to Pope John Paul behind bars in 1983.
The arrest of the two Kenyan suspects comes just a day after police issued an alert over stolen diplomatic vehicle number plates in Kilifi and Mombasa. The plates, 45 UN 177 K and 45 UN 130 K, were stolen at a parking on various dates within the last two weeks.
Citing the attack in Mali, Boinett warned that the plates could be used by terrorists to access security installations and carry out terror attacks.
A media officer at the Iranian embassy who identified himself as Hamisi denied the fresh allegations but said the embassy would issue a formal statement tomorrow.
A document prepared by anti-terror police officers said Louw organised for Juma's travel to Iran in April, where he was introduced to a Quds Force contact, nicknamed 'Parsa'.
'Parsa' subsequently gave Juma a set of tasks and Western targets for future terror attacks in Nairobi, said the document seen by The Standard on Sunday. The police say 'Parsa's' real name is Mojtaba Ghanbarian. The document says Ghanbarian and Juma met in Karbala, Iraq, last month for special training on tactical fieldwork, methods.
Of our culture, corruption and economy at risk
As we lament over the corruption in Kenya, which Pope and President Obama noted, we often ignore the role of our cultures which are very receptive to corruption, just as we are very receptive to religion. Ever noted that taking Holy Communion in church resembles our traditional oaths?