Five witnesses withdraw from Kidero, Shebesh case 'to speed up reconciliation'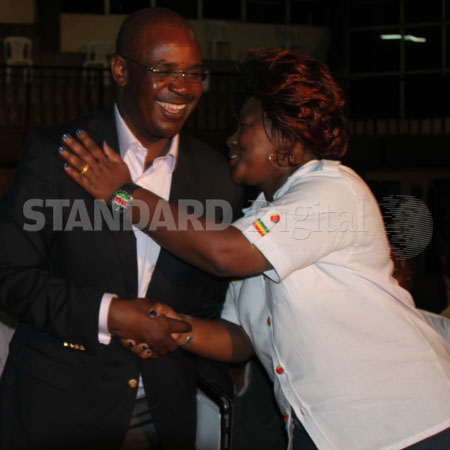 Governor Evans Kidero and Woman Representative Rachael Shebesh at past public function. [PHOTO: STANDARD/FILE]
By CYRUS OMBATI
NAIROBI, KENYA: Five people listed as witnesses in the case of Nairobi Governor Evans Kidero and Woman Representative Rachael Shebesh have withdrawn.
The witnesses led by Member of County Assembly Hashim Kamau said they decided to do so to fast track reconciliation process as ordered by Justice Isaac Lenaola.
Kamau was lined up as Shebesh's witness against Kidero.
"We are headed to police to withdraw our statements. We are five of us and our aim is to ensure there is reconciliation to enhance development in the city," said Kamau.
He named the other witnesses as MCAs Mark Ndungu, Janet Wala, Mumo Mate and Mugo Kanyi.
Ndungu said that their decision had been solely based on the ruling by Justice Lenaola and to ward off political brokers who are working behind the scenes to capitalize on what he termed as a small issue.
"After a series of reconciliatory meetings, I have made a solemn decision to withdraw forth so as to lay the ground for Kidero and Shebesh to sort out the issue amicably." Ndungu said adding that their decision had not been induced.
Shebesh had seven witnesses in the case and efforts to reach the other two to withdraw were being made. This was part of efforts to ensure Kidero and Shebesh reconcile.
One group of mediators was led by Nairobi County Senator Mike Sonko and several other meetings have since taken place in Nairobi and Mombasa to meet the two parties.
Justice Lenaola said Friday if the two fail to agree they be brought to court by CID.
"My ruling is not based on Kidero's position or social status. If it were any other citizen, I would rule the same way. Let Evans Kidero and Rachael Shebesh enter into dialogue within seven days and try to resolve their differences amicably," the judge ruled.
"If dialogue does not resolve the issue, then both of them should be brought before court and charged," he said.
The Petitioner Alex Ochako welcomed the ruling saying that it would enable Kidero to proceed with his duties uninhibited by the charges brought up against him.
Ochako had argued that the planned prosecution was in bad faith, discriminatory and only meant to humiliate and potentially harass the Governor.
The Director of Public Prosecution Keriako Tobiko had directed detectives at the Criminal Investigations Department to charge Kidero for assaulting Shebesh at City hall in September last year.
Kidero is soon expected to face assault charges in court while Shebesh is equally to face charges of causing disturbance.
This is after Tobiko approved charges proposed by police after the two fought at the governor's office on September 6, 2013.
Officials at the DPP's office confirmed they had returned the file to the Director of CID for processing of the two to appear in court soonest.
CID director Ndegwa Muhoro confirmed Tobiko had approved their charges and added they will soon take action.
"That is what the law says. There was a complaint and we investigated and found a crime had been committed. We will do as per the recommendations of the DPP, which is to prosecute both the governor and Woman Representative," said Muhoro.
The next step will now be summoning of the two for finger printing and bonding before they appear in court. Other sources said there had been efforts by various parties to have both Kidero and Shebesh agree on the case by withdrawing the charges.
Tobiko had asked the police to investigate the September 6 incidence at the governor's office in Nairobi.
Police further proposed that the group that accompanied Shebesh and stormed the governor's office be charged with creating a public disturbance.
At least 10 people recorded statements to support Kidero's allegation that he was assaulted while Shebesh has seven witnesses to confirm that Kidero slapped her.