Kenya, Kuwait sign tourism deal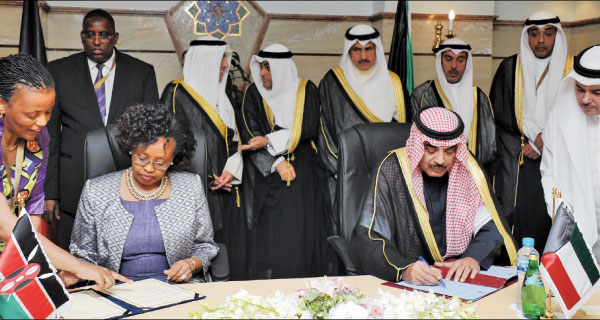 East African Affairs, Commerce and Tourism Cabinet Secretary Phillis Kandie and Kuwaiti Deputy Prime Minister Sheikh Sabah Al-Khalid Al-Sabah sign a tourism cooperation agreement. [PHOTO: DPPS]
By Standard Reporter
Kenya and Kuwait have signed an MOU expected to boost the number of tourists from the Middle East oil-rich nation.
East African Affairs, Commerce and Tourism Cabinet Secretary Phyllis Kandie signed the MOU on behalf of Kenya with Kuwaiti Minister for Industry and Commerce Amani Bouresly signing on behalf of his country.
Ms Kandie, who accompanied President Uhuru on his trip to attend the Arab-Africa Summit in Kuwait, said the Middle East is a major part of Kenya's strategy of wooing tourists from emerging markets.
"Residents of the Middle East and Gulf States are now more travel conscious and we want to take advantage of this to woo high spenders from the petro dollar economies," she said.
New markets
"My country is keen to invest in Kenya's tourism and service sector especially in construction of new hotels and we want to encourage our citizens to visit Kenya and East Africa," Bouresly said.
The government is targeting new markets to fulfil the desire to grow the number of tourists visiting Kenya from the current average of one million to three million by 2015.
Also in Kuwait, the Principal Secretary for the East African Community, Commerce and Tourism Dr Ibrahim Mohamed said the Kenya Tourism Board (KTB) and private sector players are changing tact in how they sell Kenya as a destination to new and potential markets.
He said one of the new marketing approaches already under implementation is the introduction of tailor-made packages informed by the specific areas of interest that people from a specific country look out for.
"The numbers we are receiving today from Kuwait and the region are not as high as they should be. This is mainly because there is no proper awareness about Kenya's distinct tourism products. Today, people are going to other destinations which have the same facilities and attractions we have in Kenya," he said.
Addressing the media in Kuwait, KTB's Managing Director Muriithi Ndegwa said KTB would use its Market Development Representatives to carry out continuous research that will ensure that Kenya remains relevant to potential tourists from Kuwait.
"We expect a real leap in the number of visitors from the region in the coming years. We also look at ways of setting the ground for creating more awareness about our products and destinations, so that people can increasingly visit our destinations," he said.