Concern as suspects continue to skip bail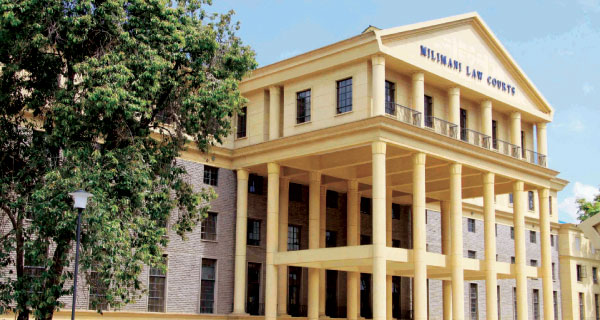 Millimani law courts PHOTO:COURTESY
LILLIAN ALUANGA-DELVAUX
When a 32-year-old woman was featured in a weight loss programme aired on local television, few expected the turn of events such exposure would present. What many did not know was that the woman was a suspect in a forgery case and had absconded court after posting Sh500,000 cash bail.
Her appearance on the show would, however, catch the keen eye of a police officer, who contacted the television station and had her arrested.
While the above case may have had a 'happy ending' for the authorities, dozens of suspects continue to skip bail in what courts say is now a matter of concern.
To illustrate the point, Nairobi Chief Magistrate Kiarie Waweru says the court has, this year alone, issued about 50 warrants of arrest for suspects that have taken flight after posting bail.
A look at the number of such cases handled by the court in the past six years also points to a rising trend. In 2007, the court issued 10 warrants of arrest for persons that had skipped bail. The figure more than doubled in 2008 to 25, then dropped to 10 in 2009.
The number rose again, with 14 warrants issued in 2010, about 30 in 2011 and 48 in 2013, with majority of suspects jumping bail accused of theft, obtaining money by false pretext and forgery.
Finding balance
"We want to make bail terms manageable because bail is granted to ensure the accused person comes to court and not to punish them. But the number of persons absconding has forced courts to get stricter," says Mr Waweru.
Compounding the challenge for judicial officers is finding a balance between the rights of an accused person and serving the interests of justice, further complicated by rising incidences of persons simply failing to turn up in court.
Article 49 of the Constitution provides that an arrested person can be released on bond or bail, on reasonable conditions pending a charge or trial, unless there are compelling reasons not to be released. This means that even though an accused person's right to be granted bail is provided by the constitution, it is not an absolute right.
Waweru says although each case is determined on its merit when setting bail terms, several factors are considered.
They include the nature of an offence, with the general rule being the more serious an offence the higher the amount of cash bail. For instance, imposing a Sh100,000 bail for a slapping offence would be considered unreasonable.
Criminal record
Minor sentences can sometimes however be escalated to more serious cases like murder thus necessitating denial of bail. Although offences like murder and robbery with violence are now bailable, many courts are still reluctant to grant bail for such suspects.
Other factors considered when setting bail are the security of the victim and that of the accused person, and whether the suspect poses a flight risk.
Also taken into account is whether the suspect is likely to interfere with witnesses, the likelihood of them committing other offences, their character and criminal record.
In some cases an accused person's age, health and ability to afford cash bail are also considered.
Since foreigners may have no fixed abode in Kenya, bail conditions could require one to deposit their passport with the court. Cases where one cannot afford cash bail may also be determined based on a pre- bail report compiled by probation officers.
But while many courts have adopted this practice there are still those that do not seek such a report, a factor that has prompted judicial officers to propose establishment of guidelines for the sake of uniformity in setting bail.
There are different types of bail that may be preferred upon an accused person. These include a cash bail, which requires a suspect to deposit a sum of money, which is then receipted.
The money is refunded after conclusion of a case, or surrendered to the State if the accused person absconds. A free bond is usually granted where the accused has committed a minor offence and is unable to pay but can easily be traced.
There is also a 'bond to compel court attendance' that is usually given where police don't have time to verify documents like log books and title deeds.
A report by Prof Migai Akech and Dr Sarah Kinyanjui on Pre-Trial detention in Kenya; Balancing the Rights of Criminal Defendants and the Interests of Justice, cites police officers assertion that many persons tend to abscond when they are granted free bonds.
The report covers January and March 2011, in a study conducted in 12 stations across the country. These include Eldoret, Embu, Garissa, Kakamega, Kisumu, Mombasa, Nakuru and Nyeri.
According to the report, police officers say it is difficult to trace persons that jump bail due to absence of structures for monitoring suspects released on such terms.
For instance, many traffic offenders skip bail especially where offences are committed on transit. In Nakuru, police officers interviewed said persons charged with offences such as being drunk and disorderly, possession of illicit liquor, game meat or products rarely turned up in court when given cash bails of between Sh500 and Sh3,000.
Weaknesses in enforcement
In such cases the accused will often post bail then disappear, leaving officers in an awkward position when they are unable to produce suspects in court. Say excerpts of the report: "In such cases courts may even refuse to record charge sheets or take pleas, leaving the officers wondering where to take the money left by the accused."
In Nakuru, magistrates have upped the stakes, setting cash bail for minor offences at between Sh10,000 and Sh15,000. These figures were increased from an average of Sh3,000, given the high number of absconders.
Most courts in the county now also prefer setting cash bail for serious offences at about Sh500,000, plus sureties of similar amounts.
In Mombasa, courts have resorted to using imams and pastors as sureties. It has been observed that although many people know of the consequences of jumping bail, they are not afraid to do so due to weaknesses in enforcement. But there have also been cases where police officers are accused of giving 'lenient' bail terms that could increase a suspect's risk of flight thus prompting the court to review the terms.
Consider the case of one suspect directed to post a Sh150,000 bail for allegedly stealing Sh98,000. The cash bail is later reduced to Sh70,000.
The situation is however different in another case where a suspect is charged with drug trafficking, an offence that carries a maximum sentence of life imprisonment.
The accused in this case is denied bail because of the gravity of the offence and likely sentence - good indicators of the suspect's predisposition to abscond. But absconding, according to Waweru, does not always point to an admission of guilt.
"Suspects may sometimes jump bail because of a fear of the unknown. The accused person may not necessarily be guilty but is afraid of the penalty that the offence attracts," says Waweru.
Cases where suspects have absconded trial at the Nairobi Chief Magistrate's Court point to varying amounts of cash bail suspects deposited, ranging from as low as Sh5,000 to Sh100,000.
The offences that attracted these bail terms include stealing, being in possession of forged bank cheques, and obtaining money by false pretence. Also presenting another headache for the courts are suspects facing more than one charge in different courts, sometimes across different counties.
"It is sometimes possible to have a suspect facing up to 10 different cases," says Waweru. If the prosecution fails to alert the court of such a scenario, then the magistrate will simply look at the charges presented for a particular case and apply normal standards in setting bail for the suspect.
Fake documents
A case in point is that of police imposter Joshua Waiganjo who was wanted in Nairobi court over fraud charges. Waiganjo had allegedly jumped bail three years earlier in a case where he was charged with stealing a car worth Sh550,000. According to police records, he had disappeared after posting a cash bail of Sh100,000, leading to the issuance of an arrest warrant.
AU's bid for deferral of Uhuru, Ruto trials fail
The U.N. Security Council on Friday did not approve an African bid to postpone the International Criminal Court trials of Kenyan President Uhuru Kenyatta and his deputy, William Ruto, for one year.