18 injured in Nairobi gas cylinder explosion
NAIROBI
By - | October 5th 2012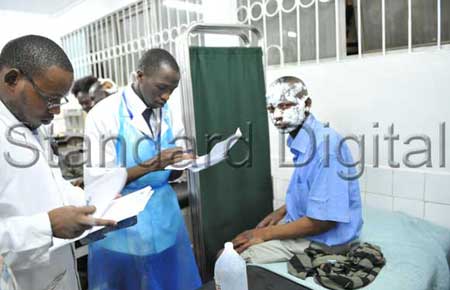 A survivor of Ngara explosion at Guru Nanak Hospital [Photo:John Muchucha/Standard]
By Cyrus Ombati
At least 18 people were injured in a gas cylinder explosion in a restaurant in Ngara, Nairobi on Thursday evening.
The explosion went off when the restaurant was fully packed and waiters were serving the clients.
"Those injured suffered multiple injuries occasioned by burns and injuries from falling glasses due to the impact of the explosion," said a chef who survived the explosion.
Nairobi Police Boss Moses Ombati said the they have confirmed the explosion was caused by a gas cylinder which went off at around 7pm.
The Injured were rushed to Guru Nanak Hospital and others were referred to Kenyatta National Hospital for treatment.
There was panic in the area as the explosion came in the wake of terror attacks in Nairobi and North Eastern.