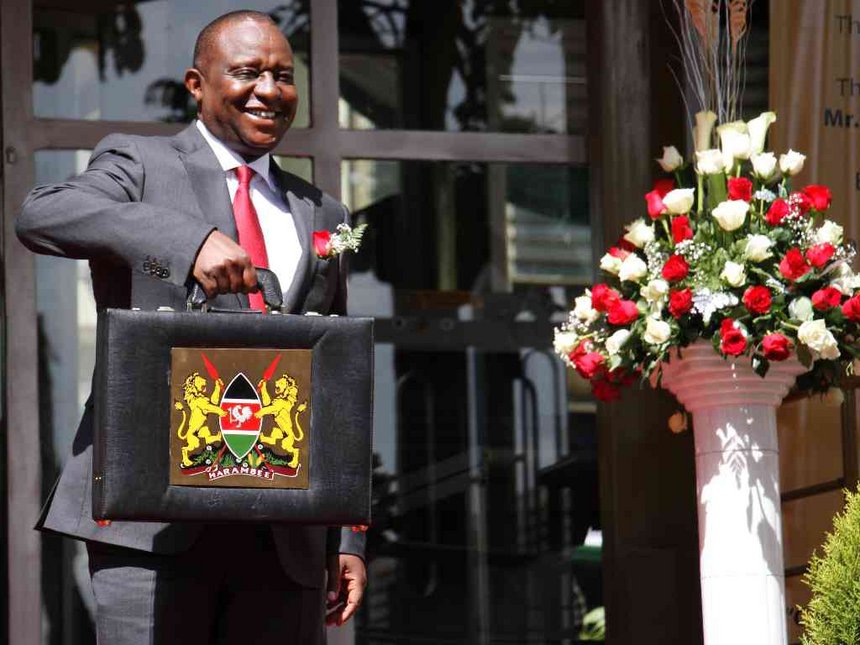 NAIROBI, KENYA:
National Treasury Cabinet Secretary will on Thursday unveil the spending plans for the financial year that begins on July 1. He will also indicate how his ministry plans to fund the Sh3.02 trillion budget, likely through a raft of new taxes and new loans estimated at Sh608 billion. According to a budget statement on the ministry's website, Education sector will get the lion share (Sh473.4 billion) compared to other sectors; the General Economic and Commerce Affairs sector has been allocated Sh23.9 billion Below is how the money is distributed per sector.
SEE ALSO: Let's overhaul budget to reflect Covid reality
Education sector-Sh473.4 billion Energy, Infrastructure and Information, Communication and Technology-Sh406.8 billion Public Administration and International Relations - Sh270.9 billion Governance, Justice, Law, and Order - Sh204.8 billion National Security - Sh153.6 billion
SEE ALSO: Put national budget on the table too
Health- Sh93.0 billion Environment Protection, Water and Natural Resources- Sh82.3 billion Agriculture, rural and urban development sector-Sh59.1b Social Protection, Culture, and Recreation Sector- Sh 54.8 billion General Economic and Commerce Affairs-Sh23.9 billion
SEE ALSO: CoB directs Waiguru to comply with budget law
The government projects budget on education to hit Sh Sh504 million by the time President Uhuru Kenyatta leaves the office. In the 2019/2020 budget estimates, the education sector has been allocated Sh473 billion probably the highest among other sectors in this year's budget. The Sector has prioritised several programmes for implementation including the recruitment of additional teachers to support 100 percent transition policy of the Government and continued support to Free Primary Education and Free Day Secondary Education through increased capitation. Other prioritise include continued support to Special Needs Education (SNE) through increased capitation to SNE learners and the provision of examination fees for all students in KCPE and KCSE. The Sector will also complete the ongoing construction and equipment of technical training institutes (TTIs) and support university education in public and private universities in order to equip the youth with relevant skills required to drive the industrialisation agenda. The agriculture rural and urban development sector on the other side has been allocated Sh59.1 billion. The Sector plays a key role in the development agenda of the country through enhancing food and nutrition security; employment and wealth creation. It has also prioritized the implementation of "The Big Four" Plan initiatives. The Big Four Agenda items are Food security, manufacturing (mainly focusing on job creation in this area), affordable universal health care and affordable housing.