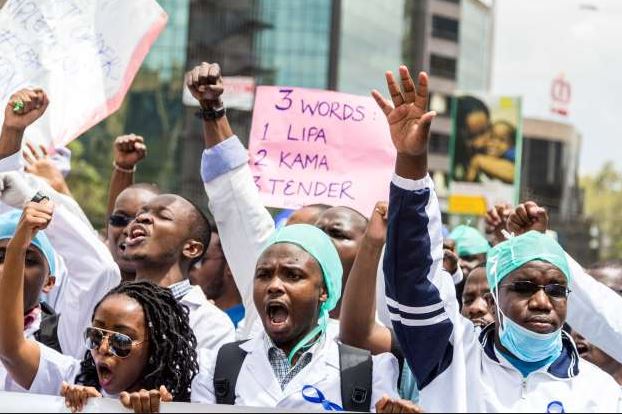 ?Anxiety has greeted a new proposal in Parliament that would restrict to five-day strikes by workers providing essential services.
Key unionists have labelled the proposals "ill intended" as the public is set to have a say on strikes.
The Labour Relations (Amendment) Bill 2019 by Kikuyu MP Kimani Ichung'wa also wants workers- among them nurses, doctors, staff manning control tower- to take a poll before proceeding on strike.
Read More
Such a strike can only take off if it is backed by 50 per cent of workers, and will automatically collapse if majority of workers oppose it.
The five-day window is meant to allow the matter to be referred to the industrial court for arbitration.
"A trade union intending to call for a strike by workers who provide essential services shall take a ballot vote prior to issuing a notice of intention to hold the strike," the bill states.
Essential services
The limitation of the strike to five days will be effected by amending section 78 of the Act to provide that 'there shall be no strike or lockout in an essential service' during that period.
Union leaders yesterday termed the proposals as 'ill-advised,' arguing that the right to industrial action was alive in the Constitution.
Ichung'wa wants clinical officers, air traffic controllers, sanitation workers, meteorologists, marine and port navigational workers, electricity service workers and telecommunication service workers to be subjects of the law.
Others are workers involved in the supply and distribution of fuel, petrol, oil, power and lighting.
Kenya Medical Practitioners, Pharmacists and Dentists Union (KPMDU) Secretary General Ouma Olluga termed the bill 'a waste of time.'
"Let Mr Ichung'wa exercise his energies elsewhere," said Mr. Olluga.
Kenya National Union of Teachers Secretary General Wilson Sossion and his Kenya Aviation Workers Union counterpart Moss Ndiema also faulted the proposal.
Labour relations lawyer Okwe Achiando termed the bill unconstitutional as it limits worker's right to participate in activities of a union.
The bill was introduced in the National Assembly on Wednesday.