Why post-election handshakes should be entrenched in Kenya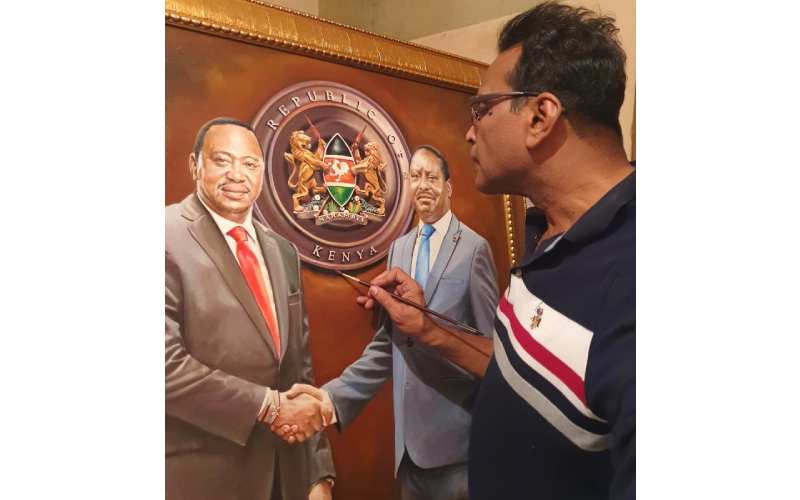 There is a likelihood that we might have yet another handshake after the 2022 election. Why? Because political handshakes have proved to be the axis of peace following divisive elections! But even in the absence of divisions, post-election handshakes are good prescriptions that should be taken with the meticulousness of an antibiotic by future regimes.
The 2008 and 2018 history have taught us that handshakes are fodder for an all-inclusive political system in which most Kenyans feel represented in political decision-making, unlike where a small group from a region takes over political institutions and maintains the status quo to their benefit.
Twice, presidential election petitions have failed to favour the appellants and have only acted as opioids for number two and their followers. The Constitution deliberately engineered the doctrine of winner-takes-it-all—and that's where the rubber meets the road.
The winner-takes-it-all leaves Kenyans divided—one side chest-thumping, while the other is rendered disconsolate and outsider in government. That way, we have mainstreamed culinary politics—the politics of "it's our time to eat". It creates leadership that blatantly "eats" and the 'outsider' can do nothing about it.
That is why we should encourage political handshakes going forward. It will be unhealthy to have a government that's will not commit to inclusion after elections.
After the 2007/2008 experiences and the Kofi Annan-negotiated handshake, the Kenyan electorate transformed. The 2010 Constitution might have adjusted structures here and there.
Still, it methodically ignored the political software—the distrust and perceived misrepresentation that can only be achieved through a form of negotiated democracy—for our case, a post-election handshake deal.
continue salivating
That's why the period between 2013 and 2017 was the most hurting for millions of Kenyans who felt they were left outside the government as UhuRuto took everything and awarded State positions to those loyal to them. The Jubilee regime teased the opposition thus, "nyinyi endeleeni kumeza mate, sisi twala nyama" (continue salivating, as we eat meat).
Due to this political attitude, the Jubilee regime seemingly didn't create an all-inclusive political environment. It is hard to blame them. There are two possible reasons for their failure to do so.
First, bringing the Opposition on board is entertaining saboteurs in their administration who could hobble their agenda. It seems we aren't mature enough to work for the country—we work for politics.
Picking leaders from the Opposition is also seen as weakening the democratic space. On the other hand, the lack of an all-inclusive government undermines inclusive public policies, equity and efficient service delivery.
That notwithstanding, we should encourage handshakes. During the 2013 and 2017 elections, there were petitions that ended up in the Supreme Court. We wasted money and resources, and there was nothing to smile about. The solution came in the form of a handshake, which is not entrenched in the Constitution–but it worked!
There is another reason for encouraging handshakes. The political fate of our country is usually entrusted to two or three individuals; if they agree, we agree; if they fight, we fight. That is why the political heavens force them to compromise so that peace can prevail.
What do I say then? A one-sided government denies the wider public and civil society a chance to inform development in all its forms and manifestations. Instead, it makes elections a life and death contest—just like a football match. It shouldn't be like that.
Elections are supposed to be friendly matches without places for propaganda, fakery, zoning and intolerance. As such, only a handshake can unite the country after political face-offs.
Dr Ndonye Is a lecturer of communication and media. @Dr_Mndonye