Raila, Ruto must end political intolerance ahead of elections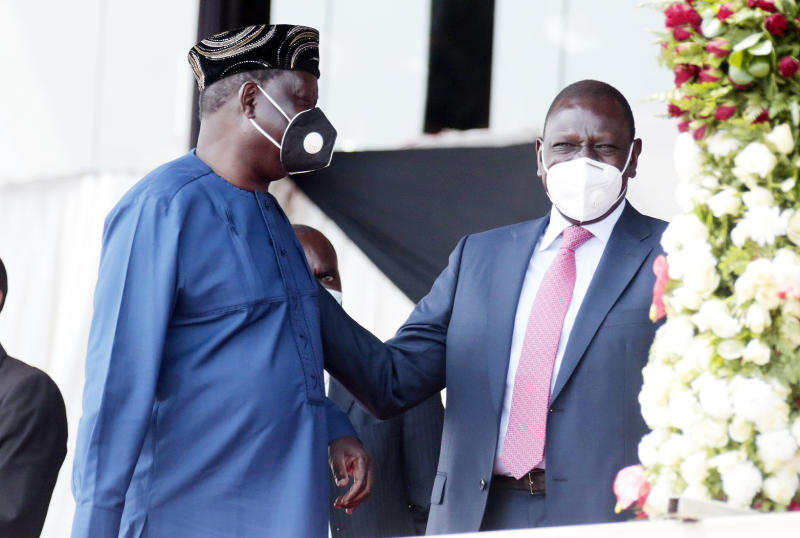 The political heavens have earmarked another evil in Kenya; that Raila Odinga and William Ruto are the gates through which political intolerance could enter Kenya towards 2022.
Undoubtedly, the followers of Raila and Ruto are the titans of political intolerance in this country.
I have observed that since 2013, the leading faceoff in Kenyan politics has been between Raila and Ruto. It still will reign in 2022 and thus, Raila and Ruto must take charge and responsibility.
Yes, the two political titans in next year's elections will be Raila and Ruto. This binary opposition started in 2013 through 2017.
In 2013 and 2017, and this has been agreed on by many political pundits, those who voted Jubilee were not voting for Uhuru Kenyatta, they were voting against Raila.
Likewise, those who voted for Raila were doing so against Ruto — not for Uhuru. Raila's followers hate Ruto because they love Raila.
Ruto's followers hate Raila because they love Ruto — the fight between Jubilee and ODM, has not at one time involved Uhuru.
Ruto supported Uhuru in 2013 and 2017 not because he believed in the president. Actually, that was the irony that Uhuru learnt too late. Ruto was using Uhuru to stop Raila from ascending to presidency.
We have seen openly that Raila and ODM had no bile with Uhuru — the thorn in their back has been Ruto. ODM and Raila must learn to stay with it because it is not going away soon.
Raila and Ruto must stop unhealthy competition, especially created through jobless and desperate bloggers who make the 2022 presidential election model look like a football match because of a few coins.
These trolls are driven by money and they shift their political propaganda in favour of who pays them — they don't care about values or peace and unity of Kenya.
I have seen a much-distorted interpretation of Mount Kenya region since Ruto started campaigning there in 2018. The mountain people have always come in large numbers to listen to the deputy president.
This was wrongly interpreted as meaning that Ruto has been accepted by the Mt Kenya people and the case for other aspirants is closed.
That was the beginning of the seed of discord — and that seedling should be cut.
For the last few weeks, Raila broke through the imaginary firewalls created by Ruto and his allies. It shocked both Raila's enthusiasts and Ruto followers.
Immediately, Raila and ODM enthusiasts started interpreting the big turn up to mean Raila has been accepted in Mt Kenya and that Ruto has been rejected.
This binary opposition political interpretation is very shallow — it confuses peace-loving citizens.
It legitimises hiring of thugs by any of the two sides to disrupt opponents' rallies to assume political correctness.
I have a dream that Ruto will go to Kisumu City and pull a big crowd just like he has done in Central Kenya.
I wish that the crowd will not be interpreted as Raila's loss of ground in 'his region', as propaganda political analysts sensationalise.
I look forward to Raila going to Eldoret town and pulling a throng of Kenyans and that the presence of this crowd will not be politically used to mean Ruto has lost his ground.
Kenyans yearn to hear Ruto telling his followers, "When Raila comes around, come out, listen to him and don't shout my name or against him; listen to what he promises you and decide for yourselves."
I also want to hear Raila commit to preaching the same message to his followers.
My conclusion is that the first manifesto Raila and Ruto can give their followers ahead of 2022 is not the reduction of fuel prices, employment, tax reduction and other political clichés — nay, the number one promise they should give to Kenyans, without which others have no roots, is political forbearance.
Dr Ndonye Is a Lecturer of Communication and Media. @Dr_Mndonye