Raila Odinga can help the other politicians beat William Ruto by not going for presidency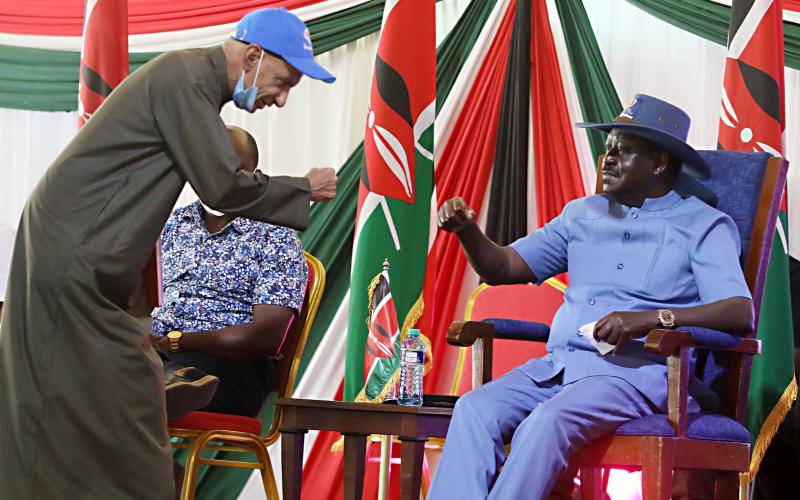 Early this week, there was a video clip on social media with the caption 'Raila goof: Oops ODM leader Raila Odinga forgets to remove cap in honour of national anthem.'
The reaction from his critics was that he is tired, old, and shouldn't seek the presidency, among other self-assured hubris. Respect elders as they can see far while seated than a boy on top of a pinnacle. Even with advanced years, Baba is a political principality that holds the key to a coalition that can challenge Ruto. Fact!
The future of political victories since 1992 has been political coalitions led by influential leaders. Immediately after Parliament repealed Section 2(A) of the Constitution in December 1991, Kenya was hopeful that Moi's era would end.
However, it took 10 years for the politicians to have the 'aha' moment of winning elections together; after losing in 1992 and 1997. The 1992 and 1997 results taught presidential candidates the ethics of sacrificing and folding up their parties for a win.
They called former president Moi a professor of politics because he not only warned them, but he had seemingly done his calculations that most of them did not have know about.
How did it begin? In June 1982, Parliament passed a constitutional amendment declaring Kenya a one-party State following an attempt by some politicians and university students to form an Opposition political party.
Two months later, the government faced the first-ever military coup. It was a coup that changed Moi and kick-started, in some way, the clamour for a different way of doing politics.
Ten years later, the country was entangled in an eternal struggle for second liberation and multiparty democracy.
Unfortunately, the return of multiparty democracy was not something to smile about because it legitimised Moi's presidency through democratically held elections.
The Opposition was not ready to unite for a common purpose.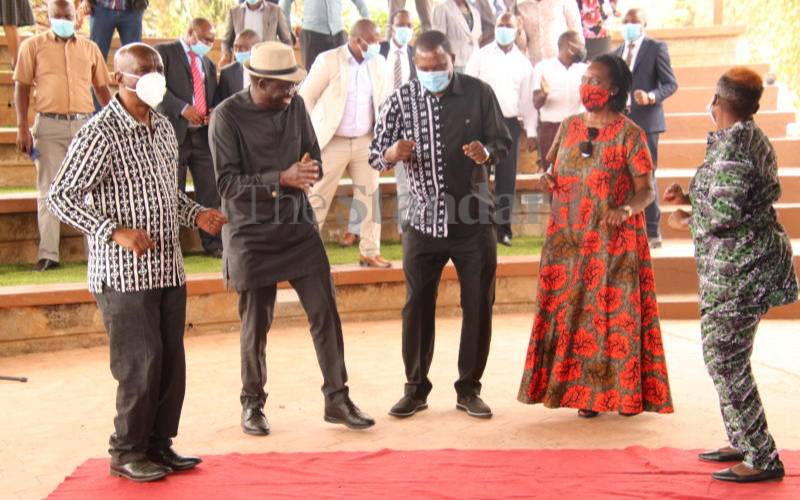 A closer look at the results of the elections in 1992 and 1997 shows a divided and weak Opposition.
For instance, in the 1992 General Election that attracted eight presidential candidates, Kenneth Matiba's 26 per cent, Mwai Kibaki's 19.45 per cent and Jaramogi Oginga Odinga's 17.48 per cent votes could have led to about 63 per cent of the total votes cast to remove Moi who won by getting 36.35 per cent.
They repeated the mistake in the 1997 General Election that had 15 presidential candidates.
Moi won by about 40.40 per cent of the total votes cast. If the significant candidates had formed an alliance, they could have won emphatically. But the votes were divided among them with Kibaki getting 30.89 per cent, Raila 10.79 per cent, Michael Kijana Wamalwa 8.17 per cent and Charity Ngilu 7.89 per cent.
A coalition of the four could have amassed approximately 58 per cent.
These two unfortunate experiments awakened Opposition politicians in 2002. They formed the National Rainbow Coalition that gave Kibaki a win of 62.2 per cent against Uhuru Kenyatta's 31.3 per cent.
Since then, we have had coalitions and alliance-based elections in 2007, 2013, 2017. Next year will be no different.
History teaches us that political mergers and alliances are formed for three cardinal reasons; to create an alternative force, to consolidate the votes into one pool that can win, and unite the opposition against a more competitive regime.
Parties must be willing to compromise — to fold up their interests. Going into an election as a coalition also reduces expenses and is a unifying factor. Thus, it is the best way of uniting the electorate in the age of divisive politics — especially in Kenya.
Note that going by the 2002 results, Moi had seemingly done his math. If the Opposition didn't unite, the young Uhuru would have become president.
As such, when William Ruto's United Democratic Alliance (UDA) insists it won't need a coalition, it is courting defeat next year. I doubt that they mean it; it could be a way of buying time to use their affiliate parties to lead the enemy down to the wrong path as much as possible — law number three of The 48 Laws of Power by Robert Greene.
However, given that the hustler movement has gained roots since 2018, the One Kenya Alliance (OKA) and ODM party must coalesce around other parties to make Ruto fall — I'm falling for this fallacy because all of them have declared that they have one arch political rival: DP Ruto.
Whether we like it or not, Ruto is a political Leviathan to contend with come next year. Fact! To beat him, other candidates have a big task and must think through their strategies. The best for them will be to form a tactical alliance.
Truly I tell you, to challenge Ruto, Raila Odinga, Kalonzo Musyoka, Gideon Moi, Musalia Mudavandi and Moses Wetang'ula must unite. If another person tells them otherwise, whether an angel from heaven or even myself later in this punditry abracadabra, treat such political gospel as disingenuous.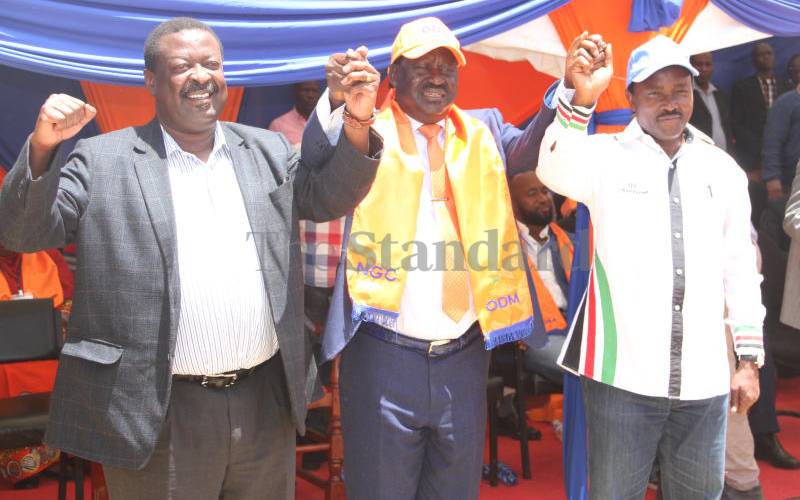 Political principality
In the winning matrix, Raila, the political principality, holds the key.
But how, you may ask? First, note that there is only one kingmaker in the proposed coalition — Raila Odinga. No one in this group can make him a king. This is because Kalonzo has failed twice to make Raila president.
Assuming they will heed my advice and OKA and ODM unite, they have no luxury of options, but three.
The first is to take a compromise candidate. This will be the best option to neutralise Ruto's 'hustlers movement'. In line for this option are first-timers Gideon Moi, Mukhisa Kituyi, Kivutha Kibwana and the National Assembly Speaker Justin Muturi. Any of these options will make the strongest faceoff with Ruto.
The second tier of the candidates are Kalonzo, Mudavadi and Wetang'ula — these are former NASA principles whom Raila might not straightforwardly endorse because of their previous political gripe. However, in politics, anything is possible.
The other option will be to go for Raila himself. Many political analysts see Raila as the only candidate who can match Ruto in 2022. But, indeed I tell you, this will be the weakest option. For this reason, Ruto said in a past TV interview that his only threat is Raila Odinga. But we must be cautious when a fighter is choosing their opponent.
The Chinese military strategist Sun Tzu in his masterpiece Art of War said that militant fighters deceptively pose as 'directors of the opponent's fate', and we must see this in Ruto when he appoints Raila Odinga to compete with in 2022. Let those who have ears hear that any of the options where Raila is candidate will be the weakest because there is none among the group who can make him a king.
Raila now has a golden chance to do unto Ruto what Ruto has done unto him in the 2013 and 2017 elections. That is to endorse someone else. This is how Raila can beat Ruto who has played kingmaker in 2013 and 2017 technically to frustrate Raila, who seemingly tried to trim him politically during the Grand Coalition government.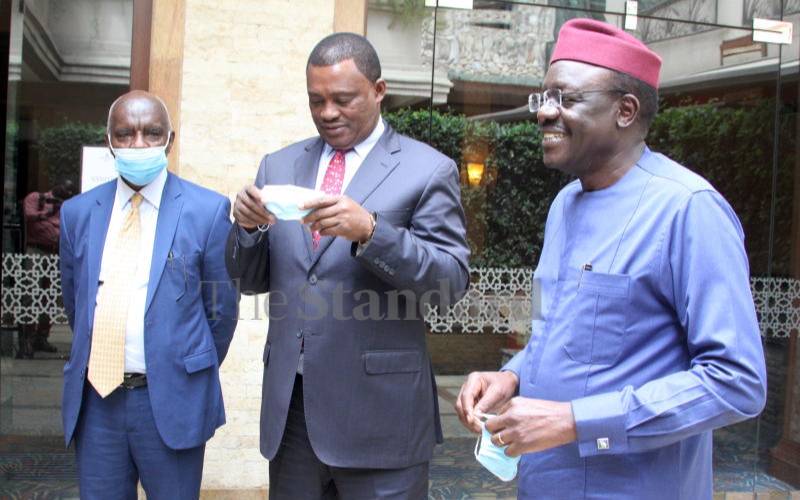 Let me sound repetitive here for emphasis. If Raila endorses someone else, he will have the advantage of making him a king when the other kingmaker (Ruto) is contesting. This the advantage Ruto had over him in the 2013 and 2017 elections.
But this option comes with ultimate compromise from the side of Raila and adamant ODM.
Raila's other advantage over Ruto is that, with a strong kingmaker, even a supposedly weak candidate can win the presidency. That's why with Raila Odinga as a kingmaker, we have the possibilities of Gideon, Kalonzo, Mudavadi, Muturi, Kituyi, and Kibwana going to the State House.
Let me explain what I mean by Raila being a political principality using an anecdote.
The biblical Moses was strong in battles when he was young, but it came a time when he grew old and weary. So he could not go to the battleground. But he had a way of making Israelites win battles over Amalekites, who were their great enemies.
Whenever Amalekites attacked Israel, Moses could raise his hands toward the battlegrounds. Notably, though old and weary, as long as his hands were up, Israelites beat Amalekites, but Amalekites would be seen winning the war when his hands were down.
Therefore, when Moses' assistants realised that he had become a principality who caused Israel to succeed by his mere lifting of hands, they would support both his hands up. That way, Joshua would overcome Amalekites.
Raila is like Moses, a political principality who should not go to the 2022 battlegrounds in person. Instead, he needs to raise his hands to determine whom he wants to be president, and the battle will be won.
The question is, will Raila Odinga be ready to compromise? Unfortunately, he has no other chance to settle political scores against his chief challenger, DP Ruto.
-Dr Ndonye is a lecturer of communication and media