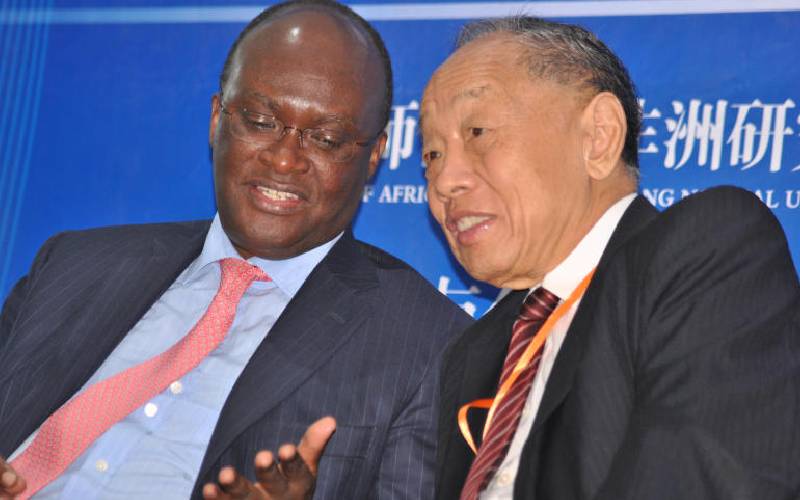 In the current heat of electoral hullabaloo, sidelining other important concerns, which are not as appealing as politicians insulting each other or making outrageous claims, is the norm.
Each camp has champions of political entertainment through insults and spreading rumours that are so 'innocent' that Dr Samuel Kobia's NCIC has problems finding problems in their offending utterances. Additionally, some of those guilty of snide remarks have 'untouchability' privileges. In the process, other important things disappear into virtual invisibility.
Such was the case last week when people of repute from several countries met to deliberate on national and regional 'peace' and security and called for promotion of serious think tanks. Among them was Joseph Boinnet, former Inspector General of Police and Chief Administrative Officer, who helped set up the Global Centre for Policy and Strategy (GLOCEPS).
He wanted GLOCEPS to rise up and equal Chatham House in London and Brooking Institute in Washington DC as a think tank. Brigadier Robert Kabage (rtd), the GLOCEPS director welcomed the challenge of making GLOCEPS to catch up with the established think tanks in the West through research, publication, and distribution.
In May 2018, as the country mourned Munyua Waiyaki, Kenya's former Minister of Foreign Affairs, President Uhuru Kenyatta called on policymakers to document their experiences, but there seems to have been no takers. Could GLOCEPS do it? Documenting and think-tanking was also in the mind of Lt General (rtd) Lazarus Sumbeiyo.
As a soldier, Sumbeiyo was involved in various defence sector reforms in the 1980s and 1990s. Subsequently, he was one of the officers, along with Lt General (rtd) Humphrey Njoroge, who at different times wore both the Army and Air Force uniforms. He was instrumental in reorganising the intelligence aspect of security, eventually leading to the establishment of the National Intelligence Service and in recruiting initial officers.
He also had a hand in military intelligence, all which prepared him to engage in the Sudan peace process, even when he was army commander. In relinquishing his post as army commander, he treated the public to a ceremony in which senior army officers pulled him and his 'Land Rover' out of Langata Barracks to become a 'civilian'.
In the same way that he had not been an ordinary soldier, however, Sumbeiyo was not an ordinary civilian. His involvement in the Sudan peace process turned him into a regional asset and the new Mwai Kibaki administration kept him busy in Sudan.
One of his biggest challenges as the 'Mediator', he observes, was to win and keep the trust of all the factions in the Sudan multi-conflict involving players in Khartoum and their splintering rivals in South Sudan as well as the diversity of the IGAD and big power leadership. He eventually succeeded in mediating the 2005 Sudan Comprehensive Peace Agreement (CPA).
Although Sumbeiyo derived some satisfaction and happiness from his 'peace' achievement, he became a concerned man because not everything went according to expectations. He likes books, thinking, and is willing to admit past weaknesses or errors and there were some in the CPA process.
He thus looks back to the CPA mediation and the subsequent independence of South Sudan trying to identify what had gone wrong. He and his team had not seriously considered the aftermath of South Sudan's independence. The best 'brains' had not been tasked to think of the consequences in part because there were no think tanks to help think through unexpected security challenges.
Sumbeiyo and Boinnet's cry for think tanks with 'grand strategy' capacity to think beyond technicalities is national and regional. If policymakers, current and potential, do not listen, they will suffer the ignominy of regret.