There are challenges to the Uhuru legacy, but he is making progress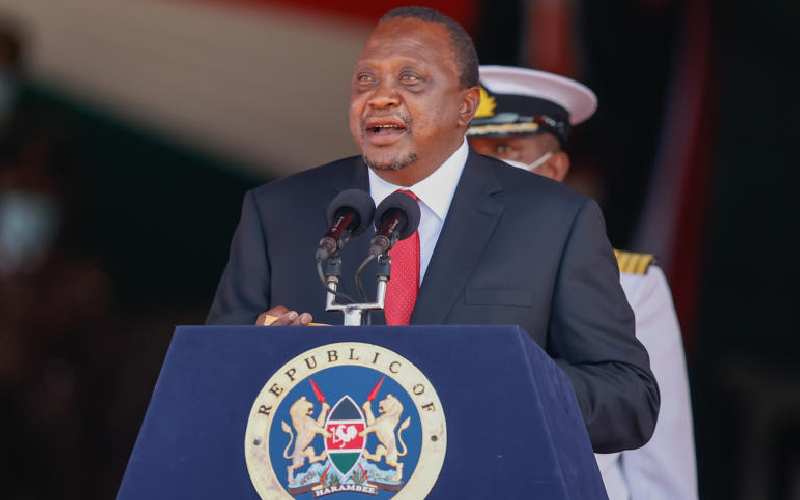 There are hardly 13 months before Kenyans go to the polls in August 2022 to elect their fifth president and attention is increasingly on two fronts in conflict.
First, President Uhuru Kenyatta is in his final year and wants to accomplish things without being sidelined. Secondly, there are all those aspiring to become president and want to position themselves in ways to ensure they do not lose. Each of Kenya's four post-colonial presidents has some things to be remembered for that constitute his 'legacy'.
Jomo Kenyatta, Daniel arap Moi and Mwai Kibaki, the first three, had vast colonial experiences and were critical in the transition from colonialism to the post-colonial realities. They just did things, hardly talked of 'legacy', and exited the scene. On the shoulders of those three political father figures, Uhuru hopes to build his 'legacy'.
He charms his way by travelling widely around the globe, only for his Pan-Africanist dreams to hit neighbourhood rocks. In Tanzania, it was over coronavirus. In Somalia, it was over Euro prompted adjustment to its irredentist proclivities towards the sea that made Somalia to claim Kenyan maritime wealth.
Then Ethiopia's renewed search for a southern passage to the Indian Ocean led to feuds over the Jubaland/Kismayu zone. External obstacles, however, pale when compared to the internal ones. There appears to be two prongs to the intended Uhuru legacy, socio-political and socio-economic. He had hoped to build political legacy by creating a sense of political national unity but politics being dynamic, this aspect appears derailed, in part because he used two incompatible political trains.
First he had the Jubilee train, which he and William Ruto, co-drove and ran through three elections in 2013 and 2017, before losing steam. The Jubilee train gave Uhuru opportunity to articulate the Big Four dream for his final presidential term.
It somehow started hitting snags at Station 'Handshake'. He followed this by boarding the BBI Reggae train with Raila as co-driver only for it to experience serious derailment at Station Judiciary in 2021. With both Jubilee and Handshake locomotives suffering serious derailments, Uhuru's legacy hinges on the social economic aspect of his Big Four.
That socio-economic aspect had to contest with a major internal weakness in the governance system and endemic corruption in all three branches of government. Despite all these, there has been visible progress in terms of the likely Uhuru legacy. Uhuru has successfully devolved national celebrations from Nairobi to various counties so as to increase sense of participation.
In doing so, he deploys military efficiency to moribund institutions at fractions of the cost, which act as macro socio-economic stimulants to local microeconomic operators. Expanding infrastructure and communication networks continues to link different parts of the country through roads, revived railways, airports and new maritime ports.
The effect has been to cut travel time and transport costs which stimulate local and national economies. Since these potential benefits are long term rather than short term, they will constitute the real Uhuru legacy.