DJ yet to hang boots despite evolution of the trade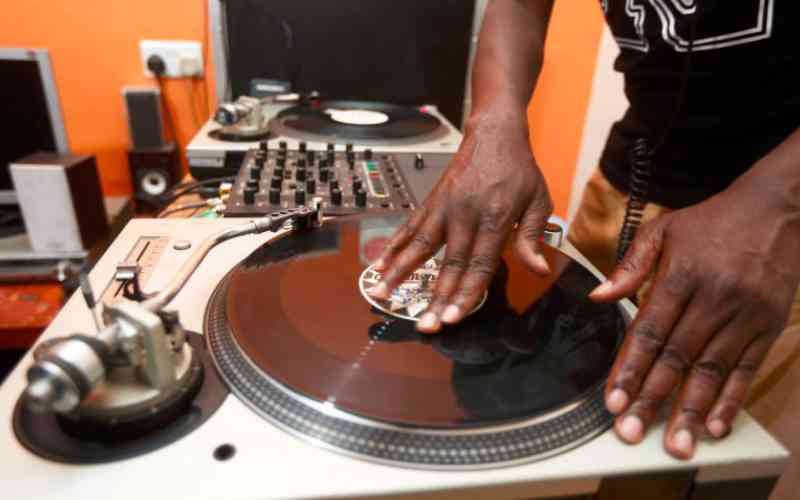 When Jeff Waringa - popularly known as Double J - started his trade, radio cassettes and turntables were the in thing.
Double J had to endure the cumbersome procedure of blending music from bulky equipment to the right mix for his audience.
But he enjoyed it. With the tape, turntable, and later CD the only way to play the music for large audiences in discos and concerts, the DJ had no alternative but to adapt.
Unlike today when curating and the playing of music is by the touch of a button, it required the surgeon's precision to hit the right cord.
The evolution of the disc-jockeying business has seen the industry discard the bulky music equipment for more miniature state-of-the-art consoles.
Although a majority of his peers hanged their boots following change in industry dynamics, Double J has kept the fire burning. He had to quickly adapt to the new norm.
When The Standard visited Double J recently, Londonbeat's '90s banger 'I've Been Thinking About You' rented the air, offering warmth to passersby despite the chilly afternoon in Runda, Bahati, Nakuru County.
Double J is a household name, his musical precision for almost three decades has earned him accolades within the clubbing scene in Nakuru and Nairobi.
Take a quick survey and help us improve our website!
Take a survey
He has had a test of both the Analog Vinyl System (AVS) and the Digital Vinyl System (DVS) of disc-jockeying in his 30-year career.
He says the DVS systems are important because they allow DJs with existing setups to easily integrate their computers, as opposed to the traditional system.
"DVS has become more popular amongst the growing number of digital DJs. It will allow you to control the parameters on your computer software using the physical buttons, faders, CD's and /or Vinyl on standard DJ hardware set up. In this way, you can DJ in a traditional fashion with your music library stored in your computer." He says of the new technology in disc-jockeying.
The appearance of Double J, upon accessing his area of trade, did not in any way match the big name so fondly spoken about.
He looks young, perhaps barely in his thirties, and from his dressing code of a black t-shirt with the letters NV on the front, brown khaki pants, the headphones on his head to the smile, the DJ is young at heart. Yet Double J, an ever jovial spirit, is in his late 40s.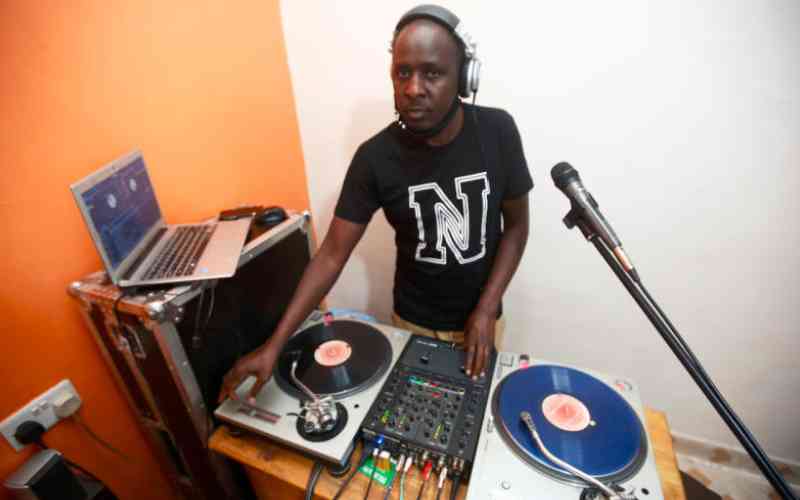 "I started my career in 1993, at a club called Coco Savanna in Nakuru, that was right below a computer college that I attended," says the 49-year-old. "The journey has obviously been challenging, change has been inevitable, and I have adapted to the change."
Through the years, the man with a soft spot for soul music, who says he belongs to the soul generation, prefers playing for an old, mature audience.
He takes us through his journey as a DJ and the changing times of the trade that has seen him, including shuttling between Nakuru and Nairobi, rocking jam-sessions graced by legends such as Kalamashaka, Nameless, and Bobi Wine, amongst others.
The letters NV on his t-shirt, he says mean Nax Veterans, a brand he came up with to celebrate those who shaped different industries from Nakuru.
The blow that the Covid-19 pandemic had on the entertainment industry would push the 49-year-old into playing virtually for several months.
"It paid our bills, though it felt like begging, especially playing on a channel then displaying a mobile money transfer number on the lower thirds"
He, however, says that his loyal fans occasionally wired funds to him in appreciation of the nostalgic music he plays.
"When clubs were re-opened, we had to look for ways of capitalizing on the little window that we had, with the hours becoming fewer, we could only earn a third of what we used to earn pre the pandemic," said the DJ.
What was once a well-paying permanent job for the man, who now proudly calls himself a 'father to grown-ups', quickly took a downward spiral, and aside from his tools of trade, hope was the only thing he could cling to. "Most of us now live on hope, we hope that this pandemic will be over, especially with the vaccines and the new discoveries about the virus, we hope we will get back to the older days."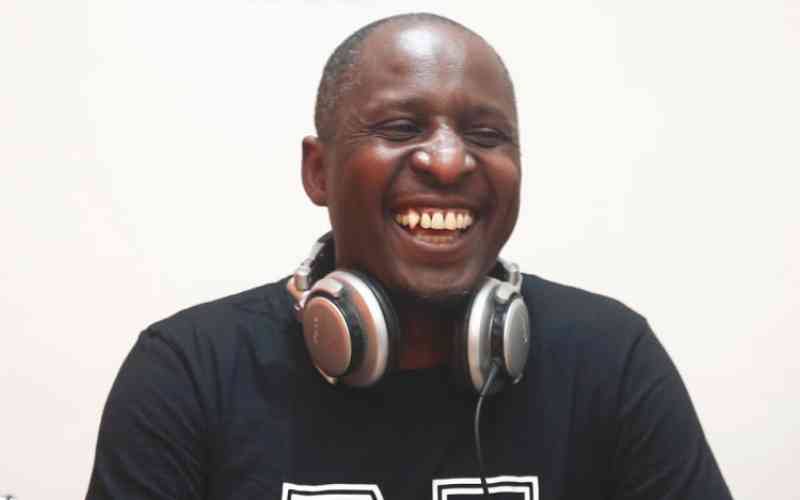 The pandemic was, however, not all gloom for Double J. When all night clubs were shut, he had an opportunity to spend time with his family; two children - firstborn son Jermaine Obado aged 18, and daughter Hailey Waringa,9.
As a way to sustain his family, Double J luckily, and perhaps in foresight, started a clothing line, that is now doing well, offering him a ray of hope amid dwindling fortunes.
The fast-changing dynamics, including equipment and technological advancement, saw the DJ try his hands on law but eventually dropped it for his first love of disc-jockeying.
A heap of old tapes, vinyl records by his side throughout our interview, speaks volumes about a man who has lived to see the entertainment and music industry go through generational change.
Double J has had a test of both worlds of disc-jockeying. Unlike the days when he would carry a bulk of equipment before a show, his backpack now comprises a hard disk and his signature headphones.
"Today's DJs have a special purpose as they play for a specific audience, there is no competition really, I have my old fanbase and I satisfy their needs. They have their younger audience; the secret is in how to get across to your fans and where virtual means are used, how to effectively monetize our virtual performance is what remains the greatest challenge for most of us," says Double J, on the new crop of DJs and the diffusion of digital technologies.