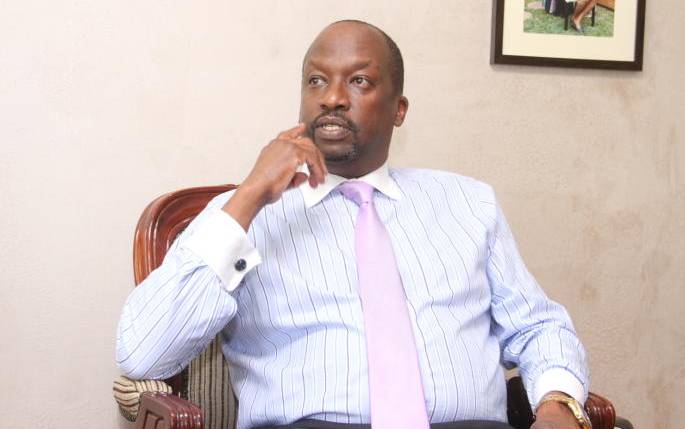 Recently appointed chairman of the NSE board, Kiprono Kittony is no stranger to the world of business. This week he speaks about family and his vision to Jacqueline Mahugu.
How does the son of a woman who, in her heydays, was known as a fierce, unstoppable fighter for women's rights, turn out? If he turns out to be like Kiprono Kittony, Zipporah Kittony's son, then many would say pretty alright.
He has just come from lunch with Equity CEO, James Mwangi, and tells me that is the only reason he was wearing a tie. "I usually don't wear them," he says, a statement that my mind struggles to accept because that is just about the only informal statement he makes.
He is very formal (but friendly) in his mannerisms and speech – probably the kind of professionalism one needs to revive the Kenya National Chamber of Commerce and Industry, which he says he did, and then be appointed Chairman of the Nairobi Securities Exchange (NSE) board, which he recently was.
I ask him how he feels about being appointed in such times. In these turbulent economic times of Covid-19, heading the NSE, when the capital markets of Kenya had already been going through a bear run (going down) for a number of years, seems like a huge ask.
"You know Charles Dickens?" he asks. "In his book, A Tale of Two Cities, he said in one of the paragraphs, 'These are the best of times and these are the worst of times.' So it depends on how one's perspective of life. Is the cup half full or is the cup half empty? Personally, I look at it as a huge opportunity, that I am taking on leadership at a time when the market is quite low but there are a lot of good things."
The executive office we are in overlooks a garden in whose gazebos many discussions affecting Kenya's business industry have been had. That is where every other Friday, for four or five hours, he hosts The Friday Group, a small gathering of about 15 business leaders, to discuss in-depth issues that affect the country.
It sounds like one of those things people in high society hope to one day be invited to. Some of The Friday Group's guests have been former Prime Minister Raila Odinga, who Kittony says talked to them about the handshake, Safaricom CEO Peter Ndegwa, Siddharth Chatterjee from UN Resident Coordinator in Kenya, and Mukhisa Khituyi, Secretary-General of the United Nations Conference on Trade and Development.
The Friday before the interview it was the Cabinet Secretary for the National Treasury. It has also hosted ladies like Jane Karuku, the Managing Director of East African Breweries.
Family
Behind him, pictures of his family smile down upon us – one with his wife Rosemary and their four daughters, and another with his mother. His brother is a retired colonel in the army and his sister is a legal practitioner who was recently appointed to the board of Kenya Power.
He grew up in a farm on Kitale and he's still nostalgic about working on the farm late into the night during the rainy season, sitting around a bonfire with the cousins sharing stories under the moonlight.
Even today, his most prized possession is Sirwa Farm, where he grows tea, coffee, macadamia nuts and rides his horses, Gypsy and Towett.
Their father was "very much a stay-at-home person" so whenever their mother was absent, he was there. While as children, they experienced the doting and caring mother that she was, they also got to see the tough-as-nails side that the public knew her for.
"She is a great fighter. I remember as a young person one time when we were travelling with her. We had a puncture coming to Nairobi and I remember her changing the tyre and then we drove all the way to Nairobi. My mother did things that other women could not even imagine.
The only character trait he says he did not get from her was her outspokenness and how easily she could speak her mind. He would have been more vocal on the things that bedevil the country, he says.
"She is very forthright. When you meet her she will tell you exactly what she thinks of you. I remember in 2007 in the height of elections when (former) President Kibaki was in our village and his party was less popular. People were bullying. It was just before the post-election violence. He wasn't getting a chance to speak. My mother went and took the microphone and ordered everyone to shut up. That was how he got a chance to speak," he says.
At 55 and with many impressive leadership and business notches in his belt, he has long come out of his mother's shadow and come into his own, but one of his goals with the NSE reveals that he is very much his mother's son.
"I believe that we need to see more women in corporate leadership in Kenya. Female corporate leaders have been a phenomenal success in other markets but if you look at the boards of listed companies in Kenya, the women are in the minority. So I also want to start a crusade to ensure that we have more women participating at the top leadership level in companies," he says.
In another life
In an alternate universe, he says, he would have been a politician. He even it tried it once, in 1997, when he ran for Cheragany MP, but upon failing decided to stick to what he knows best – business. He wishes he had stayed, though.
"My biggest regret is possibly that after my first attempt at politics, I never went back and tried to make an impact there. I think people can offer leadership in many capacities but political leadership is where you can make the greatest impact. I am now 55 so I think it is not the right time to start to think about those things. But I believe if I had gone then, I would probably have made a bigger difference in this country. But still, I am satisfied that I have tried to make a difference in whatever small way I have," he says.
Politics is in his blood though. One of his biggest influences was his late uncle, former Eldoret North MP Reuben Chesire, who ignited the desire in him to make the world his playground.
"He always used to tell me that life is the art of the possible. When I finished high school I got a chance to work with him on his farm and at that time he was the president of the World Ayrshire Federation. He had organised a conference in Kenya for all the dairy farmers in the world. I just saw how he interacted with people from all over the world and that made me realise that it doesn't matter whether people are in Kenya, Peru or in Timbuktu. They are human beings. I think that also encouraged me to look at the world as a village.
"That is what encouraged and motivated me to look for an opportunity to travel the world and to perform roles that transcend this country," he says.
That wanderlust has seen him visit 77 countries and consider himself an internationalist and Pan-African. He believes in looking at Africa as one commercial space and has grand visions for the NSE. In them, he plans to attract to attract more of green climate funding, get large family-owned businesses to list in the NSE, deepen partnerships with other markets in Africa and entrench the culture of good governance in companies.
He is also hoping to encourage the government to increase the number of shares available in the market in by selling some from some of the companies where it still has a large shareholding like Safaricom, and convince them to list more companies like Kenya Pipeline, Kenya Airports and Kenya Ports Authority.
"What keeps me going is knowing that we are very far as a continent. Africa contributes only two per cent of global investment and four per cent of global trade. There is more poverty than there is possibility. Whatever small way we can make a difference, we are obliged to do so. So that is what I try to do and I believe that change is about to come. I believe that this continent will one day enjoy prosperity."